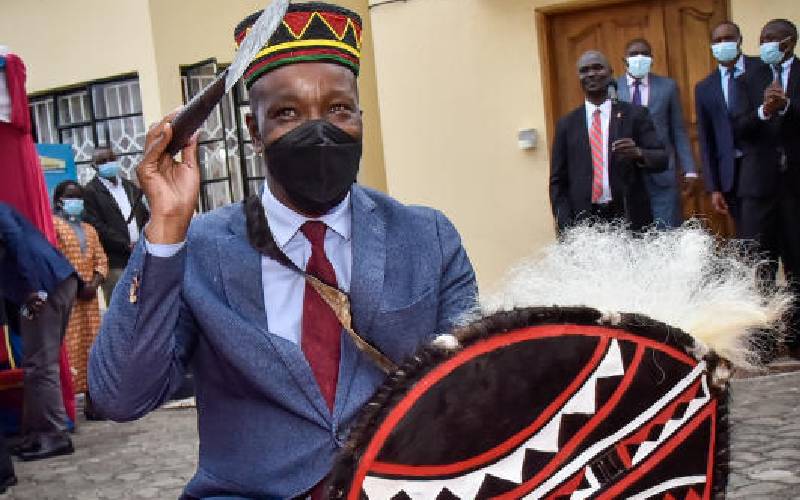 Until yesterday morning, it was clear that Nakuru Governor Lee Kinyanjui would defend his seat on Ubuntu People's Forum (UPF) Party ticket in the August 9 General Election.
In a surprise move, Kinyanjui yesterday afternoon announced a change of heart when he declared that he would defend the seat on a Jubilee ticket, a party that sponsored his election in 2017.
Kinyanjui, who has been actively drumming up support for ODM leader Raila Odinga's presidential bid, said his decision was aimed at boosting the stakes for the Azimio la Umoja coalition.
"To consolidate the Azimio Coalition support base and lead the campaign team in the region, a decision has arrived that I defend my governor's seat on a Jubilee Party ticket.
"This decision has been made in full consultation with top leadership and members of UPF Party," he said.
UPF was registered in October 2021 after taking over and renaming the Citizens Convention Party (CCP).
Kinyanjui did not hold a position in the party. His allies, among them Kinya Rukahu and his political advisor Beatrice Nyawira were named party leader and chairperson, respectively.
Kinyanjui's move to form the party followed Jubilee's infighting that had risked the future of its members who were unsure of its viability in this year's elections.
"We formed UPF as a vehicle to place Nakuru at the negotiating table. For decades, we have voted in governments that leave us out in sharing positions, especially in the Cabinet," Kinyanjui said.
On Thursday, he attended a military event at the Lanet Barracks presided over by President Uhuru Kenyatta, who is also the Jubilee Party leader.
After the event, the two leaders are said to have held a brief meeting and his announcement yesterday might have been the outcome of their discussions.
"This was a calculated move to counter UDA's Nakuru governor candidate Senator Susan Kihika. Jubilee Party was also not ready to lose the Nakuru seat and needed one of them to spearhead Raila's campaigns," said Kinyanjui's close ally.
The governor admitted that there have been deliberate plans to split his support base in favour of candidates who are not part of the Azimio la Umoja coalition.
He, however, maintained that his UPF Party would continue with its plan to field candidates in other positions.
"UPF will field and support its candidates in respective positions in line with its mandate. We are aware of attempts by the opponents to sponsor candidates in various parties with a view to split our support base," he said.
Kinyanjui, who is a point man for President Kenyatta and Raila in the region, said that all parties under Azimio coalition will have a single candidate for each position after nominations.
"We shall be unveiling the (UPF) candidates under Azimio after the nominations and will strive to have only one candidate for each seat from MP to Governor. We are aware this decision will be inconvenient for some of our supporters. Kindly accept our sincere apology," he said.
Details, however, emerged that Kinyanjui never officially resigned from the Jubilee Party and that he was also a fully paid up governor candidate.
The move has rattled some of the governor aspirants seeking the Jubilee ticket who had seen an easy win at the nominations with Kinyanjui out of the picture.
The Jubilee aspirants include former senator James Mungai, Gidraph Mwangi, businessmen Stanley Karanja and Elijah Karanja.
Jubilee Nakuru branch chair James Karimi welcomed the move by Kinyanjui noting that other aspirants have no reason to worry.
Related Topics