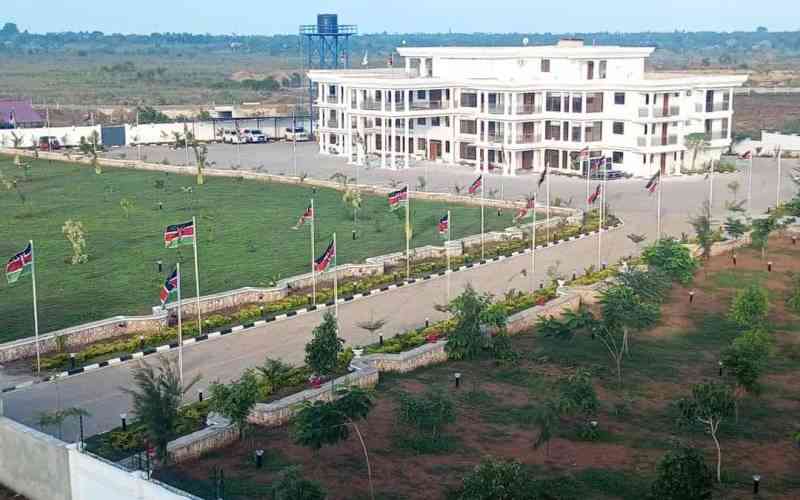 Pastor Ezekiel Odero's woes deepened after police descended on his church and confiscated computer drives, communication gadgets, holy water and handkerchiefs.
The move comes after the Registrar of Societies issued a 21-day notice to deregister his New Life Prayer Centre and Church in Mavueni, Kilifi County, over alleged failure to file returns.
Odero's lawyers Cliff Ombeta and Dunstan Omari said that the Anti-Terror Police Unit (ATPU) on Tuesday confiscated the items for analysis in Nairobi.
"The ATPU came to the church on Tuesday and confiscated the church's communication items, computer drives, holy water and handkerchiefs, which they said were being taken for analysis," said Ombeta.
Police are investigating Pastor Odero's links to controversial Paul Makenzi following the Shakahola massacre in Malindi, Kilifi County, where more than 200 bodies were exhumed.
They are investigating him for murder, aiding suicide, abduction, radicalisation, genocide, crimes against humanity, child cruelty, fraud, money laundering and being an accessory before and after the commission of crimes.
However, Odero has distanced himself from Makenzi and termed their one-time relationship as unsuccessful commercial interaction due to his interest to buy a television station that never materialised.
Ombeta said the cleric will today sue the registrar of societies for failing to provide the church's file.
He said the state has also been probing the huge acreage of land owned by Odero's ministry, but National Land Commission (NLC) had clarified the issue.
"NLC has submitted that the land titles were well written, the question is why is the Register of Societies taking us around and hiding the church's file?" Ombeta asked.
He said the church's file has gone missing from the Registrar of Societies offices, and their attempt to trace and access it has failed.
Ombeta said the notice to deregister the church was yet to be served upon the church and that they only learnt of the same from the press.
"We shall be suing the Registrar of Societies over abuse of office and the move to deregister the church. We have been camping at the offices of the Registrar of Societies since Thursday trying to access the church's file, but we have not succeeded as we are told it is missing," said Ombeta.
Omari said the Register of Societies claimed that the returns had not been filed since 2012, but this could not be substantiated.
Omari said Ezekiel's church was registered in 2012, and for 12 years, it has been operating the Register of Societies knew of its existence but now seeks to deregister it over alleged failure to file returns.
"Now that over 10 million people have become his followers and since he filled the whole stadium in Nairobi, he has been persecuted due to jealousy. Since then, his church accounts and television station have closed and later opened through a court order," said Omari.
He added: "Those who want to grab the assets are on a goose chase because it belongs to over 10 million Christians, not pastor Ezekiel."
Omari said that the Communications Authority of Kenya tribunal informed them the church's TV station would remain closed for up to even ten years because the tribunal is not sitting due to lack of board members.
Omari said Odero will be in Machakos and Nairobi Kasarami Stadium from June 9 to 10.
Related Topics