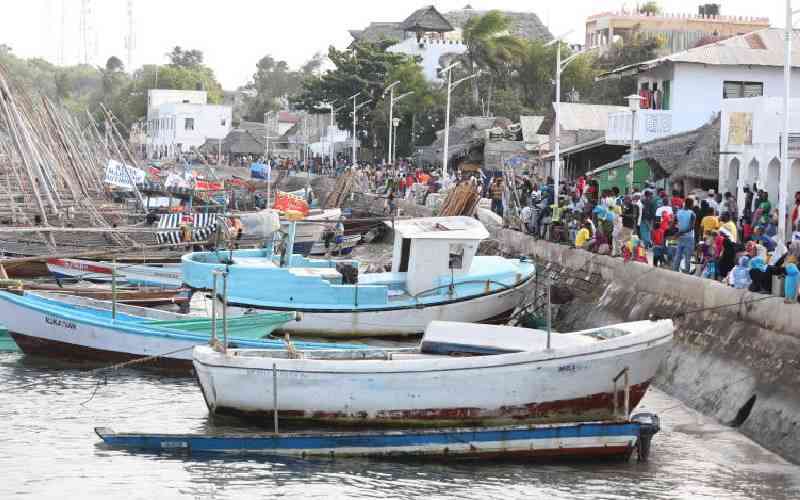 After a protracted court battle spanning about 10 years, thousands of fishermen evicted from their traditional fishing grounds in Lamu are waiting to reap big in compensation from a State agency.
In the next 45 days, the 4,734 fishermen from 37 Beach Management Units (BMUs) will smile to the bank as Kenya Ports Authority (KPA) finally released Sh1.76 billion.
The fishermen were awarded the money by the court in 2018 as compensation for losing the fishing grounds where the State built the Lamu Port.
By Friday, clerks deployed by KPA had already validated more than 3,500 fishermen as they put the final touches on the exercise to facilitate the release of the cash to genuine fishermen working under the BMUs.
Chairman of the 37 BMUs in Lamu county, Somo Mohamed Somo, was overjoyed saying the long-drawn dispute with KPA was finally drawing to an end.
"We are relieved that this long-drawn issue is coming to an end. The validation exercise has been smooth and 3,500 beneficiaries have appended signatures and offered bank accounts by today (Friday)," said Somo.
The fishermen will receive 65 per cent cash compensation with the 35 per cent remainder set aside for management of Lamu county's fishing activities.
According to Somo, who is also chairman of the Indian Oceans Waters BMU Network that covers Lamu, Tana River, Kilifi, Mombasa, and Kwale, the 35 per cent will go towards purchase of boats, engines, cold storage facilities at landing sites, and other gear to improve fishing.
The fishermen were awarded by the court Sh1.76 billion in compensation after they demonstrated they would no longer be able to undertake fishing activities due to dredging activities at the Port of Lamu.
Some said that the fishermen went to court in 2012 and won the case against KPA in 2018 where they were awarded Sh1.76 billion in compensation.
However, KPA moved to the court of appeal in 2019 to challenge the ruling delaying the compensation. But in July last year, KPA opted for an out-of-court settlement of the dispute and sealed the deal in court in November.
Somo said once the verification exercise is over, the list of fishermen will be cleared by representatives of the county government, and the payment done after 45 days.
Related Topics