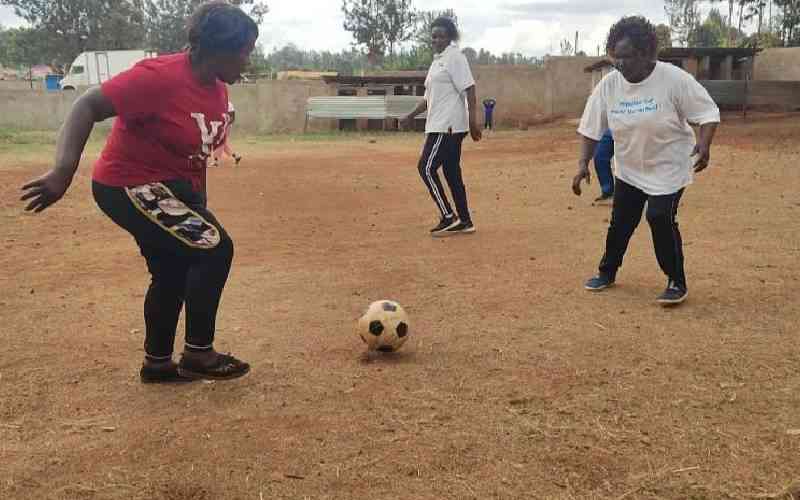 A group of women above 50 years from Mwea and Gichugu in Kirinyaga County are playing football to keep lifestyle diseases at bay and remain fit.
The 15 women meeting at St Ann academy football pitch at P. I trading centre every Wednesday, undertake training and engage in football competitions for at least three hours before retreating to their homes.
Chairperson of the football team, Rose Mutema, said the idea was born after three women realised that they were overweight and needed to devise a way to exercise to reduce.
"Most of us weighed over 80 and 90 kilograms, and our doctors directed us to workout to reduce our weight,"Mutema said.
She said that it became difficult for them to enroll in the various gyms due to the cost that comes with it, saying this led them to turn to football.
"We approached a coach who provided us with one football and in return, we contributed some money and bought the second ball," she explained.
Mutema said the last three months have been a transformation for the women who can now walk for long distances and engage in other activities with ease, something that they could not engage in previously.
She said the women also want to reduce the weight to less than 65 kilograms so that they can look fit and in good shape in the eyes of their husbands and prevent them from looking for younger women.
Susan Kagwi, another footballer, said she has been having an issue with her back and was advised by her doctor to undertake physiotherapy sessions.
Kagwi said she decided to participate in the football and exercises sessions, which have been very helpful, and the doctor has advised her to continue.
According to their coach, Mr Nguo, the women have shown tremendous improvement in their physical health and show interest in continuing with the sessions twice or thrice a week."They have registered the football team with the Department of Social Services and are looking for more women so that we can build a strong and formidable team to compete with," Nguo said.He said they are in need of more balls and uniform sponsorship as they prepare to compete with other women teams in the region.
Related Topics