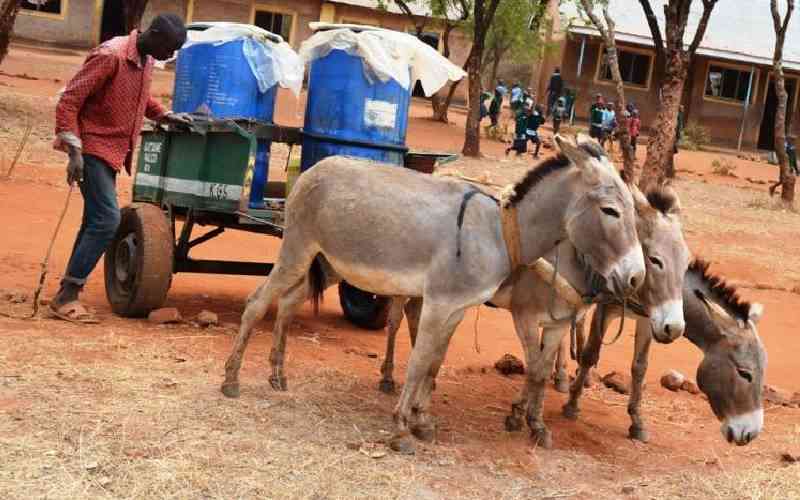 Donkey owners in an estate in Nyeri are reporting increased business since the rise in fuel prices at the beginning of the month.
With Ruringu residents struggling to afford lorries or pick-up trucks, they are now turning to donkeys for transport.
The chairman of the Donkey Owners Association, John Githae, said hundreds of families depend on the animals for their daily needs, noting that the estate has 70 donkeys.
He said on an average day, a donkey can earn between Sh1,000 and Sh1,500, adding that they are easy to maintain.
One is charged about Sh200 for a load that a truck owner would ask for Sh1,200 or more for one trip.
On a good day, Githae said he can make up to 10 trips, earning Sh2,000.
He explained that he started the business in 2005 after challenges finding cheaper means of transport.
"I started as a water vendor with a bicycle, but my bicycle could only carry three 20-litre jerricans."
After one year, he bought a donkey for Sh7,000.
"I was able to carry a bigger tank of water. Later, residents of this area asked I carry bigger loads, especially timber. That's when this donkey stage started opposite this sawmill. More than 18 years later, I have achieved a lot," he added.
He now owns five donkeys. An adult animal costs as much as Sh30,000.
Githae is able to sustain his family and educate his children. He has also bought two dairy cows, a motorcycle and a tuk tuk to expand his business.
His colleagues in the trade are also asking the public to embrace donkey transport as an alternative following the high cost of fuel.
"For 15 years, I have been in the donkey transport business. I built my family house and educated my three children. I bought a motorbike among other achievements," said Augustine Wandeto.
Maina Wakairu also called on road users to respect the donkey operators.
"Most drivers ignore the donkey and risk accidents," he said, adding: "I have been in this business for more than 12 years. I own three donkeys. I have educated my three children and now I have bought a motorbike."
Mary Wambui, a greengrocer in the area, said she prefers using donkeys for the transportation of his stock since it's cheaper and reliable.
She added she cannot afford to hire a vehicle while relocating from one house to another.
Nyeri County Animal Welfare Officer John Maina confirmed that Ruringu has the highest number of donkeys in Nyeri, saying 60 out of 210 donkeys are from the area.
The traders also asked their colleagues and the public to respect the animals. Githae explained that if the donkey is overworked, it may not give birth.
They urged the youth to embrace donkeys as a source of employment to sustain themselves and their families.
Githae also called on the county government to increase the number of veterinary officers to treat donkeys, especially during cold seasons.
Related Topics