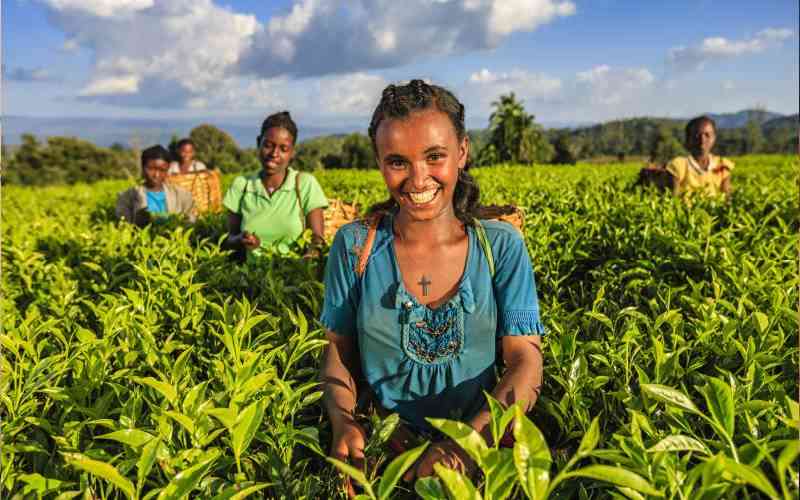 Protests over the mechanisation of tea plantations have taken a turn as focus turns to the roles both men and women are expected to play.
As tea firms adopt new technologies, the population of women in the industry is reducing at an alarming rate as multinational companies recruit only men for the labour-intensive mechanised operations.
It is around 6 a.m in Nandi Hills, and workers endure chilly weather as they run through a lush tea plantation heading to various work destinations.
Most of the young men and women have been hired by multinational companies as tea pickers.
But over the past few years, the population of women employees has significantly dropped as machines take up their roles.
Despite the government's gender equity act seeking to create equal opportunities, tea firms are not compliant with the policies. This comes amid claims of sexual abuse and rampant unwanted pregnancies in estate communities.
Female workers are adversely affected and have been forced to devise ways to retain their jobs and care for their families.
Sitting under a shade, a 22-year-old woman breastfeeds her four-month-old baby. She identified herself as Mercy, saying she had been prompted to attend to her hungry son.
"I was not supposed to embark on labour-intensive jobs shortly after delivering. Worrying about losing my opportunity forced me to resume work," the single mother of two said.
School dropout
Caroline, who dropped out of school in form two after she became pregnant with her firstborn, said she moved in with her husband, who was also a tea picker in an estate. She says the man abandoned her when the pregnancy was three months old.
"I will be sacked if the company discovers that I reported before the lapse of six months of breastfeeding. I am yet to wean my son, but at the same time, I have to work for an income," said Caroline, who also declined to give us her second name for fear of victimisation.
Like Mercy, many women are struggling to retain jobs in tea-growing zones since multinational tea companies started reducing the number of female employees in respective plantations.
According to the Kenya Plantation and Agriculture Worker Union (KPAWU), the multinational tea companies- including Eastern Produce Kenya Limited (EPK), James Finlay and Williamson- have gradually adopted tea-plucking machines.
Before Covid 19 in 2020, the percentage of female workers dropped from 45 to 35 in a total workforce of 7,000. Firms are retaining more male employees to spearhead the implementation of mechanization as technicians, drivers and operators of tea-plucking machines.
Health issues
Gladys Chepkemboi, a resident of Kisoiwa estate in Nandi Hills, said she was sacked by a multinational company when she got pregnant because she could not do the work.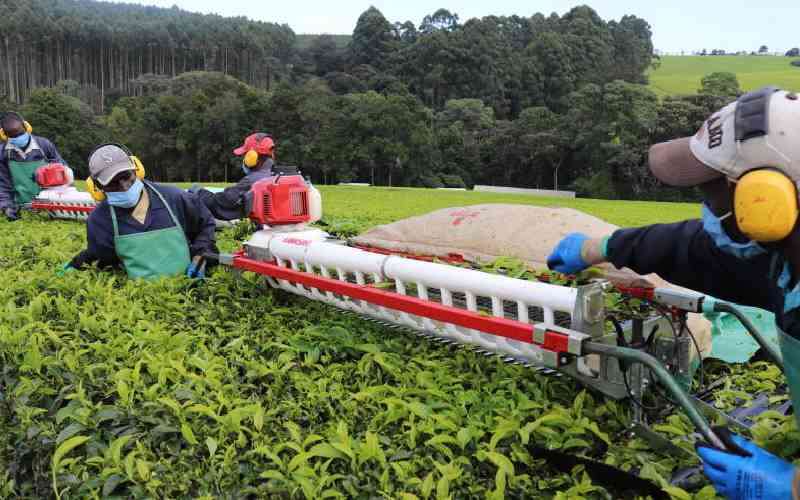 "I raised my health issues with my supervisor and was only excused for a month. However, they replaced with another employee," she said.
Magdalene, another worker, said women are regarded as unproductive in the tea industry and locked out of jobs. "Women are seen to abscond duties whenever they experience menstruation or go on maternity leave and attend to their families."
Rape and sexual abuse incidents in tea-growing belts in Nandi East have been on the rise and the county health department has raised concerns.
Data from last year indicated that over 3,000 teenage pregnancies were reported between 2021 and 2022. As a result, Alice (not her real name), a single mother, said young mothers are forced to engage in various economic activities to support their families.
"Job opportunities for women are becoming limited in the tea industry. I was forced to hook up with a string of men to get money to buy food and pay school fees for my children. It is unfortunate to say that I turned to prostitution," she confessed.
Alice said she dropped out of school in 2014, at the age of 17, after being impregnated by a man she met in one of the tea estates.
Sarah Kosgei, a Maendeleo ya Wanawake leader in Nandi, acknowledged the challenges facing women in the tea industry, saying high poverty rates are to blame.
Women's empowerment
"We have advocated for women's empowerment and protection of their rights. They should be given equal opportunity and ensure they handle criminal cases against women in places of work," she said.
KPAWU National Secretary Eliakim Ochieng said the number of women in multinational companies has dropped by 40 per cent, claiming the firms' management are "deliberately focused to reduce women workers".
Kenya Tea Growers Association (KTGA) Secretary Apollo Kiarie acknowledged that women are fewer in the sector, accounting for 35 per cent of over 20,000 workers, but dismissed the claims of discrimination.
"The companies are under KTGA and human resource management is sensitive to gender issues. Men and women enjoy equal rights," said Mr Kiarie.
Related Topics