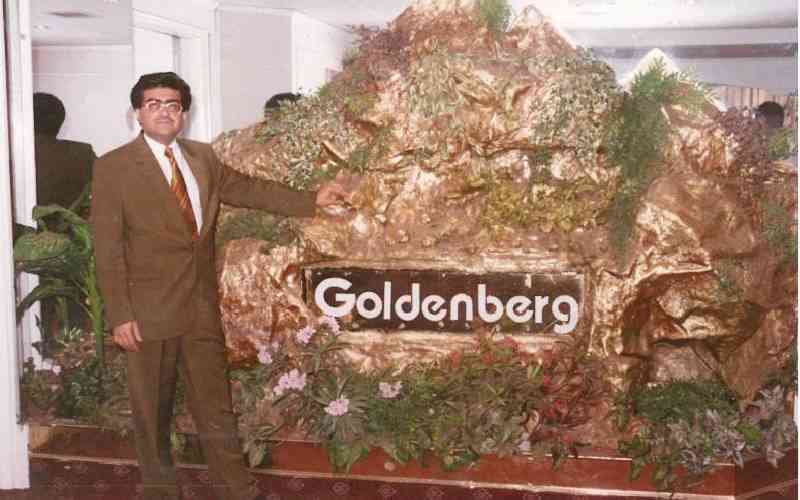 It was dark and extremely cold as he groped his way around. The room was stuffy and smelling of dust. A few false misses, and he eventually landed at the public gallery, upstairs.
He gently eased himself to a vantage point and began to assemble his equipment. After what appeared like an eternity, he looked at his watch. It was 7 o'clock in the morning. He knew the hour was nigh. Just then, he heard the clanging sound of rusty metals. The basement prison cell door was opening. It was a heart pounding moment. Like a prowling lion, he crouched, lifted his camera and took aim. One, two, three, the footsteps came up. Then, voila, his fingers snapped away as soon as the head appeared.
Yusuf Wachira, his hands shaking, had at last captured the phantom. For months, one of Kenya's most wanted economic crimes suspect, had remained elusive and faceless. After many appearances in court, the world would at last see Kamlesh Mansukhlai Damji Pattni's face.
The year was 1993. After pressure from donors and western governments, Pattni was arrested and charged with conspiracy to defraud the government of billions of shillings. Yusuf quickly retreated into the dark corners of High Court number one and silently disappeared. He hit the streets and as he hurriedly walked away, someone called out his name. He turned, and behold, one of his mentees, stood there in the company of three Indian men pointing at him. The mentee worked for the Kenya Times, run by the ruling party Kanu. Yusuf took to his heels. While struggling to catch his breath, he broke into prolonged laughter, when he entered the newsroom at Nation Centre. It was the laughter of relief and triumph.
Most precious
Yusuf Wachira was my colleague at the Nation. "The photos of Pattni in my possession were perhaps the most precious I ever took," remembers Yusuf.
Pattni ensured he would appear in court secretly away from the media and public eye. Having covered courts for years, Yusuf had established a rapport with the security personnel and court clerks. They helped him gain access as early as 6am. On the eve of the photo hunt, he barely slept. The warning from his boss kept ringing in his head. "Yusuf if you don't capture Pattni's photos, don't dare return to the newsroom. Our senior drivers know your house. They will deliver your sacking letter." Yusuf and I recalled our encounters with Pattni after an investigative expose by Al Jazeera emerged featuring him among other suspected global money laundering fellows.
Yusuf had barely settled down in the newsroom when the three Indians arrived. He was told that he had important visitors. He saw them when he peeped down at the reception. Yusuf requested the head of security to stay close enough to listen in to his conversation with them.
His mentee spoke first. He introduced them as Pattni's brother and cousins. Then Pattni's brother approached him. "Good morning, Mr Wachira. We saw you at the High Court and we know that you are a very very good photographer. Then you must have taken the picture of my brother only. We've come to tell you please don't give it to your bosses and this is yours," he said, stretching out his hand with a big brown envelop.
Abject poverty
"I started trembling. My throat went dry. I felt insulted. I recalled the economic mess and inflation level Kenya had sunk to due to the Goldenberg scandal and now their audacity… I was bitter. I told him: "You have milked my country to death. We are bleeding and in abject poverty and you dare come here to bribe me? Please leave now before I call security."
"That is okay, we are going. No fighting. But Mr Wachira wewe takufa maskini. Hii ilikua 800,000 shilling only," they hurriedly walked away waving the envelop. One chilly afternoon, my direct news desk telephone rang. I picked up the black handset. A male voice with heavy Indian accent asked: "Is that Caleb Atemi?" "Yes, it is" I responded. "Kamlesh Pattni here. Bwana Atemi, I would like to meet you today if possible."
"Why do you want to meet me, Mr Pattni?" I asked. "I have many things to discuss with you bwana," he said. "Kindly come to the Nation news desk and we can discuss anything you want," I responded.
"Kwani you don't want to be rich? I have made many of your bosses rich."
"I want to be rich the right way," I said. Before I could hang up, he said in an agitated voice: "wewe Baluhyia takufa tu maskini" That was Pattni at his manipulative and intimidating best. Today, I am glad I never visited him.
The Goldenberg case was still fresh. The government had resisted arresting and charging Pattni because the scandal had engulfed nearly all government machinery. However, pressure mounted from the international community. They had to make a symbolic arrest and arraignment in court.
Whenever he was taken to the police or prison cells, royalty would follow him. He received VIP treatment. He would sleep on a cozy bed and enjoy sumptuous meals. There is nothing money can't buy in a corrupt world.
At that early hour, it was technically impossible to take photos inside the court room. The interior décor enhanced darkness. Digital cameras didn't exist then and cameras were not allowed inside courtrooms, especially in politically sensitive cases. Yusuf, had, however, spent many hours thinking. He knew the terrain of the courtroom well. "I made some calculations. I had to sneak in a camera. But from where I had to position myself and where Pattni was to emerge from was a challenging distance. From the pubic gallery, to my left was the underground cell from which he would appear. I would have a chance of getting his side profile as he faced the judge's desk. As he turned towards the pubic gallery, I would capture the frontal view."
The Goldenberg scam was a gold smuggling operation that robbed Kenya of US$600 million. Pattni together with senior government officials were charged with corruption and fraud.
The 2013 Goldenberg court case eventually hit a dead end after 13 years. All nine criminal charges against Pattni were quashed. He walked scot free. High Court Judge Joseph Mutava said: "Mr Pattni's fundamental rights and freedoms have been violated by the State in several respects.
The prosecutions conduct has failed to meet the threshold of fair trial, which renders his further prosecution unconstitutional."
The judge said that the delay in commencing prosecutions, flawed report on Goldenberg scandal, lost documents and unreliability of witnesses couldn't result in a fair trial.
Justice Mutava said: "There is also the reality of settlement agreements reached with the complainants, a negative report on prospects of further investigations yielding new evidence, unavailability of witnesses due to death besides fading memories of the surviving ones cannot lead to a fair trial."
Treasury Bills
Pattni was charged with conspiracy to defraud the government of billions of shillings. Justice Mutava ruled that there was no longer a complainant after Pattni returned the property in question to the Central Bank of Kenya. Pattni reached a settlement with the CBK to surrender the Grand Regency Hotel and return all Treasury Bills.
Three key suspects charged with Pattni; Former Director of Intelligence James Kanyotu, former Treasury PS Wilfred Koinange and former Deputy Governor of the CBK Eliphaz Rungu have since died.
However, the Judicial Commission of Inquiry, headed by Court of Appeal judge Samuel Bosire established to look into the financial crime, found Pattni to be the mastermind and central beneficiary of Goldenberg.
Pattni, who has rebranded, offered to help under-cover Al Jazeera reporters pretending to be Chinese criminals, launder 100 million US dollars. He promised to turn their dirty money into gold that is exported from Zimbabwe to Dubai where many of his gold trading companies are registered.
Today, through his company, Suzan General Trading, Pattni reportedly exports gold bars and jewelry from Zimbabwe. The company gets paid an incentive by the government to sell gold overseas. The money in US dollars would then be flown to Harare, where it would be declared as proceeds of the gold exported. Owning both the exporter license in Zimbabwe and the importer license in Dubai, enables Pattni to launder the money. The cash is paid into Dubai bank account and would appear to come from legitimate gold trade. Pattni would take a 10 per cent commission. Pattni, who claims to have saved the government of Kenya's second president Daniel Moi from collapse through Goldenberg, says in the Al Jazeera expose that the President of Zimbabwe, Emmerson Mnangagwa, was aware of his gold operations: "He knows of course, but he can't talk openly. When you work you must always have the King with you, the president," he boasts.
The gold scheme helps Zimbabwe secure large amounts of US dollars that the country desperately needs for its internal and international markets.
Soon after his photos appeared, Pattni boldly re-emerged as a philanthropist. Every Saturday, he would visit various Children's Homes to dish out food and other donations. He had established deep contacts with senior editors. He had specific reporters, photographers and drivers assigned to him. He knew that his story and photos would strategically allow him to appear in the Sunday papers.
One of our most diligent drivers kept Yusuf and I briefed of every weekend of Pattni's escapade. He received Sh45,000 every Saturday. Every night he would count the money in awe and only wonder: "If I, a simple driver gets Sh45,000, how much are reporters and photographers getting?" We advised him to put the money to good use. He built himself a house in his village.
As the court cases built momentum, Pattni met his Damascus moment. He became Brother Paul. He founded the Good Hand of Hope, a charity. In the Al Jazeera investigative series, Pattni boasts to be a 'fixer for African leaders since 1990s.
"I was just 24 years old. I was buying a suit in a Nairobi shop when I met the Director of Intelligence. I told him 'There is so much gold flowing through Kenya' but no one is benefiting from it. Its smuggled out. I told him that I can create Sh500 million every year if I get a proper license of Gold. He took me to the President. At 24, I became an advisor to the President," Pattni brags
Pattni started smuggling gold from the Democratic Republic of Congo (DRC) into Kenya. He'd then sell it abroad. His company, Goldenberg International would receive a 35 per cent compensation. Through the gold scam, Pattni pocketed US$600 million.
The West had imposed economic sanctions against Zimbabwe, locking it out of global trade. The regime of Robert Mugabe was accused of gross human rights violations and harassment of opposition politicians. Sanctions limited the ability of Zimbabweans, their leaders and government to trade. Zimbabwe was in financial collapse. In 2008, Pattni, the 'economic messiah' arrived in Harare.
Karen Greenway, a former FBI agent, says that since Zimbabwe couldn't be part of the world financial system, and couldn't trade using dollars, it had to turn its currency into gold. Zimbabwe trades in US$2 billion worth of gold annually.
Says Pattni: "We are in Zimbabwe, Zambia, Malawi, Kenya, Tanzania and Uganda. Dubai is our headquarters and the center for Africa. We have our own clearing and money laundering clearance certificate."
Small scale traders produce half of Zimbabwe's gold but the central bank doesn't have enough money to buy it. The smugglers buy the gold for the bank. Pattni, for his 'great efforts; is given a license to sell the gold abroad. His team flies the gold to Dubai and brings back the US dollars. The proceeds of the gold are declared clean both in Harare and Dubai. The Gold Mafia also use the Halal system to clean illicit money.
"Halal is a cultural term for an informal way of moving money outside a banking channel. In some ways it's the only legitimate means by economic migrants to move money but it can sometimes be used by criminal enterprises to move money without detection," says Kumar.
Zimbabwe, just like Kenya in the 1990s, loses over US$1 billion every year in gold smuggling schemes.
According to Al Jazeera, Suzan General Trading, one of Pattni's companies, is licensed to carry US$3 million week into Zimbabwe. It was the country's top US dollar earner with US$168 million in 2020. Generating valuable cash every year. The Zimbabwe Central Bank was so impressed by Pattni's company, it gave it an 18 per cent of its export bonus.
On paper, Pattni appeared to bring money into Zimbabwe. When his carriers return to Harare, they declare cash at the airport by filling in the blue form 47. They, however, don't declare the real amount. They bring in US$50,000 or US$100,000 but declare US$2 million. They bribe airport officials to authenticate the falsified declaration with an official stamp.
Whenever Pattni falls short of cash, he reportedly collects money from Zimbabweans abroad to send it to their relatives at home through the Halal system. He uses it to buy gold, sells it, then pays it back.
Kenya was saved from Pattni's schemes by a clerk at the Central Bank of Kenya, David Sadere Munyekei. David, a hardworking, young Maasai man, joined CBK in 1991. Pattni, armed with a sharp mind and irresistible charm, knew, from insider sources that the government was about to liberalise the economy. He sought out James Kanyotu who had served as Kenya's head of Directorate of Intelligence for 27 years. The two registered Goldenberg International. They then reached out to the Vice President and Minister for Finance Professor George Saitoti, and the Commissioner of Mines among others.
Extractor of minerals
Pattni and Kanyotu had co-founded Goldenberg International to be an exporter and extractor of minerals. They formed the Exchange Bank limited, whose operational approval was granted in record six days. Pattni then demanded that Goldenberg to be granted monopoly for 10 years and be given an export compensation of 35 per cent, 15 per cent more than the law required at 20 per cent. He then used Exchange bank limited, to transact more than Sh200 million monthly. CBK agreed to his demands.
Meanwhile, Munyekei continued to diligently file documents at CBK. One day, in June 1992, a new company vouchers appeared on his desk. Goldenberg International had just deposited US$500,000 into CBK for exporting gold and diamonds.
Then the vouchers grew in number and volume. Munyekei was alarmed when he noticed the same vouchers being repeatedly brought in for payment. Suspecting fraud, he made copies of some of them and shared with lawyer Paul Muite and Prof Anyang' Nyong'o who were MPs. The two raised the matter in Parliament causing a major storm. By the time Munyekei was blowing the whistle, more than Sh5 billion had been paid to Goldenberg.
Pattni didn't go to sleep. He came up with another scheme. He would borrow foreign currency from banks and friends and deposit it in his bank. Money he would claim to be proceeds from gold exports. For each dollar he deposited, he got the equivalent value in Kenya shillings plus 35 per cent compensation. He would return the original value of the dollar to the lenders. Pattni also used pretentious export orders to obtain pre-export credit from banks. This scheme led to the eventual fall of the Post Bank of Kenya.
Munyekei was fired, arrested and accused of leaking confidential documents to a third party. As he languished in police cells, Pattni acquired the Grand Regency Hotel and other properties.
He was not yet done. He went into cheque kiting using his bank. Cheques would be discounted immediately but upon going for clearing they would be dishonored for insufficient funds. In 1993, it was reported to the Central Bank governor that through Pan African Bank and Post Bank, there had been an exchange of 18 kite cheques worth 10 billion shillings. The two banks went into liquidation.
Pattni, even falsified his dollar sale contracts. He would write letters to the CBK to exchange dollars for shillings. While the CBK delivered the shillings equivalent, Pattni never delivered the dollars. 249 million dollars, then equivalent to Sh14 billion cash, went missing from the CBK. In total, Kenya lost Sh158 billion to Pattni which was then 10 per cent of Kenya's GDP.
On July 31, 2006, Munyekei died and was silently interred. Blogger Jeff Kafka is among few people to have honoured the CBK Maasai Moran in his blog for his whistleblowing heroism.
Pattni had an elaborate security system. He employed Gurkhas, soldiers native to the Indian subcontinent, residing in Nepal. Historically, Gurkha's have served in the Indian, Nepali and British armies. Gurkhas, who are closely associated with the Khukuri, a forward curving knife, are fearless with a legendary military prowess. Former Indian Army Chief of Staff Field Marshall Sam Manekshaw once stated that: "If a man says he's not afraid of dying, he is either lying or he is a Gurkha.
It is said that at one time, the British army organised a marathon competition between Gurkhas and British soldiers. Each side fielded 100 athletes. At the end of the marathon, the first 99, were Gurkhas. It is these vicious warriors that protect 'Brother Paul', who had an extra shield of protection from those in power. Pattni recorded all his meetings with the media and politicians.
He ensured that powerful cameras captured figures on the cheques he presented or the cash he dolled out. He then distributed them to his global partners who would release them in the event that he died. It was therefore in the interest of those in power to keep him safe and alive.
The shock and shame of Goldenberg, which choked the economy, is that it was designed and implemented by a 24-year-old. He held the rich and mighty captive. He made them smell the gold dust, turned and twisted them on his fingers. A Judicial Commission of Inquiry looking into the Goldenberg scandal concluded that; "Pattni is therefore shown conclusively and largely on his own admissions and documents, to be a perjurer, a forger, a fraudster and a thief".
Related Topics