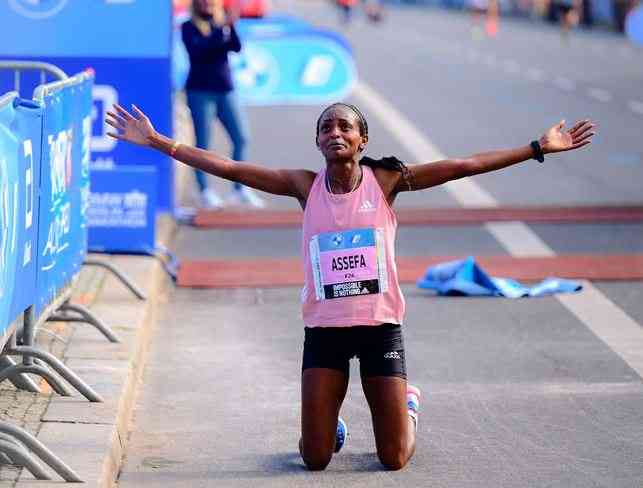 Tigist Assefa of Ethiopia on Sunday shattered her Personal Best by 18 minutes to win the women's marathon in Berlin ahead of Kenya's Rosemary Wanjiru and Ethiopia's Tigist Abayechew.
Assefa won the race in 2:15:37, the third-fastest time in history. Only Brigid Kosgei (2:14:14 in Chicago in 2019) and Paula Radcliffe (2:15:25 in London in 2003) have gone faster.
"I wasn't afraid of my rivals, even though they had faster times than me," Assefa said.
Kenya's Rosemary Wanjiru was second on her debut in 2:18:00 - the second fastest debut ever run - just ahead of Ethiopian runner Tigist Abayechew in 2:18:03.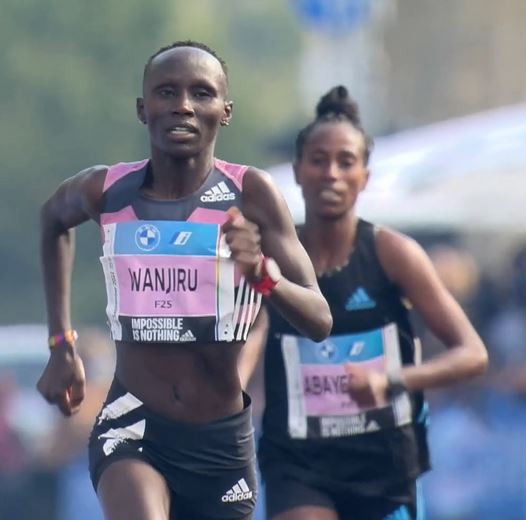 Conditions in the German capital were ideal for fast racing - cool, around 52 degrees (11 degrees Celsius) after a night of showers, with no more precipitation and no wind. Some 45,527 runners from 157 nations were registered to take part in the first Berlin Marathon without restrictions since the coronavirus pandemic began.
Participant numbers were reduced by nearly half under strict restrictions last year, and the 2020 race was called off due to the pandemic.
2022 Berlin Marathon top-10 results and notable finishers from men's and women's elite and wheelchair races. Full searchable results are below
Women
Tigist Assefa (ETH) - 2:15:37 Rosemary Wanjiru (KEN) - 2:18:00 Tigist Abayechew (ETH) - 2:18:03 Workenesh Edesa (ETH) - 2:18:51 Meseret Sisay Gola (ETH) - 2:20:58 Keira D'Amato (USA) - 2:21:48 Rika Kaseda (JPN) - 2:21:55 Ayuko Suzuki (JPN) - 2:22:02 Sayaka Sato (JPN) - 2:22:13 Vibian Chepkirui (KEN) - 2:22:21
Men
Eliud Kipchoge (KEN) - 2:01:09 WORLD RECORD Mark Korir (KEN) - 2:05:58 Tadu Abate (ETH) - 2:06:28 Andamiak Belihu (ETH) - 2:06:40 Abel Kipchumba (ETH) - 2:06:40 Limenih Getachew (ETH) - 2:07:07 Kenya Sonota (JPN) - 2:07:14 Tatsuya Maruyama (JPN) - 2:07:50 Kento Kikutani (JPN) - 2:07:56 Zablon Chumba (KEN) - 2:08:01
DNF. Guye Adola (ETH)
Wheelchair Men
Marcel Hug (SUI) - 1:24:56 Daniel Romanchuk (USA) - 1:28:54 David Weir (GBR) - 1:29:02 Jetze Plat (NED) - 1:29:06 Sho Watanabe (JPN) - 1:32:44 Patrick Monahan (IRL) - 1:32:46 Jake Lappin (AUS) - 1:32:50 Kota Hokinoue (JPN) - 1:33:45 Rafael Botello Jimenez (ESP) - 1:36:49 Jordie Madera Jimenez (ESP) - 1:36:50
Wheelchair Women
Catherine Debrunner (SUI) - 1:36:47 Manuela Schar (SUI) - 1:36:50 Susannah Scaroni (USA) - 1:36:51 Merle Menje (GER) - 1:43:34 Aline dos Santos Rocha (BRA) - 1:43:35 Madison de Rozario (BRA) - 1:43:35 Patricia Eachus (SUI) - 1:44:15 Vanessa De Souza (BRA) - 1:48:37 Alexandra Helbling (SUI) - 1:51:47 Natalie Simanowski (GER) - 2:05:09
Related Topics