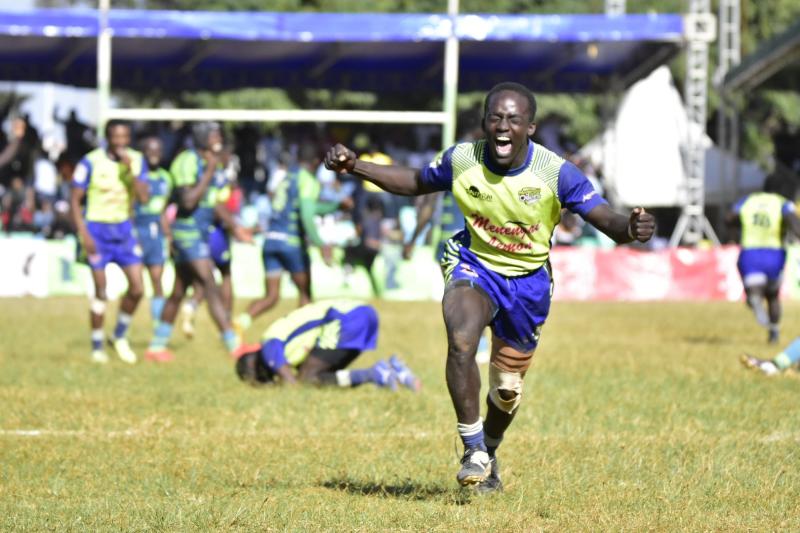 For the past seven years, the country's top tier rugby league, Kenya Cup, has been dominated by two formidable rugby club; KCB and Kabras Sugar.
The two clubs have fiercely competed for the championship title since 2015 where KCB have won five times (2015, 2017,2018, 2019 and 2021), with Kabras lifting it once; in 2016.
Buoyed by massive corporate sponsorship, no club could match the financial muscles of KCB and Kabras Sugar as they signed some of the best players in addition to roping in international players from South Africa and Fiji.
Not even the rich history of Nondescripts, Kenya Harlequin and Impala Saracens could stop them leave. Homeboyz, Top Fry Nakuru and Mwamba could not come close either.
Fast forward to 2022, two-club jinx has been broken. A new sheriff is in town in the name of Menengai Oilers.
Just six-years-old, Oilers defied all odds to qualify for the 2021-2022 Kenya Cup final set to be played at the Bull Ring in Kakamega on Saturday.
The Nakuru-based club shocked many rugby enthusiasts after they knocked out defending champions KCB 24-17 in the semifinals played in Nairobi, thanks to 100 percent kicking of Geoffrey Ominde.
Furthermore, this year's final will be historic since every final has featured a Nairobi-based team. This year will be different.
The Nairobi-based rugby powerhouses have been toppled from the apex of the game by recent entrants backed by a rich corporation.
Kabras Sugar RFC are sponsored by West Kenya Sugar Company, while Oilers are sponsored by Menengai Oil Refineries.
Kabras have been consistent, making six consecutive final appearances, while for Oilers, this is their maiden final.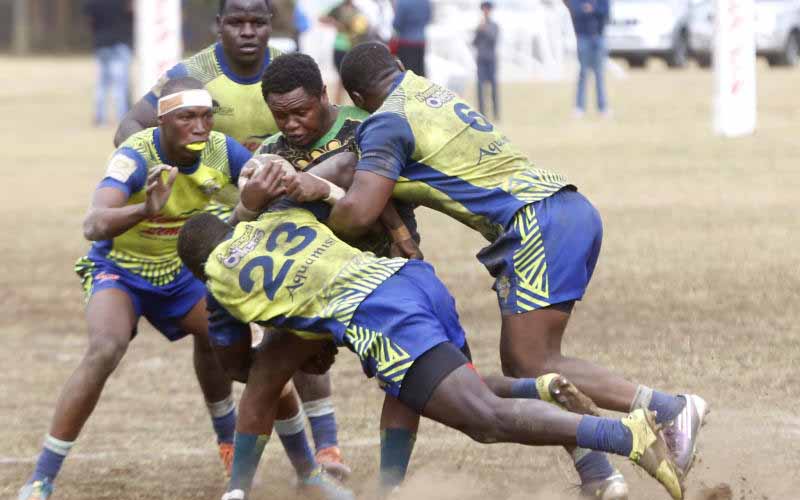 Oilers are having a big impact on upcoming players around Nakuru region, providing them with a platform to express their talent, a move the club's chairman Simpson Osiemo said has lifted the club to its current status.
Speaking during an interview with Standard Sports, Osiemo said the club has achieved a lot due to a long-term constructive plan, patience, collective team work and support from their sponsor.
"When we formed the club, we wanted to implement a decent way of playing rugby in Kenya. This is by introducing professionalism in the game where a player earns a living, train well, improve their skills and have access to equipment," said Osiemo.
"Through collective teamwork from sponsor, management, coaches and players, we are glad to be in our first finals. We can't take anything away from the incredible team that pushed the club to new height. On Saturday, we will give our best and try to cap the hard work with a championship title."
Oilers was formed in 2016 from Top Fry Nakuru Rugby Football Club.
Traditionally, Nakuru, popularly known as "Wanyore", is regarded as the home of the game in the region.
Nakuru has produced some of the finest players in the country such as Boaz Baraza, Ben Otieno, Larry Okinyo, Jotham Owili, Enos Otieno, Edwin Shimenga, Oscar Ouma and the current Oilers head coach, Gibson Weru.
Menengai Oilers Secretary Kirori Mindo said the club was formed to fill the need of a second major club in Nakuru that would accommodate all the abundant talent coming through the increasing number of schools that were embracing the game.
Mindo, formerly with Nakuru RFC, said in 2014 over 120 players showed up for trials at the then only club in Nakuru. Only 23 players were picked leaving a void of many others, an incident that prompted the need of another club.
"Good players have always come through the traditional rugby schools from the region such as Nakuru Boys High, Menengai High Moi Secondary, Larmudiac High, Langalanga, Uhuru Secondary and Nakuru Day Secondary," said Mindo.
"Nakuru RFC could not accommodate all of them."
A special meeting attended by several big rugby minds in the region, namely, Simpson Osiemo, Sylvester Musembi, Gibson Weru, Ben Kamau and Kiriro Mindo decided time was ripe for a new rugby club in 2016.
Anchored on the philosophy of believing in the future and nurturing young talents, the team sold the idea to Menengai Oilers Refineries and that is how the Menengai Oilers RFC was born.
In 2016, the club won the Kenya Rugby Union (KRU) Nationwide League on an unbeaten record. They defeated Egerton University in the playoff finals to earn promotion to the KRU Championship.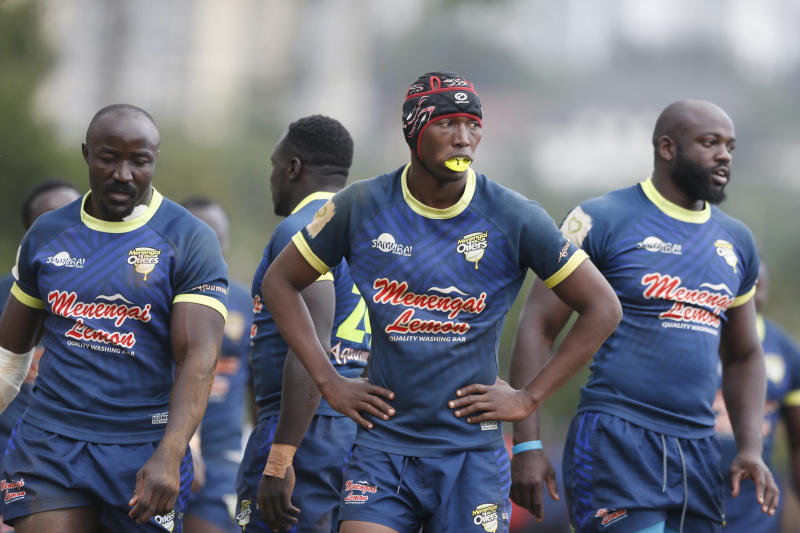 In the 2017, the club finished unbeaten in the regular season of the Championship before losing to Mean Machine in the Kenya Cup promotion playoff finals.
Despite the defeat, Oilers were promoted to the Kenya Cup in 2018. They made their Kenya Cup debut in 2018, before finishing eighth in the 12-team table.
"Our target in 2018 was to avoid being relegated. We wanted to stay up and that is what we did when we finished eighth. We won four matches and learnt a lot of lessons," said Mindo.
For the 2019-2020 season, Mindo said their target was to qualify for playoffs of the top tier league.
Eight wins in the regular season saw them qualify for the quarterfinal playoffs against Homeboyz. They finished sixth with 41 points at the end of the regular season.
However, their dream was cut short after President Uhuru Kenyatta imposed a nationwide lockdown in March 2020 due to the Covid-19 pandemic.
Oilers did not give up on their goal and in 2021, after finishing third in the log with 30 points, qualified for the semifinals.
The club, however, learnt a crucial lesson after they lost 35-17 to KCB in the semis. They then lost 19-0 to Strathmore in the third placed playoffs.
In the 2021-2022 season, Oilers embarked on a massive recruitment drive blending youth with experience as they set their eyes of reaching the finals.
They brought in Samson Onsomu from Impala, Wallace Onyango and Stanley Isogol both from Homeboyz, John Okoth, Brian Sinei and Eugene Lubanga from JKUAT University.
These signings proved vital as Oilers finished third for the second year running and qualified for the semifinals. They were paired against KCB, again.
Picking lessons from their loss last year, Oilers got their revenge as they knocked out KCB to qualify for their first finals.
Oilers are coached by former Kenya Sevens star player Gibson Weru.
Other technical bench members are assistant coaches Richmond Baraza (forward), Ken Njoroge (skills), Evans Kiprono (strength and fitness), Enos Otieno (team manager and forwards) and Anthony Maina (physiotherapist).
"This year we want to show our opponents that we have come of age. We are ready to go for our first Kenya Cup glory," said Mindo.
One of the top players in the team is try-scoring machine Derrick Keyoga, who is a member of Kenya Sevens.
Some of the pioneer players still in the team include captain Harold Ojango, who is also an international Sevens player, Clinton Odhiambo and Vincent Oduor.
Other founder players are Egerton University Law student Aziz Anan, dependable Francis Atiti, Nickson Ochieng', ex-Vihiga High School's Dennis Abukose, Davies Nyaundi (Menengai High), Ibrahim Otieno (Upper Hill School) and Andrew Wangila (Chavakali).
Related Topics