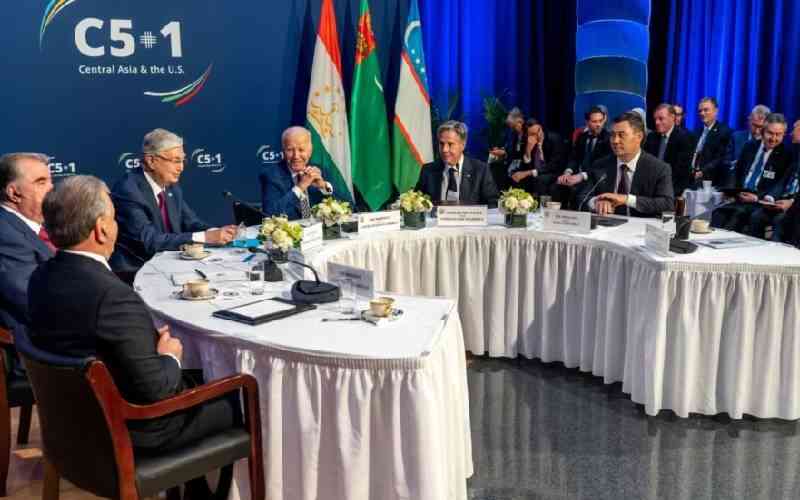 Senior U.S. officials are upbeat about the prospects for improved relations with Central Asia's five republics following a first-of-its-kind summit between the region's leaders and President Joe Biden in New York this week.
"I think we've heard an openness from all our Central Asian colleagues and really a desire for more engagement with the United States," said Nicholas Berliner, special assistant to the U.S. president and senior director for Russia and Central Asia at the National Security Council.
Biden "cares about the region," Berliner said in an interview with VOA after the summit. "And I think if there were any doubts about the level of interest on the part of the United States in Central Asia, hopefully today's summit has put those to rest."
The so-called C5+1, a diplomatic platform launched in 2015, had met only at the foreign minister level before this week's session on the sidelines of the U.N. General Assembly. But U.S. officials floated the prospect of more heads-of-state meetings in future.
"I have heard Central Asian leaders say this ought to be a tradition," said Donald Lu, U.S. assistant secretary of state for South and Central Asia, who told VOA that the summit could become an annual event.
At the closed-door meeting, Biden sought to balance calls for democracy and respect for human rights with the lure of closer economic and security cooperation, according to Berliner.
"President Biden's message to his counterparts was that the United States is ready to partner with you to address security issues, economic, climate and transportation issues, and to address human dimension issues," he said.
While Washington understands that the region is unlikely to abandon its close ties to its two powerful neighbors – Russia and China – the American officials said they are eager to offer those countries an alternative vision.
"We felt this was the right time to do this, and it's an important signal. It shows the importance and the value that the United States places on our relations with Central Asia," Berliner said.
Rights issues loom
Although U.S. officials were enthusiastic about the summit, human rights advocates were more measured.
"We hope President Biden was fully aware of the harsh reality in Uzbekistan and the rest of the region as he sat down with these authoritarian leaders," said Jahongir Muhammad, a former Uzbek politician and veteran journalist, who led a demonstration outside the United Nations with dozens of Central Asian immigrants.
Protesters noted the cases of imprisoned bloggers and missing activists, though VOA witnessed some debate among them about whether Uzbekistan is now freer and more open than under its previous authoritarian ruler, Islam Karimov, who died in 2016.
Human Rights Watch urged Biden to place human rights at the center of the summit, highlighting politically motivated prosecutions, suppression of free speech, and impunity for torture.
"While Russia's invasion of Ukraine has triggered renewed focus on this strategically important, resource-rich region, Biden should not allow this to eclipse urgent human rights concerns," HRW's statement on Monday said.
HRW also called out what it described as a lack of justice in Kazakhstan, civil society repression in Kyrgyzstan, a rights crackdown in Tajikistan, and Turkmenistan's reclusive dictatorship.
In Uzbekistan, despite President Shavkat Mirziyoyev's call at the General Assembly to respect human rights, the rights group believes Tashkent is "no longer pursuing a political reform agenda."
HRW cited Mirziyoyev's recent reelection without any competition and this year's constitutional amendments allowing him to remain in power for up to 14 more years.
HRW also pointed to restrictions on media, prosecutions of bloggers and a "heavy-handed response" to protests that took place in the autonomous region of Karakalpakstan in July 2022, when at least 21 people died.
Lu said Biden has sought to avoid lecturing other world leaders, including Central Asian leaders, acknowledging that Americans "have seen tremendous challenges in our country with respect to our democracy."
He said Biden focused at the C5+1 on how "we can work together" on issues like democracy and human rights. "And what I heard was a very receptive group of five leaders who themselves are looking at reforms in their home countries."
"There's a genuinely positive response when we say we want to be a constructive partner," Lu said. "If we just lecture other countries, very seldom does that produce a positive response."
That response was reflected in the joint statement emerging out of the summit, in which the six leaders reaffirmed their "commitment to working together to promote the rule of law and democratic governance." They also pledged to protect human rights, including those of women, children and persons with disabilities.
US commitment questioned
During a tour of Central Asia this summer, VOA learned that many in the region see America's engagement as short-term and limited by the whims of the authoritarian governments. U.S. media and civil society initiatives often find themselves under threat because of their push for justice and transparency.
Lu admitted that Washington faces challenges in the region, yet he remains optimistic.
"We are a reliable partner. … We've offered advice often to new emerging democracies. We've offered our assistance to help with economic growth. … That doesn't always mean that we have gotten along with every government."
Like Berliner, Lu expressed confidence in the continuity of the U.S. democratic system as the Biden administration pledges closer cooperation with the region.
"We want Central Asia to have good relations with its neighbors and the big partners around the world — with Russia, China, the United States," he said.
"If I were Central Asian, I would say take the best from all of the partners. Cultivate good relations with all of us. And we have something to offer as Americans, but I think the Chinese have something to offer. The Russians have something to offer. Central Asia should pick and choose the best from all of us."
Lu confirmed that each of the five Central Asian leaders invited Biden to visit his country. "He spent a lot of time in Afghanistan, he's visited Pakistan, but he hasn't visited any of the Central Asian republics, and he's really eager to do so."
Related Topics