Nine out of 10 businesses in Kenya are family-owned. Most of them are small, table-top enterprises with family members as the only employees.
Available data shows that they contribute about 60 per cent of employment in Kenya, which is huge. Unfortunately, if a family owned business survives the problems associated with early deaths of Kenyan start-ups, they tend to die with the founder.
Many businesspeople prefer to bequeath their estates to their children expecting them to flawlessly pass on the baton to their grandchildren and great grandchildren, believing that only their bloodline will protect their vision. Most times, they are dead wrong.
Professor XN Iraki, who teaches business at the University of Nairobi, says it is a question of family traditions.
"Some (families) have over the years developed a tradition of management, from day to day operations to succession. Others are hands off as long as money is made," said Iraki.
One critical issue, says Iraki, is handing over the business from founders to "others."
"Some fear growth and losing control, others cherish it."
President Kibaki era permanent secretary Dr Bitange Ndemo noted that many local family businesses flounder and die with their founders because of lack of succession planning. Ndemo says this would not only involve bringing one's family members in the loop on what it takes to run a company, but also roping in outsiders either as shareholders or board members.
"We are very poor in terms of succession planning. Everybody knows they are going to die. You have children, you could begin to tell them what they could begin to do after your demise. If you don't have trust in them, take it to the stock market.
"If tycoons whose empires crumbled when they died had taken their wealth to the stock market and 60 per cent was owned by individuals and 40 percent by the children, they wouldn't cause problems. Shareholders would tell them 'this is our business!'
"That is what Ford, founder of the American car making giant, did so that the children couldn't run down the enterprise. Otherwise, when you drop dead, within a few years, they are likely to mess it all up," said the former PS, who is currently an associate professor at the University of Nairobi.
We look at seemingly huge business empires that sailed into rough waters not long after their founders gave up the ghost.
Njenga Karume, an empire in ruins
Former Cabinet minister Njenga Karume's was not only an astute politician but a prolific entrepreneur with vast interests in hospitality, logistics and agriculture.
Eight years after his death, his vast empire lies in ruins, with his children and trustees jostling for control of the estate as lawyers pocket millions of shillings in legal fees. His Jacaranda Hotel is heavily in debt, with auctioneers hovering on the wings.
Karume left behind Sh300 million that would cover unforeseen events and medical bills. More than most of his peers, he seemed to have a succession plan in place, complete with trustees to run the show. Instead, his plan spawned feuds between his children and the trustees, as his once vast empire bled cash like a sieve.
John Kagema – Fighting for the spoils
Businessman and founder CEO of Equity Bank John Kagema died in December 2018. He was the owner of the luxurious Enashipai Resort and Spa in Naivasha.
Today, his widows and children are fighting over 21 companies, an insurance policy, at least 118 plots of land countrywide, a mining company, and a fleet of motor vehicles.
In 2019, Serah Wanjiru filed an application at the Family Court Division, claiming to have been left out of the proceedings on the succession of Kagema's estate yet she and the reclusive billionaire had been married under Kikuyu customary law and that they even had a set of twin children.
In the same year, Esther Njeri and her 29-year-old son Abraham James Gitangu Mwangi went to the Family division of the High Court seeking to be included in the case seeking the transfer of the administrative rights of the Kagema estate.
Kagema was a money magnet. Other than Enashipai Resort and Spa in Naivasha, at stake is the ownership or shareholding in more than 22 companies, hundreds of acres of land, vehicles and other possessions.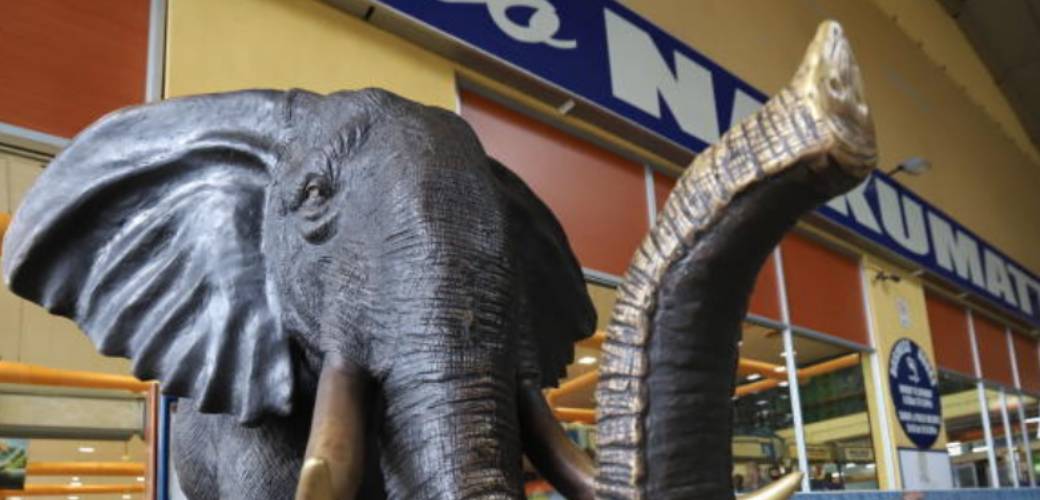 How Tuskys lost its tusks
Sibling rivalry, internal fraud, aggressive debt-fuelled expansion and fierce competition as some of the reasons blamed for Tuskys downward spiral.
The Tuskys fierce sibling boiled up to the third generation when the grandkids of the founder hounded out chief executive Dan Githua in full glare of television cameras, the same year Yusuf Mugweru took his brother Stephen Mukuha to court for slapping him.
Ironically, Githua had been appointed in 2015 to oversee the retailer's transformation from a tightly-controlled family business to a larger retail group with dreams of even listing at the Nairobi Securities Exchange (NSE).
The next year, Stephen Mukuha and his other brother George Gachwe were arraigned in court over the theft of Sh1.64 billion from the retailer. This was after an investigation that began in February 2012 when Mugweru sounded alarm over theft of funds from Tuskys accounts.
Attempts to reconcile the siblings have never worked out.
"I own everything that has happened in this organisation... I own that 100 per cent; the success of this organisation is for us all, but the failure is mine, we are going to make it good because we are committed as a family," said Mukuha admitting to have been part of the Tuskys problems. It didn't work and today, the giant retailer is a graveyard.
Akamba, long distance traveller who fell short
Sherali Hassanali Nathoo dreamt and woke up to sweat all day in a bid to see his dream materialised.
From humble beginnings in Machakos, the shrewd entrepreneur went on to establish Akamba Bus Company which dominated the transport industry for half a century.
From one bus operating in Machakos, Nathoo grew his company into one of the most respected long distance passenger bus transport and courier companies in East Africa with a network spanning over 50 destinations.
In September 2000, Nathoo passed away and bequeathed his shares to his wife Zarina and sons, Moez and Karim. The two sons with their majority shareholding, became directors and took the driving seat.
A decade later, the drivers lost control of the bus and plunged it to mismanagement.
Reasons for the fall range from poor management, board room wrangles, family disputes, fuel prices and recession.
By June 2012, Akamba was on its deathbed, with 20 buses awaiting the auctioneer's hammer. Dead meat.
Nakumatt caught a virus, sneezed and died
At its peak, Nakumatt operated 64 outlets across East Africa. Today, the retail giant is, for all purposes, dead as the dodo.
Nakumatt was founded in 1987 by the family of Atul Shah in Nakuru. It would over the next two decades emerge as one of the strongest brands in the region having outlets not just in Kenya but across the East Africa. Shah's story was one of those inspirational pieces that showed that ordinary folk could rise from nothing to the greatest imaginable heights. But with his exit, the retailer collapsed under the weight of mounting debts, mismanagement and alleged theft.
Nakumatt at some point owed different creditors Sh36 billion for goods and services supplied. Other than suppliers of products on retailer's shelves, other creditors included banks, employees and even Kenya Revenue Authority (KRA) that had not been paid taxes running into billions.