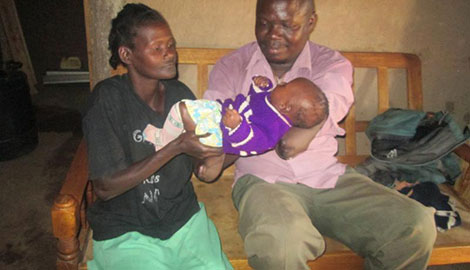 Maurice Opondo with his wife and child at home in Uranga, Siaya County [PHOTOS: OLIVIAODHIAMBO AND ANTONY GITONGA/ STANDARD]
Kiambu, Kenya: Maurice Owino Opondo, 41,was running a thriving business in Juja, Kiambu County when his world suddenly crumbled.
Mr Opondo, a resident of Uranga, Siaya County, recalls events that followed the disputed presidential poll in 2007, that saw him lose his business, limbs and get separated from his wife and two children.
He was running a mobile phone business, that used to fetch up to Sh30,000 per month, but on the morning of January 18, 2008, all that went up in smoke when his neighbours turned against him.
"My first wife lost all her teeth and suffered a spinal cord injury after we were attacked at home. She slipped and fell on our baby girl who was then two years old. This affected the baby who lost her hearing and developed speech problems," he says.
"I was in front of my shop when a group of youth wearing masks attacked me. I screamed as they descended on me with machetes. My wife rushed to see what was happening but also met the wrath of the group. By the time they left, I was lying in a pool of blood and my limbs were severed. But Opondo knows it could have been worse.
Read More
"I thank God they didn't kill me. I feared for my life since the previous day, a friend of mine had been slashed to death. I have never seen my second wife and children since then. All I know is that she works in Mombasa and lives with our children," he says.
Opondo's story is one of dozens from victims of the post-election violence who are still seeking justice. While they may not be privy to all proceedings at the International Criminal Court where President Uhuru Kenyatta, his deputy William Ruto and radio journalist Joshua Sang', are facing crimes against humanity charges, they share similar views on their quest for justice.
The violence, which left more than 1,000 people dead and thousands displaced, led to the setting up of more than 100 camps for internally displaced persons.
While many of these camps have since been closed, there are still dozens of people awaiting resettlement and compensation from the Government.
To date, little has been accomplished towards punishing perpetrators of the crimes, with many victims hopes of justice being dashed with revelations from the Director of Public Prosecution's office that it was unable to prosecute more than 4,000 cases on rape, murder and arson due to lack of evidence.
Opondo regrets that the Government has only considered those who lived in IDP camps, forgetting that many people evicted from towns returned to the villages to live with their relatives, and are leading miserable lives.
"Several victims of the violence who were running thriving businesses, are today languishing in poverty because they were never compensated by the Government. I cannot fend for my family because I lost my limbs and my wife cannot go to the farm because of the spinal injury sustained during the violence. We largely depend on well wishers and relatives to survive, "he says.
He hails President Kenyatta's appearance at the ICC, saying that it is only through the judicial process at, The Hague, that justice will be done, and prays that Kenyans will heed his calls for ethnic tolerance.
"I also expect President Kenyatta's government to represent the face of Kenya, or else his plea will remain a public relations message," he says.
Another victim Joseph Otieno Muongo, 39, who worked and lived in Naivasha before the violence, says he has long forgotten the issue of ICC and justice, since he had nobody to turn to after he returned to his village in Uranga.
Mr Muongo lost his wife during the fracas, and his job at the Homegrown factory where he earned Sh9,800 every month.
"Due to fear of the unknown after the chaos, I was afraid to return to work despite calls from my former employer. Memories of the violence and how my wife was killed were too much to bear, so I resorted to repairing bicycles in the village", he says.
For 91-year-old Jessy Kamunya, nothing would compare to having a place to call home. Mr Kamunya lost his eyesight four years ago, and has had to depend on his neighbours at the Kamuinge Internally Displaced Persons' (IDPs) camp in Uasin Gishu County for food and other basic needs.
His misery began after the 2007 elections, when he was chased from his home in Tambach, Elgeyo Marakwet County.
Like many others affected by the chaos, he was evicted from the only home he knew and ended up at the Eldoret Show Grounds, where he stayed for a year.
"We were brought to Kamwingi on February 2009, after staying at the show grounds. We registered a group and were identified as genuine evictees, who the government promised to settle," he says.
The Kamwingi Camp houses 68 families and is located in Yamumbi area, where one other Camp-Nak-a, was closed when President Kenyatta and his deputy William Ruto, visited the area and compensated 242 families. The camp was, however, not considered on allegations that the families were fake IDPs.