Charles Njonjo's death reports and why Twitter is a haven for fake news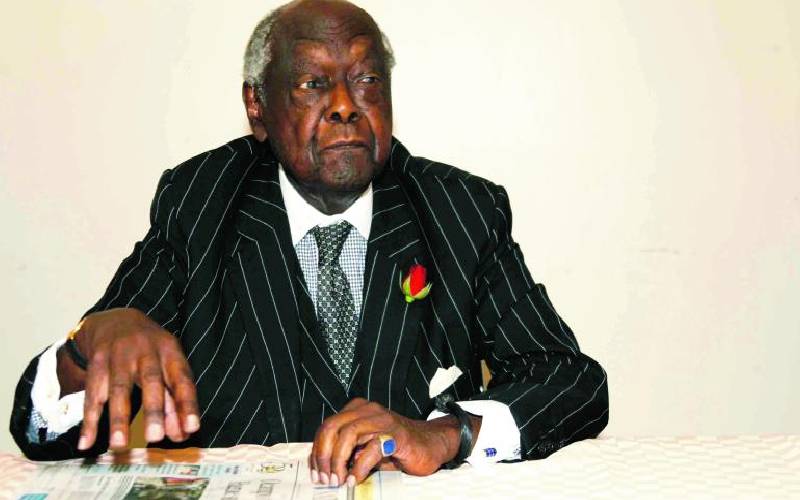 Last evening, reports flooded social media that Kenya's first attorney general Charles Njonjo was dead.
Many shared 'RIP' messages, with little effort to verify whether the reports were true.
Journalist Salime Lone and wildlife conservationist Dr Paula Kahumbu also shared the death reports.
Lone has since stated, "I feel truly awful. I posted comments an hour ago about my dear friend Charles Njonjo and his passing an hour ago. It seems that I was totally wrong. It's pointless to state that numerous new sites and others etc carried the news, I should have checked further. I feel very ashamed and offer sincerest apologies to all who were misled by my post."
Early Sunday morning, Njonjo's family had to issue a statement, saying "Reports of my death have been greatly exaggerated. I am well and enjoying my weekend at home ...."
But Njonjo is not the first casualty of the death rumour mill. Part of why prominent figures fall victim to death rumours is because their health is a secret.
Others who have suffered a similar fate include former President Mwai Kibaki, Simeon Nyachae, ex-President Daniel Moi, and former boxing champion Conjestina Achieng.
In March last year, a Facebook article claimed that Kibaki had died.
His son Jimmy took to Twitter to thus clarify, "My Father is safe and healthy. Ignore the rumors about Lee Funeral Home."
The same case was for Charles Nyachae, who went to Twitter to state that his father Simeon was still alive. He later died on February 1.
For Conjestina, sports journalist Carol Radull dispelled her death rumours by posting, "Conjestina Achieng's treatment at the Nacada Kenya-approved facility is going well. She began her third month on October 13. As you know rehabilitation is a process with good and bad days but progress is all we pray for. Thank you for continuing to pray for her and support her fund."
Further afield, others who have had to fight death rumours are former US President Barrack Obama, Hillary Clinton, and Jeff Bezos.
Amazon CEO Jeff Bezos was on July 7 last year a target of death rumors, which led to a #ripjeffbezos trend on Twitter.
The Wrap reported that following Clinton's appearance at a 9/11 memorial in September 2016 in which she appeared to collapse while getting into a van, ABC News weekend anchor Joe Torres said on that evening's newscast, "We begin with the breaking news about Hillary Clinton's death." The anchor meant to say "health" rather than "death," but Twitter nonetheless had a field day.
In Obama's case, Fox News' Twitter account was on July 4, 2011, hacked by a group that posted he had been assassinated in Iowa.
Such incidents raise queries on why fake news spreads fast on social media, especially Twitter.
A 2018 study by three Massachusetts Institute of Technology scholars found that false news spreads more rapidly on Twitter than real news does.
To conduct the study, the researchers tracked roughly 126,000 cascades of news stories spreading on Twitter, which were cumulatively tweeted over 4.5 million times by about 3 million people, from the years 2006 to 2017.
The study showed false news stories are 70 per cent more likely to be retweeted than true stories are.
It said it takes true stories about six times as long to reach 1,500 people as it does for false stories to reach the same number of people.
When it comes to Twitter's "cascades," or unbroken retweet chains, falsehoods reach a cascade depth of 10 about 20 times faster than facts. And falsehoods are retweeted by unique users more broadly than true statements at every depth of cascade.
The article on MIT News adds that the spread of false information is essentially not due to bots that are programmed to disseminate inaccurate stories. Instead, false news speeds faster around Twitter due to people retweeting inaccurate news items.
The study was motivated by the 2013 Boston Marathon bombings and subsequent casualties, which received massive attention on Twitter.
MIT News said to determine whether stories were true or false, the team used the assessments of six fact-checking organizations (factcheck.org, hoax-slayer.com, politifact.com, snopes.com, truthorfiction.com, and urbanlegends.about.com), and found that their judgments overlapped more than 95 percent of the time.
Of the 126,000 cascades, politics comprised the biggest news category, with about 45,000, followed by urban legends, business, terrorism, science, entertainment, and natural disasters. The spread of false stories was more pronounced for political news than for news in the other categories, the article added.