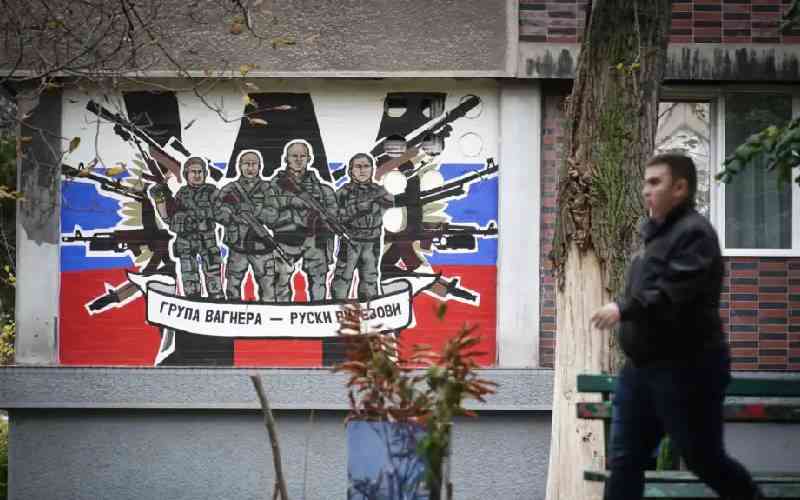 A man claiming to be a former commander in the Russian private military contractor Wagner Group who fought in Ukraine is seeking asylum in Norway after fleeing there last week.
Authorities in Norway said border guards detained a man near the Russia-Norway border early Friday.
A lawyer for Andrey Medvedev told news agencies that Medvedev was in Norway and seeking asylum.
"He has declared that he is willing to speak about his experiences in the Wagner Group to people who are investigating war crimes," lawyer Brynjulf Risnes said.
Dnipro attack
Ukrainian officials said Tuesday the death toll from a Saturday missile strike on an apartment building in Dnipro rose to 41 after crews found the body of a child in the rubble.
Regional governor Valentyn Reznichenko said 25 people were still missing, with 90% of the rubble cleared. He added that 79 people were wounded in the attack, with 28 of them hospitalized.
Ukrainian President Volodymyr Zelenskyy said in his nightly address Monday that the attack in Dnipro highlights the need for faster and more coordinated decisions on arms supplies to Ukraine.
"What happened in Dnipro … only underscores how important it is to coordinate all the efforts of the coalition defending Ukraine and freedom," Zelenskyy said. "And to speed up decision-making."
An emergency specialist walks among debris at the site where a building was heavily damaged in recent shelling during the Russia-Ukraine conflict in Donetsk, Russian-controlled Ukraine, Jan. 16, 2023.
U.S. Defense Secretary Lloyd Austin will host allies of Ukraine at an air base in Germany on Friday to discuss further Western military aid for Ukraine.
European Union foreign policy chief Josep Borrell called the Dnipro strike and others like it on civilian targets "inhumane aggression."
"There will be no impunity for these crimes," he said in a tweet on Sunday. Russian forces have repeatedly hit civilian targets since invading Ukraine in February.
U.N. Secretary-General António Guterres also condemned the attack, saying it was "another example of a suspected violation of the laws of war," according to U.N. spokeswoman Stephanie Tremblay.
German Foreign Minister Annalena Baerbock called for a special tribunal to prosecute Russian leaders for alleged war crimes.
Russian officials have repeatedly denied targeting civilians in Ukraine, including again Monday as Kremlin spokesman Dmitry Peskov said Russian forces "do not strike residential buildings or social infrastructure. They strike military targets." Peskov said what happened in Dnipro was caused by Ukrainian air defenses.
In Kyiv Monday, a high-level U.S. delegation that included Deputy Secretary of State Wendy Sherman met with Zelenskyy to deliver a message of unflinching U.S. support for Ukraine.
"The U.S., NATO and partners across the globe remain unified. We are delivering on our promises of aid," Sherman said.
Colin Kahl, undersecretary for policy at the Department of Defense, said the number one priority of new military aid to Ukraine remains air defense, and that "another priority is making sure Ukraine has the type of armored and mobile capability that is required to maintain momentum on the battlefield."
Related Topics