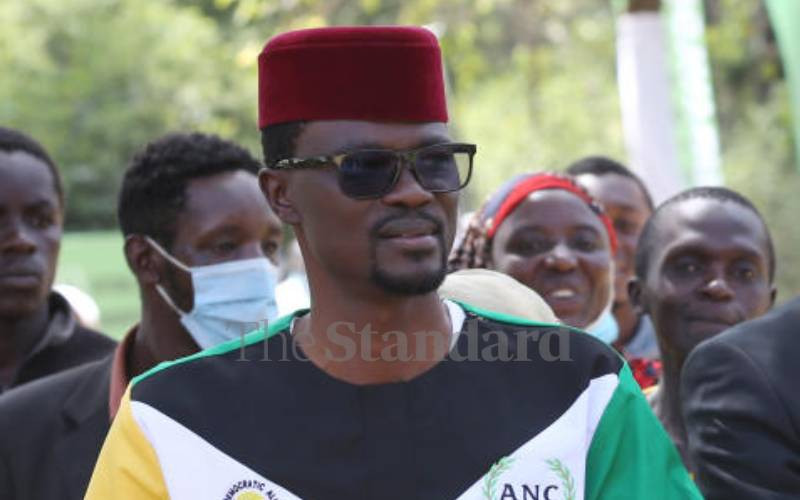 Kimilili MP-elect Didmus Barasa will be detained for a further 10 days as the prosecution seeks to press murder charges against him.
Barasa surrendered to police on Friday over allegations that he shot dead Brian Olunga, an aide to his opponent, and has since been at the Kisumu Central Police Station.
Tuesday, the politician asked the court to release him as the prosecution builds its case.
But Bungoma Senior Principal Magistrate Charles Mutai agreed with State lawyers, saying the crime under investigation was grave, and that the police needed more time.
"This is an incident that involved loss of life. Police are still holding investigation and have recovered a gun and two sim cards including a Kenyan and another from Uganda mobile telephone provider," he said.
"Even as the lawyers of the MP-elect deny that the MP is a flight risk, saying he has no such history just like he has never in his life interfered with investigation, I observe the offence under probe is serious."
He said the politician could have presented himself to police after the incident if he was the ideal law-abiding citizen his lawyers painted him to be.
The court, however, rejected the prosecution's plea for 20 more days.
The State lawyers said the police officers investigating the case were still taking testimonies from witnesses.
"He (Barasa) is a man of influence given he occupies high public office and he may use that to influence witnesses. Some of the witnesses like police officers have taken ballot boxes to Nairobi and are yet to return to Bungoma where the killing occurred. We are only seeking continued detention of the MP and once we make a decision on whether to charge or not then the court may rule on his right to bail," said the lawyers. "He is also armed and dangerous."
They said the right to liberty that the legislator was seeking can not supersede the right to the life of the 22-year-old man who succumbed to the voting day shooting.
Barasa's lawyer Hussein Abdi, however, said the MP would present himself to any police station for probing if and when needed.
The case will be mentioned on Wednesday.
Related Topics