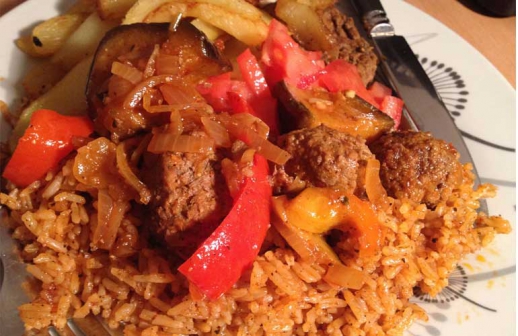 Pilau with a difference. Soya chunks are a great protein and lighter on the body than beef. Healthier and cheaper and a dish for vegetarians. Add potatoes if you so wish.
Serves 3-4
Prep Time: 10mins
Cook Time: 36mins
Ready In: 46mins
Ingredients:
1 cup rice (500g)
READ MORE
2 large onions
1 clove crushed garlic
1 crushed ginger
20g whole (uncrushed) pilau masala
¼ cup salad oil
1 pack soya chunks
1¾ cups cold water
Salt to taste
Directions:
Soak whole uncrushed pilau masala in cold water for 2-3mins then drain water. In a hot pan, put the pilau masala toss until dry. Once dried, blend the pilau masala and set aside.
In a cooking pot, fry onions until golden brown, add garlic, ginger, salt, pilau masala, allow to cook for 2-3 mins, add the soya chunks and a cup of water and let simmer until water has almost dried up but not totally dry.
Add the 1¾ water and bring to a boil, then add the rice and let boil until water level has gone down. (It should not be totally dry-level of rice).
Once the water level has gone down, set the cooking pot aside, cover the cooking pot with foil paper and pot cover and let rice cook with its own steam for 20 mins.
Fluff the rice, spoon into a serving dish.