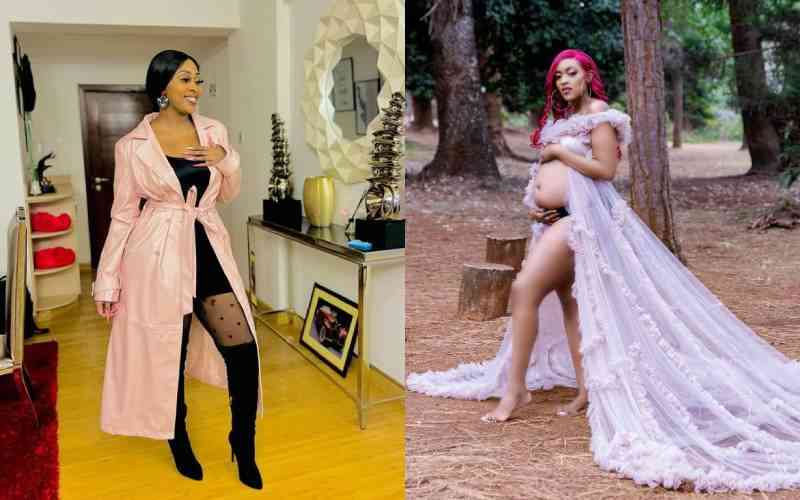 Amber Ray's younger sister Ellah has announced that she is expecting her first child with her boyfriend, Steve Odek. Taking to social media, Ellah said that she was over the moon as she prepared to welcome the little one and expressed gratitude to God for giving her the honor of being a mother.
"I still can't believe God blessed me with a little person that is half me and half of the person I love," she captioned a video featuring her lover.
In the video, Ellah, who enjoys over 100k followers on Instagram, was captured kissing Steve while she gently caressed her bulging baby bump. Equally excited, fans camped at the comment section wishing her all the best as she kicks off her motherhood journey.
View this post on Instagram
Her elder sister, Faith Makau, aka Amber Ray, was not left behind as she led the congratulatory messages. In her message to Ellah, Amber thanked God for their growing family.
"Aaaaaaaaaaaawwwwwww ???? and just like that,our family is growing ? congratulations baby sister," wrote Amber Ray.
TV anchor Lilian Muli also went on to congratulate the content creator, acknowledging that children are a blessing.
"Happy for you babe. Children are the most beautiful blessing ever," she wrote.
@Yvonneafrostreet: Congratulations Ella
@matthew.maggie: Congratulations babe????May the love never die
@tesh1448: ???congratulations Ellah This journey will be worth it
@zoya_wanja: Congratulations ? babe..I wish you the best on this amazing journey of Motherhood.
@maya_jaoko: Screaming Congratulations ?? You'll definitely be a good mother
@justcallme._e: Congratulations Ellah you deserve it .You gonna be an amazing mother for sure !
@kelly_neomy: I knew it, that's why you went silent.
@sheila_wangio: So happy for you my dear... congratulations to you both ... it's such a blessing.
Earlier this year, Ellah, who also models for clothing stores and boutiques, introduced her boyfriend on social media while the two were on a safari. In her introductory post, Ellah showered her man with love, declaring that their love is forever.
"I love you wildly, insanely, infinitely #loveandlight," she wrote.
In a quick rejoinder, Steve reassured her of his love as well.
"Love you more wildly , insanely and infinitely ?" he wrote.
Related Topics