Home
/
Easy recipe: Creamy cassava in coconut with mutton/goat wet fry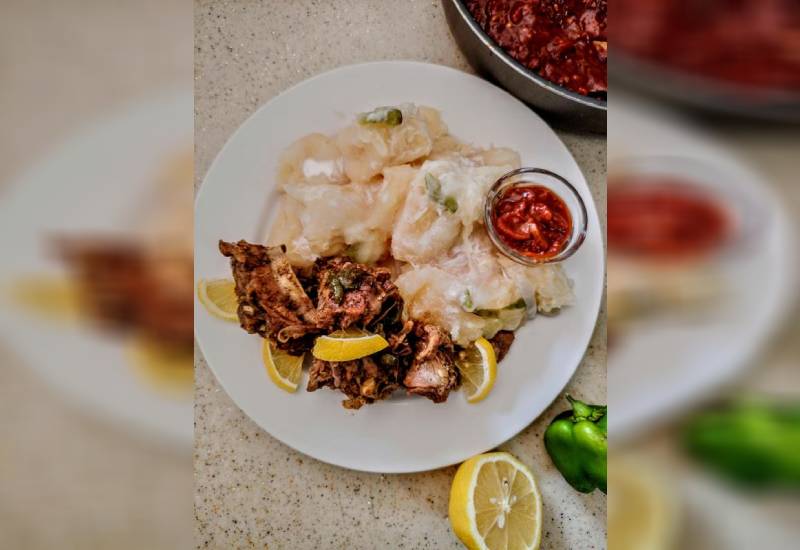 This recipe is authentic Swahili with a twist of my signature touch. Usually, cassava in coconut is made simply with just onions, coconut cream and some salt. I like to add some green pepper to give it a little bit more flavour and colour. We'll serve it with some good mutton wet fry on the side.
What you will need:
Muhogo wa nazi (cassava in coconut sauce)
1kg fresh Kenyan cassava
250ml heavy coconut cream
1 ¼ teaspoon salt
4 whole chilies
2 medium onions chopped
1 capsicum diced
2 litres water (for boiling the cassava)
What to do:
Peel the fresh cassava and clean thoroughly in water, cut to desired cubes and remove all centre threads.
In a pan over medium heat, boil the water and then add the cassava. Cover to cook over medium heat for about 30 minutes or until cassava is soft.
Drain the water, add the onions, capsicum, coconut cream and the salt. Cook over medium heat for 10 minutes.
Reduce the heat, add the whole chilies and cook for a further 10 minutes.
Garnish with some sliced chillies and lime if you wish. Serve with the mutton/goat wet fry.
For the mutton wet fry:
1kg mutton/goat chunks
1/2 cup white vinegar
3 onions, sliced
1 green pepper cut into tiny cubes
1 tablespoon of oil
1 teaspoon garlic paste
Handful of fresh mint, chopped
1/2 cup water
Salt to taste
What to do:
In a bowl, pour in the mutton. Add in the white vinegar and let it stay for about 30 minutes so that it can tenderise.
In a pan over medium heat, add 1 tablespoon of oil and onions. Sauté until golden brown. Remove and place them aside.
Add the mutton along with the vinegar it was soaked in (for a nice tangy flavour).
Add the garlic paste and cook the meat until golden brown.
Add half cup of water and bring to a boil. Add salt and pepper. Continue to cook until liquid is reduced.
Add the green pepper and mix well then add in the fried onions. Continue to mix well, add some mint and let it cook until almost dry.
Serve with cassava in coconut sauce.
Related Topics