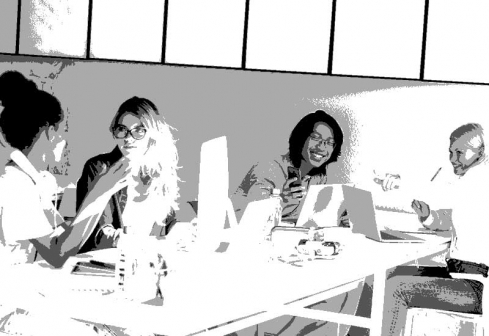 We all appreciate that the office is a meeting point for various personalities. We work with different types of women so I decide to classify them.
1. The 19th century woman
She is always humble and very respectful. You will know her by how she dresses, talks or even addresses issues. These women are the best and most men admire them and that is why there were very few cases of divorce in their era.
2. The single mama
This woman will always talk ill about men. She believes that all the men are the same and she will always tend to classify them according to their behaviours to her female colleagues. She will always tell them how many heartbreaks she has gone through and thank God she has her kids and never will she trust men again.
3. The Mrs I Know It All
READ MORE
She brags about the places she has been, knows more about the celebs and politicians. She is a bore to listen to as she will take over every talk. There is no event that has taken or will take place that she doesn't know about.
4. The 'my husband' one
In every conversation she gives, "my husband" will not miss. My husband does this, wants this or that...etc. She's really a bore who publicises everything that her hubby does to her and the kids. She doesn't know the oath of secrecy between couples.
5. The classy one
She's the modern woman who always kills by her looks. She stands out from the rest and her killer perfume will always tell you that she passed by or she was here. Men in the office keep perusing her and wish they could get a chance to be with her while her female colleague's wish she wasn't there.
6. The chama mama
Her talks are always about chama and how important they are in terms of saving. She has over five chamas: for daily, weekly, half monthly/monthly and yearly. She would rather skip lunch, stick to that black handbag come rain or shine, plait her natural hair instead of weaves or braids so as to save for contribution to her chama. Her clothes are countable. Don't be surprised to hear that in the office she is able to convince some few women to start a chama.
7. The Mrs Ever-Young
She will always compete on how to dress with the young ladies who are younger than he or even the age of her daughter. Her body shape and size limits her dress sense but she will try to fit in that mini skirt or short dress. The types of hairstyles she has makes you wonder if she's now an adolescent or she doesn't have a husband to stop her.
8. The Google one (the 411 )
If you want to know about the private life of other staff members or what's happening in the office she's the right source of information. She knows who is secretly dating who, who has an eye for someone in the office and where each and every staff member lives. She never completes her work in time as she's always gossiping. She will pretend to be good to you but what you don't know is that she is writing your biography and updating her database.
9. The bossy one
You will know her as she is always giving orders to her juniors in the presence of clients so that they know she's the boss. She wants to be addressed as "madam" and doesn't listen to anyone's suggestion. This makes you wonder if she has a husband and if she behaves the same way at home.