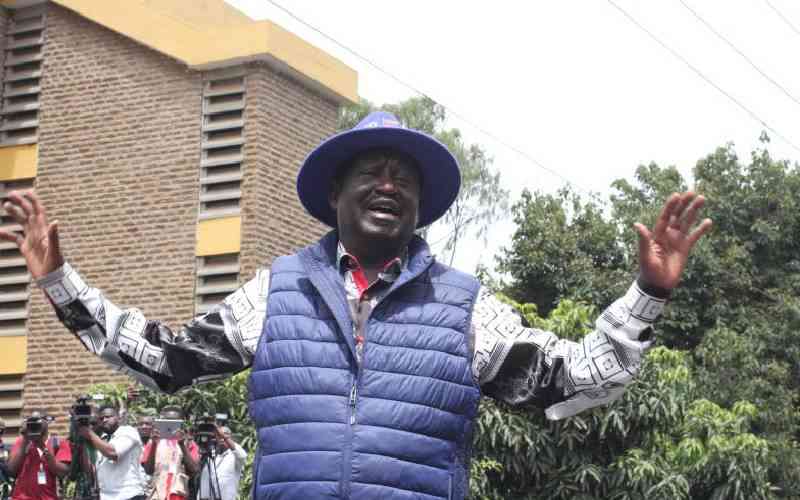 The dust is settling after the most competitive presidential election in the history of Kenya.
Supporters of President William Ruto know he won by a whisker, and those of former Prime Minister Raila Odinga believe that this was his best performance ever, even if it fell short.
Many Kenyans were more engaged in assessing candidate suitability based on policy proposals.
The persuasive idea of inclusivity with assistance for those unable to meet basic needs advocated by Raila was ranged against the passionate proposal to direct resources at small businesses of 'hustlers' advanced by Ruto.
The August polls had the closest result in the history of Kenya, with Ruto defeating Raila by a mere 233,000 votes out of more than 14 million valid votes.
In effect, Kenya is divided right down the middle, with the two contenders commanding equal support. Such an election outcome calls for magnanimity from President Ruto.
It also requires humble acceptance of the role of effective opposition by former Prime Minister Raila, who accepted his loss at the Supreme Court after using peaceful constitutional means to contest the election results, a sign of a mellowed statesman.
Therefore, the ruling of the seven Supreme Court judges upholding the presidential election, delivered in vitriolic language intended to disparage the losing party, was underwhelming by failing to focus on the law, and digressing into throwing uncouth epithets that did not impress Kenyans.
Kenyans showed the world that they are maturing as democrats with no violent protests reported anywhere in the country despite strong arguments that the Independent Election and Boundaries Commission (IEBC) Chairman Wafula Chebukati had bungled yet another election after messing up the 2017 election that was nullified by the Supreme Court.
The American State Department and Ambassador Meg Whitman unwisely predicted that the lakeside citizens would riot after the Supreme Court pronounced itself restricting travel for their citizens to the area, only for the great people of Kisumu to shame them by accepting the judgement with poise, perseverance and peace.
Raila is a mainstay of democracy in Kenya, having paid a steep price of years of incarceration without trial and torture. Whereas Raila has not won a presidential election in five attempts, he has literally mentored, collaborated with, and taught nearly the entire crop of current senior politicians in Kenya, including President Ruto.
In fact, President Ruto may be a secret admirer of Raila knowing that as a good student, he learnt all, and then some, of the teacher's successful political strategies that elevated him to the highest office in the land.
Raila has aged but he is as lucid, articulate, fit, and compelling as ever. He has helped midwife the democratic state and Kenyans know he is compassionate, forgiving, and a repository of great ideas such as his advocacy for multi-party politics and devolution that are transforming Kenya for the better. Raila has always embraced countless erstwhile adversaries with peace, including Presidents Daniel Arap Moi and Uhuru Kenyatta.
Some Kenyans will inevitably dismiss Raila as a spent force, only to turn around and ask for his participation when things get tough because he truly is indispensable for the success of Kenya, having the mettle to stand up to the state and point out what ought to be rectified.
In any case that is how he got the moniker 'Baba' when after his losses in the past he would be quiet for a while, only for Kenyans to start asking where he was telling him, "Baba, while you were away, things went haywire, and we need you."
Raila shall one day disappear into the exquisite sunsets of Bondo like the General he is, but that time is not here yet as he still straddles the political stage like the colossus.
Raila is down now, especially given that this election was his to lose due to the massive indebtedness the Uhuru and Ruto regime imposed on Kenya, the high living costs that afflict Kenyans, and the hordes of young people without jobs.
Whereas Raila shook hands with President Kenyatta in 2018 in a magnanimous act of peace, he could have made the smart move to play the role of opposition by consistently criticizing the poor performance of the Uhuru administration, and effectively tying Ruto to their failings.
Instead, he embraced Uhuru so much that he was seen by Kenyans as part of government without having any real policy or administrative say in state matters. That strategic mistake enabled Ruto to disassociate himself from the shortcomings of his administration with Uhuru, and blame Raila.
In the wisdom of hindsight, the fact that Raila was barely defeated by Ruto despite bearing the heavy yoke of misplaced blame for flaws in the Uhuru regime, shows he would have handily defeated Ruto if he played opposition politics.
In fact, the only chance Raila has of making a grand comeback is embracing his role as the legendary oppositionist he is by leading Kenyans to combat corruption that could take hold in the Ruto regime.
Raila is famous for unearthing mega corruption scandals in government and he is probably the only one that can lead the struggle against the vice with the gravitas needed to tame the scourge.
Raila may or may never be president of this republic, but in the long arc of history, few presidents will match his contribution to establishing a democratic, united and prosperous Kenya.
Tony Sisule is a Kenyan policy analyst based in New York, USA. [email protected]
Related Topics