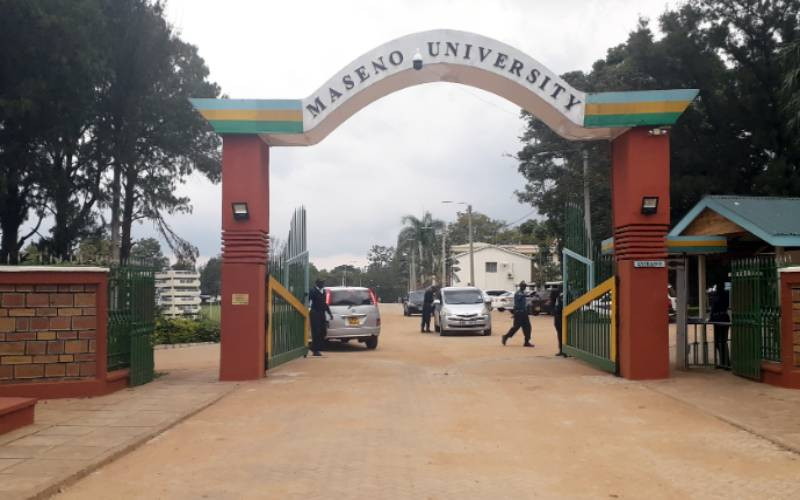 The office that Prof. George Magoha was supposed to occupy at Maseno University in Kisumu County stands tall and grand, but empty.
The former Education Cabinet Secretary (CS) was scheduled to use it from Monday, January 30, according to sources at the institution of higher learning.
Magoha, a urologist by profession, had on January 17 been appointed the Professor of Surgery at Maseno University's School of Medicine.
The varsity's top management was expecting Magoha to join them after the burial of his younger brother Prof. Alex Nyabera Magoha, which is scheduled for Saturday, January 28 at Umiru Village in Gem Constituency, Siaya County.
"His (George Magoha's) appointment took effect immediately, but he was allowed to bury his brother first before he could assume his teaching duties," an informant at Maseno University told The Standard.
Maseno University was doing final touches on his office, when news broke of Magoha's death on Tuesday, January 24.
A source at the institution said the ex-minister's new office at Maseno was bigger and better equipped than that occupied by Vice-Chancellor Prof. Julius Omondi Nyabundi.
In universities, the VC is akin to the Chief Executive Officer of corporate institutions, and enjoys the best facilities that the institution has to offer.
For Magoha to have a better office and more advanced facilities than the VC of Maseno University, it communicates how highly regarded he was in the world of academia.
A source privy to the arrangements of onboarding Magoha to the university said they had to offer him the best facilities because of his status as an immediate former minister of the Education docket.
"We were hoping he would also transform the [medicine] department the way he positively changed the country's education sector. The news [of his death] is extremely shocking," said a senior staff member.
Magoha, who died at the age of 71, served as the Vice-Chancellor of the University of Nairobi (UoN) between January 2005 and January 2015.
Besides being VC, Magoha served as Professor of Surgery at the institution's College of Health Sciences.
After exiting UoN in 2015, Magoha was appointed chairperson of the Kenya National Examinations Council (KNEC) between 2016 and 2019.
On March 1, 2019, former president, Uhuru Kenyatta, nominated him for the position of Cabinet Secretary for Education, and was sworn into office on March 26, 2019.
Magoha died at the Nairobi Hospital after suffering cardiac arrest at his Lavington home.
His body is preserved at the Lee Funeral Home as funeral arrangements are made.
Magoha is survived by his spouse, Dr. Barbara Magoha and son, Dr. Michael Magoha.
(Additional reporting by Harold Odhiambo)
Related Topics