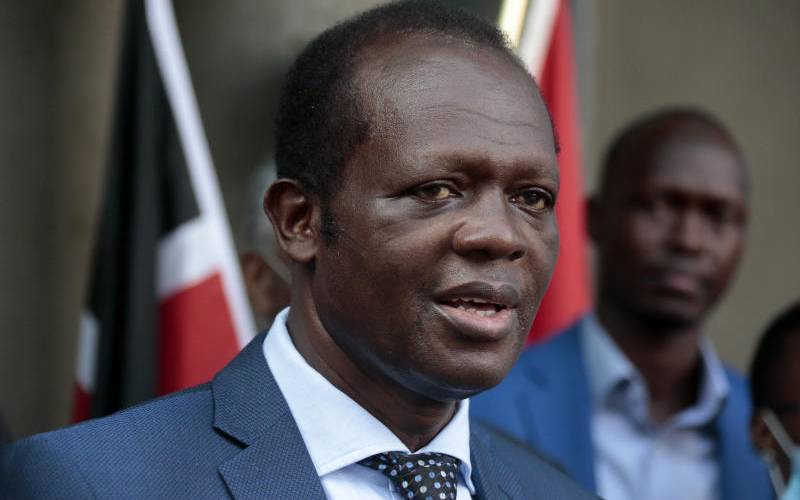 Former Jubilee Secretary General, Raphael Tuju, has opened up about the last moment he shared with the former Education CS George Magoha, a day before he passed on.
Magoha passed on last evening after he collapsed in what his family says was a cardiac attack.
According to Tuju, the deceased had complained of fatigue a day before his demise.
Tuju, Magoha's family friend, noted that his departed friend and former colleague at the cabinet had attributed the exhaustion to the planning of his late brothers' burial.
He also says he last met with the former Education CS on Monday evening and that he was in high spirits.
"I was in this house on Monday afternoon when we were discussing the funeral arrangements of Prof. Nyabera who is his brother," Tuju said.
Prof. Nyabera passed on in the United States last month.
His body arrived in the country Tuesday evening and is set for burial on Saturday.
"He was fine, he told me he was exhausted but that could be attributed to the running up and down organizing for the burial of his brother whose body was arriving in the country," Tuju observed.
Tuju noted that Prof. Magoha did not show any sign of having health challenges. "He was in high spirits. We sat and talked and there was no indication whatsoever that he had any health threat," he said.
The former Rarieda MP further said, the burial of Prof. Nyabera will go on as planned.
"As the program is concerned, the burial of Prof Nyabera will go on, on Saturday, January 28, 2023," he said.
"In terms of Prof. George Magoha, the family will announce later by the family spokesperson who will be appointed." He said the death of the former CS has got many people with a lot of shock.
"The passing on of brother George Magoha is a reminder to all of us that we are a mere mortal. As a family, friends and colleagues we are devastated," Tuju said.
Related Topics