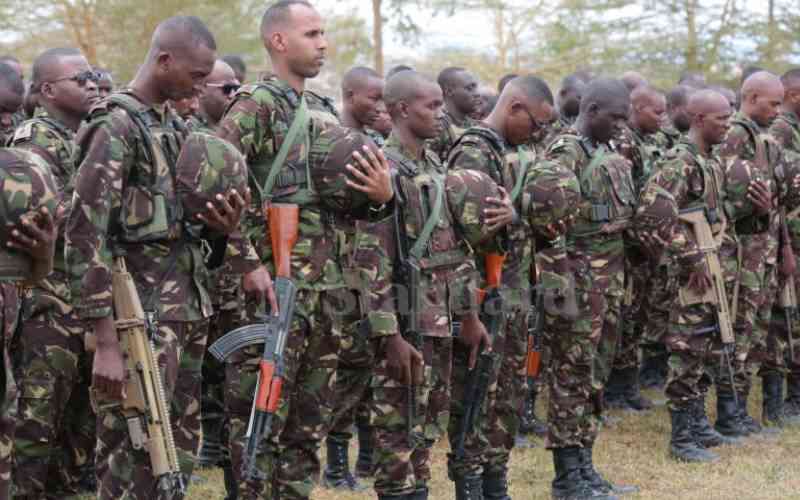 Kenya has dispatched soldiers to the troubled Democratic Republic of Congo (DRC), hours after UN peacekeeping mission withdrew troops from the eastern military base of Rumangabo.
The decision to deploy Kenya Defence Forces (KDF) came after marathon consultations, according to President William Ruto when he flagged off the contingent yesterday.
"Over the last 48 hours, I have been engaged in extensive consultations regarding the unfolding events in DRC. This morning I talked to Secretary General of United Nations, the chair of African Union as well as East Africa Community leaders among them our elder President (Yoweri) Museveni of Uganda, the presidents of Burundi and Rwanda. We have all agreed that it is our collective responsibility to keep our region safe by confronting criminals and terrorists denying us the opportunities of shared prosperity," said Dr Ruto.
A rebel group in the eastern DRC has been waging war against the government, resulting in deaths and displacement of a large number of people.
Rwanda has been accused on supporting M23 militia, but Kigali denies this. Last week, Kinshasa expelled Rwanda's ambassador to DRC.
In August, UN experts claimed they had evidence Rwanda was providing military aid to the rebel group. The government of Paul Kagame dismissed the UN findings.
The withdrawal of UN peacekeepers is a setback, coming at a time when M23 is making advances in North Kivu Province.
"We have made a strategic and tactical withdrawal from Rumangabo, in consultation with our partners, to better prepare the next steps together," the UN mission said in a Twitter post on Tuesday.
Working under the East Africa Community Regional Force (EACRF) headed by Major General Jeff Nyaga, the Kenyan military personnel will also engage in a disarmament exercise.
President Ruto said it was necessary to restore peace and stability.
"Without peace, human freedom is in jeopardy. Without stability, all potential is deferred in perpetuity. Without security, opportunities remain unattainable," said Dr Ruto.
In a prayer for the troops, Dr Ruto asked for God's protection and wisdom. "Before you are men and women from the Kenya Defence Forces. They are on a mission to protect humanity; to protect mothers and children, and our sisters in DRC. We pray for them as they go to execute this mandate, we pray that you go before them.
"Protect these men and women, give wisdom to their commanders, give them favour as they work with other forces."
Colonel Daniel Rotich, who leads the contingent, received the Kenyan flag from Dr Ruto during the ceremony at the Embakasi Garrison.
According to the Head of State, the destiny of DRC is intertwined with Kenya's, and therefore a stable and secure DRC is in the interest of Kenyans who risks facing the consquences should the conflict escalate.
At the weekend, M23 rebels launched a fresh offensive capturing Kiwanja town. There is fear the rebels might take over Kivu province.
Related Topics