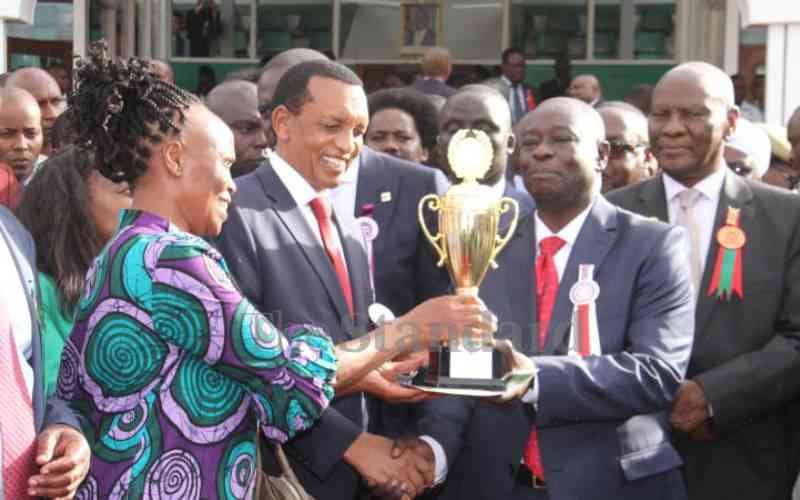 Deputy President Rigathi Gachagua has defended his statement on the government's intention to allow farmers plant crops in the forests.
Gachagua said his statement on return of shamba system was misunderstood and that he meant that the government will work with farmers to plant and nurture trees as they tend to their crops in the forest reserves.
The DP had announced that the government would reintroduce the shamba system but he clarified his statement saying that they will partner with farmers to plant trees on bare forest lands as farming continues.
"When I was in Baringo, I announced to the people of Kenya that we have a serious problem on afforestation. There is a lot of land within the forest reserves that has been earmarked for tree planting," he said.
"We are going to mobilise farmers to assist us to plant new trees in those areas that have no trees and take care of them as they farm and the forest can continue growing."
Gachagua said the media misreported his statement and that he did not mean that they would take farmers to plant crops in the forests.
"What we are doing is afforestation to add our forest cover. There will be a serious programme of afforestation in all those areas with virgin lands within the forest reserves," said Gachagua.
"We will partner with farmers near the gazetted reserves to enhance water catchment areas and deal with effects of climate change."
He spoke during the official opening of Nairobi ASK 2022 International Trade Fair.
The annual trade fair, this time under the theme Promotion of Technology and Innovation in Agriculture and Trade, returned after two years of break occasioned by the Covid-19.
The DP said the government has set aside Sh3 billion for implementing crop insurance programme to cushion farmers from severe effects of climate change. So far, the fund has covered 1.3 million farmers in 37 counties.
Gachagua said the government has prioritised agriculture as key component in economic recovery and will transform the sector from subsistence to a commercially and globally competitive industry.
"We are currently facing unprecedented high food prices occasioned by both internal and external factors," said Gachagua.
Related Topics