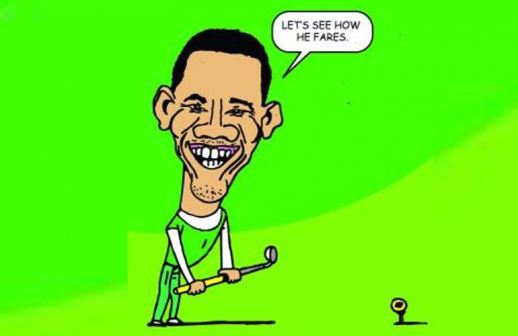 In kindergarten, after you learn the vowels – A E I O U – your next task, as a tot, is to scream 'Ba, Be, Bi, Bo, Bu' as teacher Beatrice benevolently looks on. You know your toi is lost when they say that, today in nursery, they learned 'Bae, babe, bibi, boo, bubu.'
What I'm getting at is this – today I wanted to talk about BI ( Beryl Itindi) but instead I'll talk about BO (Barack Obama, though the White House dog is also called BO and, this week, no doubt bad tempered because they are leaving the WH, it nipped some woman who went to pet its head on her ear).
Bo should just have bitten the new occupant of 1600 Penn Avenue and given him rabies, though he's already rabid. BI and her 'Adventures on Boda Boda & Other Wanga Tales' will just wait for another Saturday.
Barack was that black man who proved that dreams can come true. Born of a Kenyan father, he aspired to and won the highest office in a country which, just four decades before, was still segregating against black folks. Let us put that in context. It is like an Ogiek rising out of the ether and becoming president of Kenya by September, 2017.
President Obama was thoughtful and nuanced and highly intelligent as a world leader; and that came about not just because of his great learning (that is why we must all support Matiang'i's efforts in the education sector) but he is also a voracious reader of everything – from good books to newspapers.
Trump by contrast has never read a book in his life, other than the one Tony Schwarz ghost-wrote for him. Not even the Bible. That is why at a Bible college, he referred to 'Second Corinthians' as 'Two Colossians.' I will not be surprised if Donald in his first post-Inauguration speech says – 'As the Bible tells us in Two Colonialists ...'
Obama also had a great sense of humor. During the Clinton campaign, he made a crack at the partisan FOX News that has been always biased against him – 'I know you guys will miss me. It will be much harder convincing your viewers that Hillary was born in Kenya.' That Mr. Trump was chosen (by a minority) to be president over Mrs. Clinton, who would have been the First Woman (instead of just First Lady) is one of the great sexist tragedies of our time.
READ MORE
Obama was classy and cool, at home with both world leaders like Madame Merkel as well as entertainment moguls like Jay Z, as easy in Washington DC as he was at ease with Hollywood gliterrati.
He could throw a hoop in basketball, do his rounds of golf, play with visiting kids in the Rose Garden and throw back the odd beer, his only human frailty being cigarettes which he fought very hard to quit.
His eloquence often brought a tear to many an eye. And I was personally chuffed that the chap could write so well, from Dreams from my Father that describes Kenya with the eye of a seasoned travel writer, yet he'd been here but twice by then; to The Audacity of Hope, a policy masterpiece that he wrote while campaigning to be president of America.
Lastly, he was a great example as a husband, with total loyalty to his 'girl from the South Side,' Michelle. And a fantastic father to his daughters, Sasha and Malia, in spite of his crushing domestic burdens and hectic international schedule. We watched the girls become young ladies in these last eight years.
I will miss Barack Obama, but to the end of my days, will be able to tell the likes of Chelsea that she was 'born two weeks and two days after a good man called Obama killed a bad man called Osama.'
Then from that simple sentence will we be able to weave the tales of the Osamas and Obamas – the ancient story of Good and Evil – that all our children should understand, before they grow up to know that the world is a much grayer place, where good does not always triumph over wickedness.
But in Barack's case, it did. And that gives us all hope.
May he not be barracked, but aendelee kubarikiwa. And thank you, BO, for The Obama Years.
We will always treasure living through the days when a 'Kenyan' was President of the United States of America.