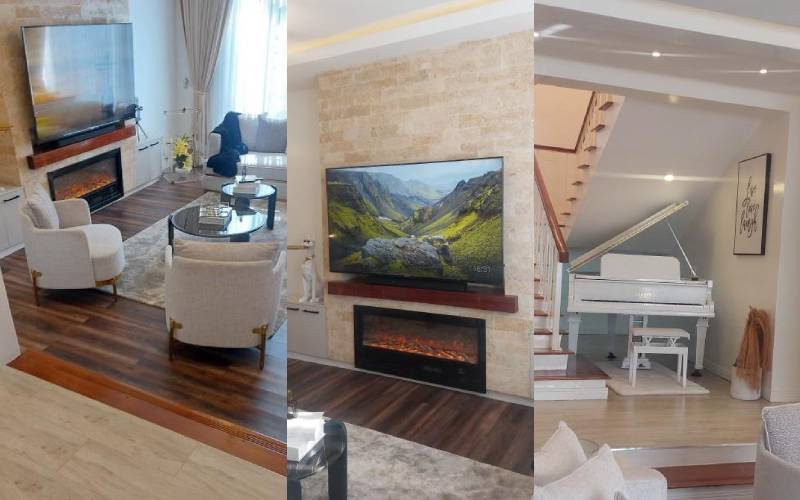 When Bahati agreed to do the Art of Living interview, after surprising his wife Diana Marua with a beautiful home on Valentine's day, I was burning with curiosity.
Diana, Bahati's wife, a content creator, and artiste ushered us into their slice of heaven. The style and architecture of their notable home features epitomised contemporary living.
The luxurious living room design is a great space for entertaining.
The huge flat framed TV displays artwork when turned off and at the bottom is a stunning modern fireplace.
Floor-to-ceiling windows stream sunlight into the room with a serene palette of neutrals on the walls as a backdrop. The high gypsum ceiling and hanging chandelier create space and depth.
Soft furnishings, textures, and fabrics add to the beautiful cohesion with a sleek modern look.
"Your husband has impeccable taste. What role did you play in creating the space?" I ask Diana. "I just poured love into this house," she responds.
To the left side of the dining room are eye-catching modern teal velvet upholstered dining chairs with gold framing and a matching sleek contemporary table with a gold rounded base. The chandelier hanging above it is a conversation starter.
The open kitchen and marble countertop, white sleek cabinets, fit-in appliances, and entertaining countertop with bar stools are elegant. Does she cook? "Hardly. I get a chef to help most of the time," Diana says.
A white grand piano stands at the bottom of the spiral staircase going upstairs.
"Do you play?" I ask. She laughs. "Who? Me? Never," she responds.
The wooden staircase, with light fixtures on the walls, leads to their six bedrooms.
The girls bedroom feels like a big doll house: pink walls, a ballerina mural, pink plush cosy bedding, and toys meticulously displayed.
Back in the corridor, the wall-to-wall mirror leads to their master bedroom. The mirror creates the illusion of space and a sleek and contemporary feel. Adjacent to the master bedroom is their TV room.
The master bedroom is dazzling and cosy. The textured wallpaper on the focal wall glows in the darkness. A luxurious bed with cosy bedding, a dazzling chandelier, and a two-part butterfly picture adorn the room.
"It symbolises 'let's come together and make the world go round'," Diana says.
Sophisticated sleek cabinets, art pieces on the walls, a grey chest field sofa, and soft cushions are what Diana and Bahati wake up to every morning
Their bedroom leads to his and her's walk-in closet, and an ensuite bathroom. The door to the deck leads to the perfect space to soak up the sun.
Diana and Bahati's home expresses their distinctive style. It's welcoming and fits their personality and celebrity lifestyle. [Nailantei Kenga]
-Watch this episode on the KTN Home YouTube channel and the Art of Living show every Sunday at 6.30 pm.
Related Topics