By Felix Ndolo and Felix Maloba
A recent report shed light on the social ills that face women living in slums. The magnitude of the poor living standards that characterise informal settlements and slums in Nairobi is overwhelming.
The report highlighted just how slum dwellers lack the most basic of housing requirements and brought into fore the relationship between poor housing and human indignity.
Housing is a basic need and a human right and everyone is entitled to good living conditions. This refers to adequate space and comfort in terms of shelter, inclusive of all associated building services.
The most basic and important of all housing services is sanitation.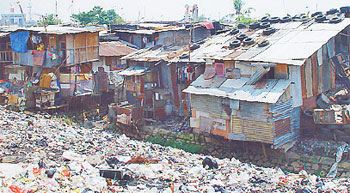 A section of an informal settlement in Nairobi. All are characterised by poor living standards.
[PHOTO: courtesy]
Recent statistics indicate that 68 per cent of settlement residents rely on shared toilet/latrine facilities while another six per cent of all slum and settlement residents in Nairobi do not have access to these facilities. Only 24 per cent of residents in Nairobi's informal settlements with a total population of up to two million have access to toilet facilities at the household level.
Neglected areas
This situation is blamed on the Government's failure to recognise slums and settlements for city planning purposes and the non-enforcement of applicable domestic laws and standards.
Therein lies our problem and probably our potential solution to this menacing issue. The Government has, whether out of sheer neglect or probable inability to deal with this problem, refused to recognise slums and informal settlements for city planning purposes.
Nowhere in the national budget were funds set aside for development or improvement of any slum area.
City planners don't have the slightest image of the slums in their minds as they come up with urban policies and zoning by-laws for the sake of the improvement of the city as a whole.
The overly ambitious Nairobi Metro 2030 blueprint speaks of some bold ambitious futuristic developments, some of which are already being unveiled before our very own eyes. Nowhere in it has the biting issue of slums or any idea on how to deal with them been outlined.
Measures
This makes sense to some extent considering that slums themselves are unplanned settlements to begin with. Whether the Government chooses to address this issue by implementing some of the recommendations suggested in Amnesty International's report is something we are yet to know.
Felix Maloba is a property manager/ valuer and Felix Ndolo is a construction consultant
Related Topics