Esther Muchene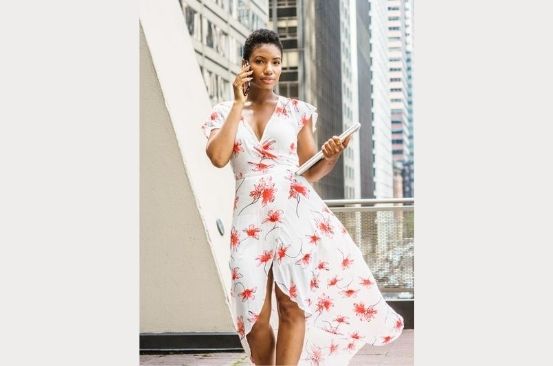 A wrap dress is one of the most versatile pieces in any woman's wardrobe that brings fun, flavor and a unique touch to anyone who wears it
Every stylish lady out there needs to have a wrap style dress in their collection. They're one of the most versatile pieces to have and they are a strong competitor of the bandage dresses and t-shirt style dress designs.
It brings fun, flavor and a unique touch to anyone who wears it and the truth is, we'll really never stop loving this dress for many reasons.
They're the perfect dress for every body type
They're great for tall girls and short girls. Curvy girls and slim girls. This dress is one of those pieces that look good on everyone because they slim down the waist (it literally wraps around it), they elongate the frame, flatter the legs, I mean this dress is everything. Once you buy it, you'll move it to the top spot of your favorite items.
They're the highlight of summer style
Your summer style isn't complete without a cute wrap dress. Well, here in Kenya we don't have a summer season but if the sun is out, it still counts anyway right? Most wrap dresses are made of light breathable materials so you won't heat up. And, they're super comfortable which means you enjoy all your fun activities without any worries. Wear it with your fabulous sunnies and your look is complete.
There's always something new
We've seen the classic wrap dress but have you tried the infinity dress yet? With this, you can tie and untie into all sorts of designs so you literally have up to ten different dresses in one. There's always something new about this infinity wrap dress and people will assume you've got a new one every time they see you.
They add a pop of color to your collection
One major characteristic of wrap dresses is their signature colorful designs and patterns. There are florals, which are the most famous patterns on these dresses, stripes and so many different colors that bring life to your closet. If you're used to wearing black or bland colors, this is a chance for you to explore something else. You don't even have to overthink your look for that day because your dress will do all the talking.
They look good whether long or short
Whether you're into mini or maxi style dresses, or both, the wrap dress can cater for all your style needs. You can even get the long wrap dress with a slit so you can show off your flawless legs. Either way, it still gives the same flattering waist hugging design. That type of versatility is why you should think about shopping for one soon.
They can be sweet and feisty
Some items have multiple personalities and this is one of them. You might be used to wearing them with sandals or heels but once you switch things up with military boots, it's a whole new style. You can always go with heels and a floral wrap when you want to have a girly day then trade those in the next time for edgy shoes like cool trendy sneakers, with a striped or plain wrap dress.
A subtle change in accessories brings out its versatility effortlessly. Even changing the bag you're carrying that day can make a huge impact.
They can be worn to work
Don't worry if your schedule mostly consists of work days. In fact, you can choose a plain wrap dress to be part of your work outfit collection. It matches with a blazer or duster coat if you like and it matches with both flats and heels as well. Also, a plain black wrap dress can actually qualify as your selection for the little black dress in your closet. It offers you the option of wearing it for different occasions.