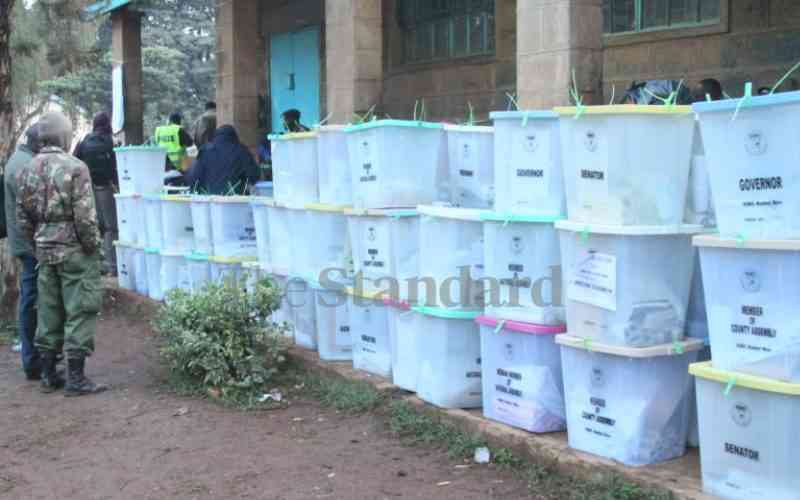 A Kenyan-based start-up has developed an application that will help candidates monitor their agents during polls.
Gombea App is a web-based application developed by Ugombezi Technologies Limited.
The App has a Short Text Message Service (SMS) - the only app that enables the candidate to get reports through texts from agents who do not have smartphones and are in remote areas with no internet connection.
Harun Njuguna, 44, one of the directors of the company says the app helps candidates to manage their agents at the polling stations without necessarily making calls and or visiting the polling stations.
Njuguna noted that political candidates over the years were victims of con agents and the app will assist in ensuring individual candidate gets value for money paid to agents. He noted that with the app distortion of information will be eliminated.
He is a graduate of Kenyatta University with a Bachelor's Degree in Social Sciences. He holds a Master's in Project Management from the University of Nairobi.
"Candidates will have an easy time monitoring their agents and will not have to call centres as all reports are sent in a laptop or mobile phone," he said.
He said the app picks an individual agent's GPS location for every report sent thus enabling candidates conclusively tell if his agent was present at the located and assigned polling station the whole day as deployed thus eliminating ghost workers.
"The candidates only pay only the agents who work as every report they send is accompanied with GPS coordinates. Ghost workers will be eliminated," said Njuguna.
He said candidates using the app will receive scheduled reports at 5.30 am when agents reports at the polling station, at 6.00 am when the polling stations open, at 9 am, 11 am, 1 pm, 3 pm, and 5 pm on voter turnout.
"Candidates will receive the results after the count in form of text and image of the results form. The results will be timely," he added.
Further, the candidates will receive incident reports any time of the day on anything which might need their attention. These reports can be accompanied by a video or a photo.
Njuguna added that individual data is protected by the Data Protection Act.
In areas where there is no internet coverage, the agents get prompt SMS to which they reply as required. Candidates can compare results with their competitors as they come in. He said the app is built for low-bandwidth use to ensure even in remote areas nothing will get lost.
Candidates, he said, will be able to select from a pre-uploaded list of counties, constituencies, and polling stations when choosing their position and assigning agents polling stations.
"They will be able to monitor all the agents from one single device ...no need of a call centre thus saving on money. They will save on the agony of managing a call centre which despite the cost implication, there is also the headache of managing human resource," he stated.
"The App enables comparison of result from a pre-selected list of competitors thus enabling the candidate to know as time goes how the agent is fairing," he said.
Related Topics