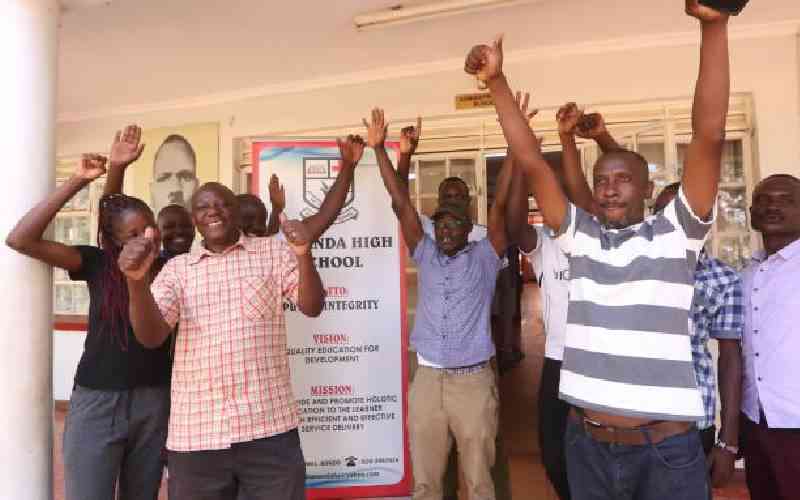 Nyambaria High, a school in Kisii, was ranking top last evening, with a mean score of 10.897.
The national school had 28 candidates scoring straight As, with some 383 posting A- and another 76 B+.
Another school from Kisii, Cardinal Otunga, posted a mean score of 10.76 being the second highest score registered by last evening. The school had 28 candidates scoring straight As, 201 A- and 97 B+.
In the results, the number of candidates scoring As went up in what Education Cabinet Secretary Ezekiel Machogu termed as improved results.
Results of some of the top preforming schools and candidates were yet to be unveiled by the time of going to press last evening.
However, Asumbi Girls in Homa Bay County posted a mean score of 10.37, being third highest score.
The data is not based on official government ranking but a compilation by The Saturday Standard and goodwill of schools and candidates to share their results.
Mang'u High School, which produced the top candidate in 2021 KCSE, posted a mean score of 10.366 in the just-released examination results. Mang'u had 81 straight As, 1192 A- and 113 B+.
St Antony's Boys of Kitale had a mean score of 10.33 as Alliance High School posted a mean score of 10.2 with some 72 candidates scoring straight As, 145 A- and 102 B+.
Kapsabet Boys High School managed a mean score of 10.03. Results of Kenya High were not immediately available.
The two schools­ – Kapsabet Boys' and the Kenya High– had for two years running scooped position one and two nationally.
Overall, Machogu said more candidates scored grade A in 2022 Kenya Certificate of Secondary Education (KCSE) examination, signaling a better performance from previous year's results.
The examinations data released show that a total of 1,146 candidates managed the coveted top grade of A.
Machogu said this compares to 1,138 candidates who posted the mean grade A in 2021 KCSE results.
Out of the 881, 416 candidates who sat the KCSE in 2022, some 173, 345 scored minimum university entry points of Grade C+ and above.
Although the quality of grades improved in 2022, Machogu said boys scored higher grades than girls, where out of the 1,146 A's achieved, 875 were boys and 271 were girls.
"Candidates who scored A- were 4,445 boys and 1,962 females while those who scored B+ were 9, 578 boys and 6,104 girls," said the CS. He added: "The number of male candidates who scored B was higher than that of female candidates as out of the 31,303 who scored the grade, 17,783 were boys and 13, 520 were girls."
Girls vs boys
Some 27,245 male candidates and 21,474 females scored B- while 36,950 boys and 33,138 girls scored C+.
Kenya National Examination Council (KNEC) statics on the results reveals that the number of female candidates who scored lower grades than males. Machogu said out of 95, 154 candidates who scored C, 49,191 were female while 45,963 were male.
Of the total C minus scored in the 2022 exam, 62,599 were female and 56,469 were males. Some 70,238 female candidates and 64,783 male candidates scored D+ while 79,935 girls and 75,545 boys managed grade D.
However, more boys scored Grade E in the 2022 KCSE exam where out of 30,822 E's recorded, 18,062 were males and 12,760 were females.
Machogu said the number of candidates obtaining a mean grade of E in 2022 declined significantly from 46, 151 in 2021 to 30,822 in 2022 despite the increase in candidature. "This clearly leads us to conclude that most of the candidates scored grades of higher quality," said the CS.
There were 190 candidates with special needs who obtained an overall grade C+ and above. Even with the scores, Machogu said that all candidates who sat the examinations will have slots in universities and middle level colleges.
The CS said candidates who scored lower grades are legible to join TVET institutions, teacher training colleges, medical training colleges and other tertiary learning institutions for various courses. "I declare that all the candidates who sat the KCSE examination in 2022 have ready avenues to progress to other levels of education as we seek to leave no learner behind in career development," said the CS.
Machogu said 2022 KCSE statistics show that gender parity was achieved as of the total 881,416 candidates that sat the exam, 443,644 were male while 437,772 were female, representing 50.3 and 49.7 per cent of the total candidature, respectively.
More males
Last year's candidature went up from 826,807 candidates in 2021 representing an increase of 54, 609 candidates.
Fourteen counties had more male than female candidates in the 2022 KCSE examination compared to17counties in 2021.
The counties include Mombasa, Kilifi, Tana River, Lamu, Turkana, Samburu, West Pokot, Kajiado, Narok, Homabay, Migori, Garissa, Wajir and Mandera.
Seven counties which had high numbers of female candidates in the 2022 KCSE exam were Kirinyaga, Kiambu, Kitui, Meru, Tharaka Nithi, Vihiga and Kisumu.
On subjects' performance, Machogu said 17 recorded a significant improvement in performance in 2022 KCSE, compared with 11 subjects that recorded a significant improvement in performance in 2021.
"There was no significant change in performance in four of the subjects offered during the 2022 KCSE Examination," he added. Interestingly, Machogu said there were no instances of exam cheating.
According to him, the ministry had tasked the national exam center manager to ensure there were no malpractices while invigilators and police officers were to ensure students were not cheating in class.
"I want to report and am happy about it. When we were preparing for this exam this year, we did come up with a mechanism and the mechanism w came up with was accountability was transferred to a personal level," said the CS.
On admissions, Machogu directed the Kenya Universities and Colleges Central Placement Service (KUCCPS) to establish the number of places available in the universities, colleges and TVET institutions to enable the immediate commencement of placement.
"KUCCPS should also engage with higher education regulatory to ensure that all learning institutions are prepared to enrol new students in line with goal to quality training and the of 100 per cent transition," said Machogu. As schools prepare to resume next week, there are interim guidelines on junior secondary schools as recommended by Presidential Working Party on Education Reforms.
According to Machogu, Sh9.6 billion will be disbursed as capitation to learners of Junior Secondary School for Term One and Term Two of 2023, with each of them receiving an individual capitation of Sh15,000 per year.
Greatest priority
Out of the Sh15, 000 that will be released for each learner, Sh4,000 will be spent on infrastructure with construction and equipping of laboratories being the greatest priority.
"Registration of learners in National Education Management Information System (NEMIS) will form the basis for disbursement of funds to public Junior Secondary School," said the CS.
Meanwhile, the Kenya Secondary School Heads Association (KSSHA) chairman Indimuli Kahi welcomes the decision not to rank top candidates and schools.
"Parents were waiting to hear which schools scored highly but we are telling them that all schools are capable of producing good results. It is important for a child to go to a schools they have been called," said Indimuli.
Teachers Service Commission (TSC) CEO Nancy Macharia said the 30,000 teachers who are being recruited to support transition to junior secondary schools will be retrained.
''All the teachers who will be recruited in the ongoing exercise will be put on a retooling regime that will ensure they adequately attend to our junior secondary school learners,'' Macharia said.
Macharia further said the 2,376 master trainers have already been prepared ahead of the retooling exercise. The exercise which started early this month will run till April this year.
Retooling drive
''Already, we have trained 2,376 master trainers ahead of the retooling exercise of all the new teachers and others currently teaching in secondary schools. We target to train 90,000 teachers between now and April 2023,'' Macharia said.
Macharia also assured teachers of the commission's intention to improve their health services as it is key component in ensuring they deliver.
''On teachers medical health scheme, I wish to inform teachers that we have enhanced their benefits under the medical insurance scheme and made it better for our teachers,'' Macharia said.
Machogu also asked State agencies to ensure credibility of Kenya's academic qualifications are protected at all times.
To achieve this, Machogu directed the Kenya National Qualifications Authority (KNQA) to ensure that the National Qualifications Framework is fully implemented.
Mr Machogu said the government is determined to ensuring that the credibility and authenticity of qualifications and certificates that come from education and training institutions remains of high quality.
Machogu also announced that the government had developed a system for articulation, classification, registration, accreditation and quality assurance of national qualifications.
"This will enhance the quality, relevance and authenticity of qualifications, not just locally but globally. This will also promote portability of our qualifications and mobility of labour," said Machogu.
Related Topics