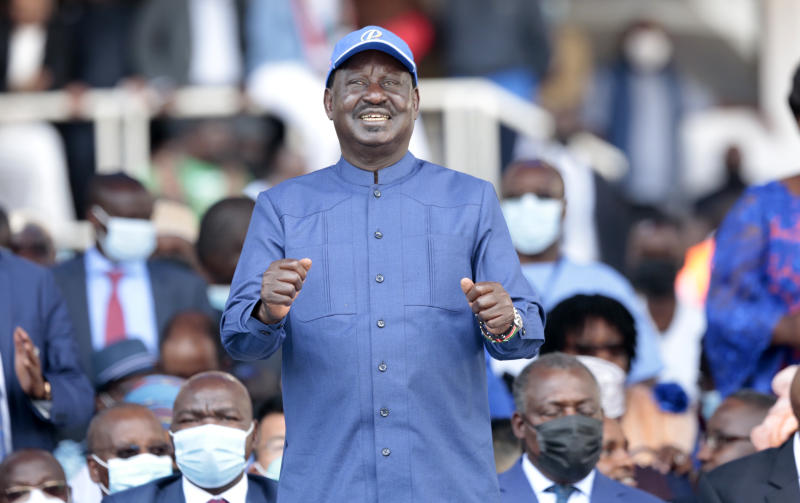 In December 2007, as early results streamed in, Raila Odinga was having a great night. Most of the early returns were from regions he was considered strong in; Western, Rift Valley and Nyanza. To many people, seeing that Raila's heat map checked almost every part of the country, it was a question of when not if, the ODM flagbearer would be announced president of the Republic of Kenya. Raila, at one point, had built a lead of over 1 million votes.
Just after midnight, results from Kibaki strongholds started reporting. What looked at one point to be an invincible lead was now within a distance. It was pain and agony for Raila's voters, while for Kibaki supporters, a script of the comeback kid was being written.
When Tharaka Nithi constituency reported their results, Kibaki took a slim lead. The name "Nithi" soon became a metaphor for making the impossible, possible.
A lot has happened between 2007 and now. Raila Odinga is now leading the Azimio la Umoja Movement while William Ruto headlines UDA. The 2022 election in August will be a showdown between two former teammates.
If the election is to be shaped by history, Nithi will likely make news once again. My thinking is that Raila's chances rest in winning at least 25 per cent of the vote in Mt Kenya, and that includes Tharaka Nithi.
While Raila Odinga has what it takes to win the elusive presidency at his fifth attempt, he is facing a charismatic and energetic William Ruto.
Raila has some basic shortcomings which he must fix. He must turn out his perceived strongholds in large numbers, something which he hasn't been able to do in his previous stabs at the presidency. Some will make the argument that in 2013 or 2017 the election was rigged. However, no one has demonstrated the rigging in a court of law. While the Supreme Court nullified the election results in 2017, this was primarily because of the failure to adhere to the constitution
Take the 2017 election for example, in Mombasa, a perceived Raila stronghold, he received 70 per cent of the vote. The turnout, however, was a dismal 59 per cent, way below the national average of 77 per cent. Compare this with Kirinyaga which was considered a stronghold for Uhuru., the president received 99 per cent of the vote and a turnout of 86 per cent. In Kisumu, Raila garnered 89 per cent of the vote, but with 82 per cent turn out. This pattern was repeated all over the country. In the end, Uhuru's margin of victory over Raila was 1.4 million votes, built by turning out his base to vote and snatching bigger margins of victory from his strongholds.
Years back, Raila thrived at football analogy which sent his supporters into a frenzy. He is no longer that man. While it is okay to talk about Kenyan history and paint a picture of the journey traveled to attain the democracy we enjoy today, this should not come at the expense of a message that resonates with current challenges facing most of the electorate.
At a time when Covid-19 has wreaked economic havoc on so many families and seen a rise in youth unemployment, it matters to talk about the pocketbook. And this is where Deputy President excels with his bottom-up approach which touts the average voter as playing a key economic role in the next government if he wins the election.
The Azimio la Umoja conference was an opportunity for Raila and his team to finally show their connection to the problems afflicting the average man. As a fence sitter yet to decide who to vote for in this election, this was a complete failure. I wanted to hear Raila show he understands and empathizes with the plight of farmers in Kenya who barely get enough returns from their crops either due to cartels stifling the supply chain process or outdated farming practices. My takeaway was that Raila is probably out of touch and has not interacted with the suffering of farmers.
If Raila can take care of the basics missteps noted above, only then can he start looking towards (Tharaka) Nithi to put him at the top. Even then, he still needs to maintain or better his 2017 result and attain 25 per cent of the votes in Central Kenya to have a decent shot at making the August election competitive.
Letter by Mukurima Muriuki, from Los Angeles.
Related Topics