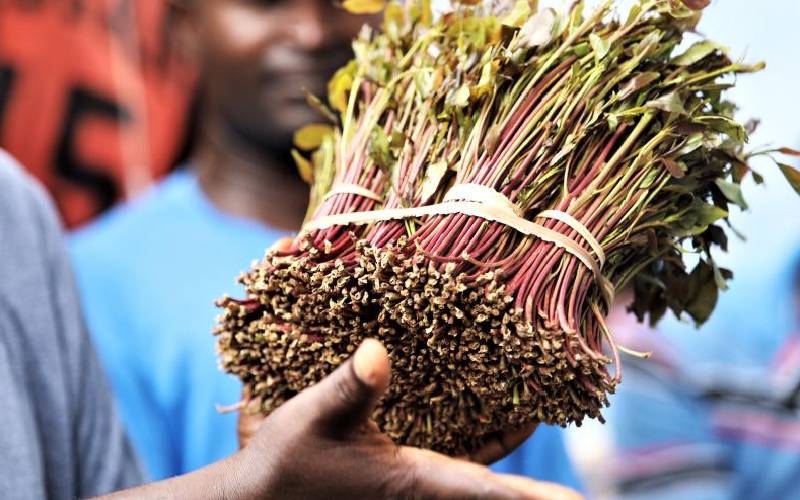 The lucrative Somalia market for miraa has been re-opened, Agriculture Cabinet Secretary Peter Munya has said.
Mr Munya made the announcement in Meru town yesterday after jetting in from Somalia where he accompanied President Uhuru Kenyatta for the inauguration of new President Hassan Sheikh Mohamud.
The Somalia market was closed in August 2020 under the government of former president Mohamed Farmajo. The Somalia government further banned the crop from the country due to soured diplomatic relations.
But yesterday, CS Munya said the re-opening of the market followed "quiet diplomatic negotiations" spearheaded by President Kenyatta and officials from his ministry and that of Trade.
"Our officials have been talking with an aim of resuming trade with Somalia. Those talks ended yesterday (Thursday) when we accompanied President Kenyatta to witness inauguration of their new president. Following the talks we agreed that miraa and other agricultural trade can now resume with Somalia," Munya said in Tigania West.
Munya said miraa cargo will now be airlifted to Somalia, and revealed that a Bilateral Air Services (BAS) agreement was due to be signed.
He said a delegation from Somalia will fly into Kenya in the next two weeks to sign the trade agreement.
"That is good news to miraa farmers. We are now urging the farmers to increase production because the trade talks are complete. Only paper work is remaining. On Tuesday next week, we will sign the Bilateral Air Services agreement," he said.
The minister said the agreement will be signed on the sidelines of the Intergovernmental Authority on Development (IGAD) meeting due to be held in Nairobi.
He said miraa was one of the trade items on the agreement, as Kenya and Somalia resume good relations which had led to the ban of the crop. He said there will be increased trade between the two nations, with Kenya expecting to get fish from Somalia, a big supplier of fish.
The CS, who was flanked by Trade Principal Secretary Kirimi Kaberia, said the miraa cargo will be exported through the Isiolo Airport near Meru.
"Somalia is the largest miraa market. It will open up other markets as we seek to gain other markets, including Djibouti and the Middle East. It is an important transit point for miraa to Djibouti, Somaliland and others," he said.
Munya said talks were ongoing with other countries and the government viewed the resumption of Somalia market as a launching pad, he said.
"The economy of Nyambene (Igembe and Tigania regions) and the entire Meru depend on miraa. Miraa is not just for Nyambene, it is also grown in Tharaka Nithi, Embu and Kirinyaga. It is spreading. The income from miraa supports many people in the value chain," he added, noting that direct flights for miraa will also resume.
Nyambene Miraa Traders and Farmers Association (Nyamita) chairman, Kimathi Munjuri, said they were waiting to see what transpires in the two weeks.
Munjuri said they had been promised several times that the market would be opened a long time ago, but nothing happened.
"We want to wait and see what happens. We would also have wanted to be involved as stakeholders in this trade agreement," Munjuri said.
Munjuri said stakeholders were also apprehensive that only one of the parties in the trade dispute was speaking. They also wanted the government to be flexible on Isiolo being the miraa dispatch point.
"Operators should have discretion on where they want the lifting to happen. They are in business and should not be forced to pick uneconomical routes under political considerations," said Munjuri.
Related Topics