Confusion as Health ministry lists miraa as dangerous drug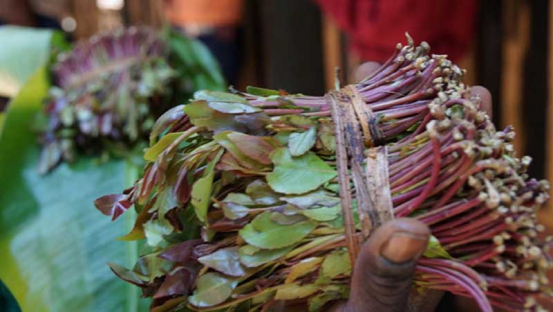 The Ministry of Health has classified miraa as a dangerous drug to human health, contradicting recent findings by government scientists that gave the shrub a clean bill of health.
It also contradicts claims by the government that it has petitioned the United Nations to remove khat from the international list of psychoactive drugs. The UN classifies khat on Schedule I, indicating that miraa poses a danger to human health.
In a protocol released at this year's International Day against Drug Abuse and Illicit Trafficking on June 26, Kenya's Health ministry confirmed khat as a psychoactive drug. In the new National Protocol for Treatment of Substance Use Disorders in Kenya 2017, the ministry classifies miraa alongside cocaine, ecstasy and amphetamines.
Abused for recreation
Amphetamines are stimulants largely used in treating Attention Deficit Hyperactivity Disorder (ADHD). But they are in many cases abused for recreation with serious negative health effects.
In the new treatment protocol, the Ministry of Health says the effects of chewing khat are parallel to those of amphetamines. Khat's active ingredient, cathinone, is indicated to act like an amphetamine in users.
The new protocol guides health workers on how to treat people who have problems with psychoactive drugs (drugs that can alter moods, emotions, and perceptions).
They are grouped as depressants, stimulants and hallucinogens. In this case, khat falls in the category of stimulants. "After ingesting khat, one may present with euphoria, hyper-vigilance, anxiety, tension, anger, impaired judgment and changes in sociability," reads the ministry's document.
Take a quick survey and help us improve our website!
Take a survey
It adds that miraa can cause abnormally slow or rapid heart beats. Other health problems, according to the new document, include elevated or lowered blood pressure, sweating or chills and weight loss.
If for some reason a serious miraa user stops, the document says, they face withdrawal symptoms including fatigue, vivid unpleasant dreams and agitation. But this seems to contradict a February announcement by the Kenya Medical Research Institute (Kemri), which had given miraa a clean bill of health.
In a Sh38 million publicly-funded two-year study in Embu and Meru, Kemri scientists concluded miraa chewing did not have any negative health consequences. The study was aimed at discrediting the grounds on which Britain, the US, France, Switzerland and Sweden have banned the use of the stimulant in their territories on grounds of adverse health effects.
Buoyed by these findings, while the Health Ministry was launching their protocol, the Cabinet Secretary for Agriculture Willy Bett was assuring miraa farmers in Nyambene and Embu that the ban could be lifted. Mr Bett said the government has petitioned the UN on the European ban of miraa exports.
Kenya, he said, is seeking an interpretation of a convention on drug trade that European nations had used to ban the exports. "If the interpretation favours Kenya -- that miraa is not a psychotic drug -- the government will ask these countries to remove the restrictions," said Bett.
Launching the protocol, the Head of Curative and Rehabilitative Services at the ministry Dr Izaq Odongo said efforts will be made to reduce the demand for substances of abuse and suppress their availability. This seems to contradict recent pro-miraa initiatives, including directives by President Uhuru Kenyatta to give the crop high visibility as a significant cash crop.
On receiving a positive report from a presidential taskforce on miraa, the President in April ordered release of Sh1.2 billion to the sub-sector. "Miraa is good for the Meru people. We have had to fight claims of infertility and other health issues, but there is no evidence.
"This report should allow the authorities to develop the crop," said Tigania East MP Mpuru Aburi then. This protocol, says Medical Services Director Jackson Kioko, is based on international best practice to manage substance use disorders.
www.rocketscience.co.ke
To fight drought, involve communities
According to the latest information from the Meteorological Department, rainfall will be poorly distributed in April, May and June, and this will have a serious impact on agriculture