Home
/
Bridal
My parents were arrested on the way to the wedding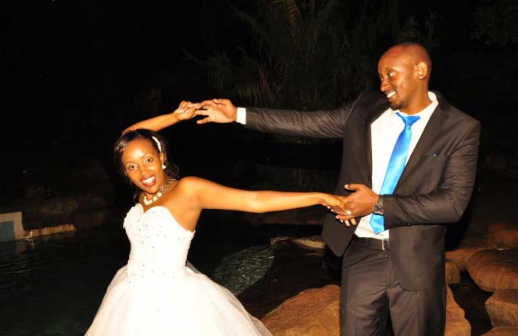 BRIDE: Anne Wanjiku
GROOM: John Kimathi
DATE: December 20, 2014
GUESTS: 400
VENUE: Kenya School of Monetary Studies
BUDGET: SH900,000
FIRST DATE
JOHN: We first met in a gym in South B where we were both members. I remember how confused I would get whenever Anne was around. On some occasions, the weights almost fell on me as I gazed at her. For some months, we only said 'hi' to each other until I gathered courage and asked her out after we bumped into each other in a church (I needed some divine intervention).
Thus, for our first date, I proposed we meet at the gym (was the safest way to avoid being stood up as she loved working out). After a joint workout we hit the spa, it was the best way I could think of to beat anxiety and be myself around such a beautiful lady.
We later had late lunch. During this time, we talked about anything and everything. I don't remember much about what we talked about, but I remember sitting there and thinking of how beautifully she was smiling.
ANNE: The restaurant being fairly new, the food was awesome; I ordered chicken and rice, the chicken was great, but I had to painfully leave some on the plate this being the first date (gotta be a lady – let nobody lie to you, first impressions matter).
THE PROPOSAL
ANNE: John proposed on my birthday ( July 11, 2014). Earlier in the week, he had promised to take me out for dinner on the day. He picked me up at around 7pm and we drove to Hotel LaMada near Garden Estate. There, we met a Mr. Martin, the manager who also happened to have been planning the proposal with John. Though they had planned all this, he acted as though he had never met him.
After a welcoming glass of juice, he offered to take us on a tour of the hotel.
Near a bushy area, he told us that within the bushy zone there were five hidden gifts and that we were to search for them in five minutes, failure to which we were to have our dinner booking cancelled as we had arrived late.
JOHN: I was a bit scared because it was dark, but I was excited and curious about the gifts. We found them after more than five minutes. It was fun. Later, we learned the exercise was meant to help us relax and learn the importance of working together. Martin walked us back to our table. On the floor beside our table was "Happy Birthday" laid out using petals.
ANNE: The menu was customized just for us with our names. John had planned, with the chef, what we would have from the starter to the dessert. The food was awesome and the service excellent. We talked a lot as we ate but all this time, I didn't expect anything more than just the dinner.
A proposal was the last thing on my mind. After dessert, the waiters and chef emerged from the kitchen with a cake singing happy birthday. By the time they were at our table, I was shaking and couldn't even stand. As I cut the cake, I felt something hard inside the cake.
Now I was confused but still did not guess that it was a ring box. Curiously, I got the box out of the cake and before I knew it, John was on one knee next to my chair. Then it hit me he was about to propose. Everything froze and my body almost shut down in shock and excitement.
He picked the box and got out a shiny beautiful engagement ring. I was, at this time, shaking and crying. He asked me to marry him and, of course, I said YES.
JOHN: I got the ring almost a year before the proposal but I had to wait for the perfect timing. You only get to do some things once in your lifetime – so make it count.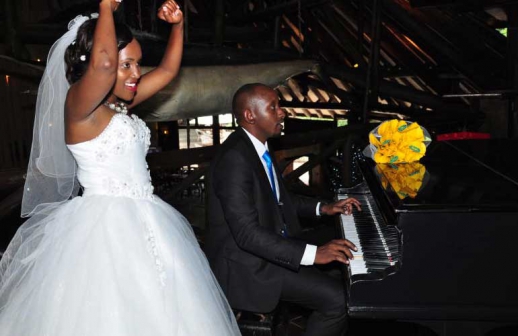 THE DRAMA
ANNE: My parents, some relatives and friends were coming from Nakuru in the same vehicle. I was supposed to be picked up at Roysambu along Thika Road, but the driver got lost and drove towards Githurai. Somewhere along the way, he discovered he was lost and took the wrong turn and voila!
The cops were there waiting. It took a while to have the car released plus we couldn't reach them on phone and yet the team from the groom's side was there to pick me up. The service was to start at 10am and it was now approaching 11am.
The officiating pastor was also getting late for some other church function – that was the most nerve-wrecking moment in my life.
IN HINDSIGHT
ANNE: Above all other things, put God first because without Him, nothing works out. Together with our family and friends, we prayed a lot and sure enough, God blessed our day. Another thing, don't get into debt because of a wedding; always stick to your budget.
JOHN: Even with a committee of friends and family helping you, get guys that are close to you and you totally trust. Involve them in the planning and have them take charge of the critical issues like food, transport, venue and overall coordination.
MEMORABLE MOMENTS
ANNE: Seeing my fiancée' waiting for me at the front was the best feeling ever. I saw him and I knew, "Yes, this is what I wanted and this is the man I wanted to grow old with."
JOHN: Looking straight in her eyes as I said "I do". And also the dance – we had the best bridal team with whom we danced like we were at the Sakata finals.
JOHN: The food was awesome and plenty. People still call us to talk about the food.
HONEYMOON: We went to Kigali, Dar es Salaam and Zanzibar
Related Topics