Rose Kwamboka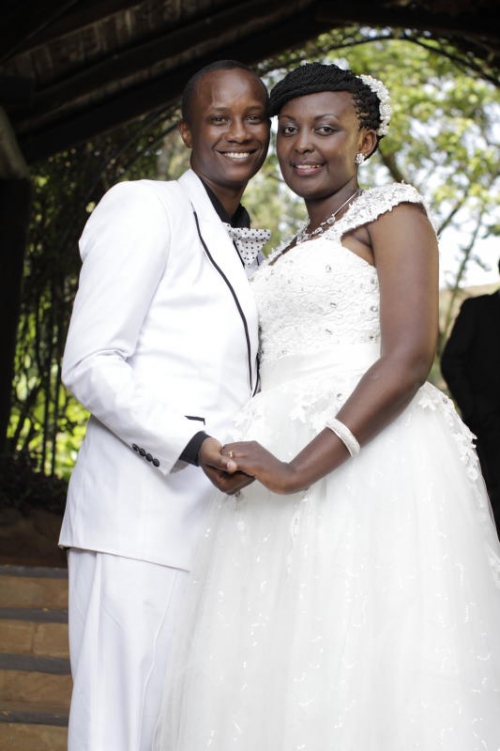 Our love blossomed over 1500 text messages
Bride: Stella Kagendo Ndwiga
Groom: Alexander Ndung'u Kamau
Guests: 400
Date: February 14, 2015
Venue: Utalii Hotel
Photo shoot: Safari Park Hotel
READ MORE
Budget: Sh650,000
First date
Stella: It was back in December 2012 when we had lost a common friend who happened to be a childhood friend to me and a church mate to Alex. In the Nairobi committee, he was the chair and I was a member. After the burial was over on December 19, 2012, he called to find out if I had gotten home safely.
Alex: I was concerned about her since losing a childhood friend cannot be easy. The following morning, I woke her up with a text and from then on for the rest of the day we kept communicating via text. I recall having over 1,500 texts from that day's conversation only.
Stella: We continued texting over the weekend and later agreed to share more over Christmas since neither of us was travelling out of town. It was on Christmas day that we had our first date and the second on January 1, 2013.
Alex: We enjoyed each other's company and with time realised that we share so much in common such as our spiritual fundamentals, desire to do business, number of children we would want among other things.
The proposal
Stella: On the eve of the New Year 2014, he invited his friends over to Utalii hotel where I work. Being the height of the festive season, the day had been a hectic one and it was about to get worse since I was working till way past midnight. After we had ushered in the New Year, I joined them at the table with the intention of finding out how we were going home since I was tired and was expected to report to work by noon that day.
Alex: She only knew seven of the friends with whom I was seated with but had no idea there were more than 20 of my friends seated at different tables. After a few drinks, the music changed and we all headed for the dance floor.
Stella: While on the dance floor, I noticed that people were giving us space and we were finally left alone under the spotlight. I panicked but by the time I turned to find out from Alex what was going on, he was already on one knee with a ring and there he popped the question. It was the most romantic thing but was feeling shy amid the claps, selfies, ululations from his friends and guests alike and the hugs congratulating me.
The drama
Alex: Sourcing for the right service providers was no walk in the park especially the people in charge of entertainment who still disappointed us in the end; they hired out instrumentalists from somewhere then just had one vocalist. The sound kept failing, and the coordination was a mess. Despite the disappointment, our guests danced and made the occasion merry.
Stella: With the help of a friend, I had imported my gown from USA but on its release from customs two days to the wedding, I realised that the fit was two sizes too small and in a different shade than what I had ordered. So I had to source for a gown locally and ended wearing a Cinderella gown as opposed to my dream gown; a detachable mermaid dress. But it taught me a lesson and to other brides, get your gown fittings done physically. But the shop agreed to refund the cash.
Also the excitement that comes with the wedding caused us to delay leaving home on the morning of the wedding day.
With hindsight
Alex: My advice to those planning to wed is to commit everything to God in prayer and if possible fast and pray to break the demons that fight marriage.
Stella: Understand that wedding planning should be an interesting journey where the couple gets time to bond. Early preparation is very important and as much as possible; couples should walk together in preparing for their wedding which is a great ceremony transitioning into their marriage.
It is important to engage close friends, and relatives in planning, but being careful not to lose your dream wedding. Brides especially should be careful not to lose their other side of life during the process and if in anyway the planning gets to be driving other issues negatively, then I advise couples to engage a wedding planner.
Words: Rose Kwamboka