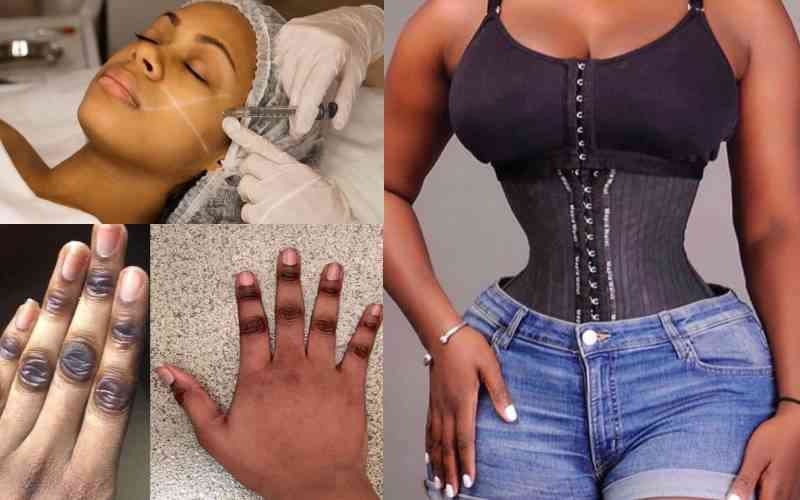 Understandably, it can be hard to feel beautiful in a social media era where everyday people are bombarded with pictures of "the perfect" appearance. All this can leave one feeling less than stellar.
The Standard spoke to experts and compiled a list of beauty trends and treatments to be weary of.
WAIST TRAINER
A waist trainer is essentially a corset or a big belt that sucks in the stomach, giving a smaller waist illusion and allegedly a tighter core.
Dr Shadrack Kyengo warns that while a cinched waist may seem flattering, it can cause vital organs to shift permanently, leading to medical complications. "Tight garments restrict blood flow, cause shortness of breath, lead to low oxygen supply to the area, causing nerve damage and even cell death," he says.
DETOXING AND CLEANSES TO LOSE WEIGHT
The idea that anyone can shed kilos after months of poor eating decisions in under two weeks thanks to some apple cider vinegar can be appealing.
According to Dr Kyengo, the only sure way to look and feel healthy is by eating a healthy diet and leading a healthy lifestyle, including getting enough rest, drinking enough water, eating whole foods, reducing alcohol intake, exercising, and quitting smoking.
HAIR STYLING
For many people, maintaining the perfect hairstyle is central to their existence. But did you know overdoing common beauty trends such as braiding and applying weaves can be damaging? Using relaxers, too, can lead to permanent hair loss.
Dr. Evanson Kamuri, a consultant dermatologist at Kenyatta National Hospital and director of Prime Care Centre in Nairobi, says, "We are also getting a lot of hair loss cases, especially because of the plaiting. I encourage people not to plait very tight. The structure of African hair is that the more you pull or comb, the more you actually pluck off."
BOTOX
Hundreds of websites sell injectables they claim are Botox or collagen. Local and international cosmetologists are cashing in millions from the botox industry, but while it might sound tempting, Botox is used to lessen the appearance of wrinkles on the face.
"Botox therapy should strictly be administered by a trained practitioner. But aside from that, too much botox over a long time can be counteractive," cautions Dr Walter Otieno, a dermatologist. "Those who do botox, year after year will notice their skin appearing thinner and looser. The facial muscles become weaker too and start recruiting surrounding muscles to make facial expressions, distorting a normal look," Otieno says.
ANTI-AGEING AND SKIN BLEACHING CREAMS:
Many anti-ageing and skin-bleaching creams contain high levels of mercury. Mercury is used in skin-lightening creams because it blocks the production of melanin. However, exposure to the chemical can cause serious health consequences, damaging the kidneys and the nervous system.
"Check ingredients of your cream for words like calomel, mercurous chloride, Mercurio, mercuric, or mercury, and if you chance upon them, stop using the product instantly," says Dr Kamuri. Other dangerous chemicals to look out for include hydroquinone, used to relieve redness, lighten skin tone, and clear up acne.
TEETH WHITENING
Leave it to Western societies to devise new ways to make people feel insecure. There has been a quest to make teeth as white as possible, but in many instances, according to Dr Joseph Ndaba, a dentist at Noble smiles in Nakuru, many teeth whitening regimes can be dangerous.
"Most teeth whitening products contain hydrogen peroxide which can weaken your tooth enamel, making teeth more sensitive and easy to break. Repeated use can cause permanent damage," he says.
Related Topics