Gardy Chacha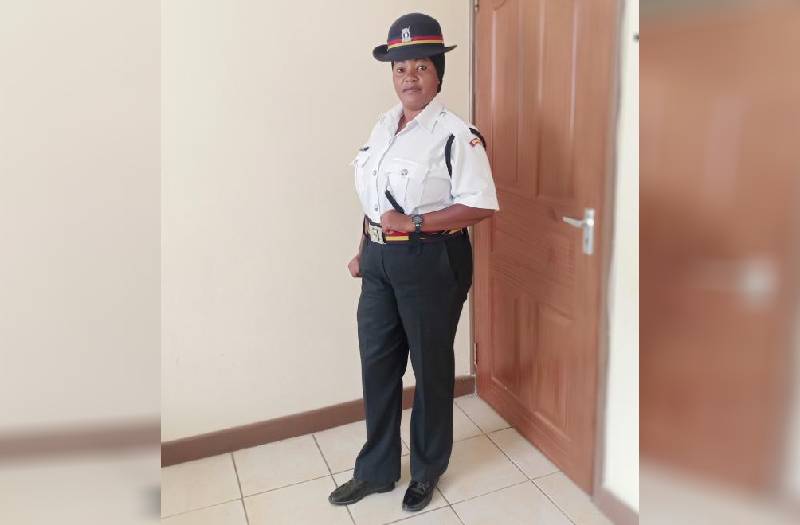 Celebrated on social media for her kindness while in the line of duty, police constable Amina Mutio Ramadhan believes everyone can be a hero by playing their part, she shares how she's coping in the fight against the coronavirus
ALSO READ: How to handle a nagging boss while working from home
On Saturday, March 28, the picture of a kind-hearted police officer was trending on social media platforms.
The officer is in full traffic police regalia: her uniform, cap and a reflector jacket to boot. Hanging from her shoulder is a duffel bag and on her left hand, a black baton — a symbol of the authority she wielded.
But it is the people walking beside her — a young mother and her son — that tell the story of a different kind of police officer: one who cares enough to lend a helping hand to the vulnerable. The image brings much reprieve to a society and a police force haunted by well-documented incidences of police brutality.
It later emerges that the officer is Amina Mutio Ramadhan, a police constable attached to Embakasi Police station. She was helping a mother and her baby navigate safely through a melee that had ensued following the 7pm curfew that had been announced the previous day by President Uhuru Kenyatta.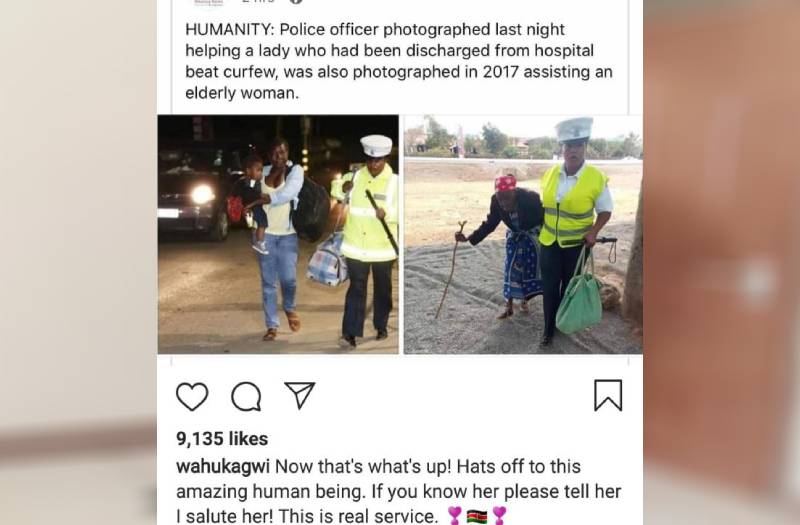 By the time Eve gets in touch with her, she is all the news there is — both on the streets and on mainstream media.
Finally, we meet her in her house somewhere in Athi River. She looks different in the homely environment. "When I come back home, I leave my job out there: once I enter this house, I am a mother to my son and daughter," she says.
ALSO READ: International study ranks Kenyan grade two and threes last in literacy levels
"I play with my children. We talk about their day and academics. Like most mothers, I want to be the best mother there can be for my children."
It does not take long into the interview to understand that Amina adores her children. For them, she says, she strives to do good to others and serve with diligence.
"They know that I am a police woman. But they understand it as a job. They don't fear me; they are free with me and treat me as a mother and not as a police officer."
Amina's kindness towards the woman with a child has stood out as a good example of service. Has she always been this kind?
Amina cannot be her own judge. But she says if she has any kindness, then it's a trait she inherited from her late mother.
She says: "My mother always told us to treat other people with respect and dignity. I am not perfect but I try help other people in need because my calling is in serving people."
On that night, on Friday, March 27, Amina had reported to her station of deployment for the night — manning traffic in Utawala along the Eastern bypass.
ALSO READ: Kenya's Amina Mohamed for WTO top job
"It was well past 7pm. It was probably 7:45pm or thereabouts," she says.
"A PSV had docked on the side of the road for passengers to alight. That is when I saw this woman come out with her baby. It was a chaotic scene as pedestrians were running helter skelter to avoid being nabbed by police for violating the curfew. This woman, upon stepping off the bus, was visibly terrified. She started to run as well. She even left her bag behind," Amina says.
"The Eastern Bypass is busy. I felt that she might cross the road and get hit by cars that were equally speeding to beat the curfew. What really drew me to her plight was her baby."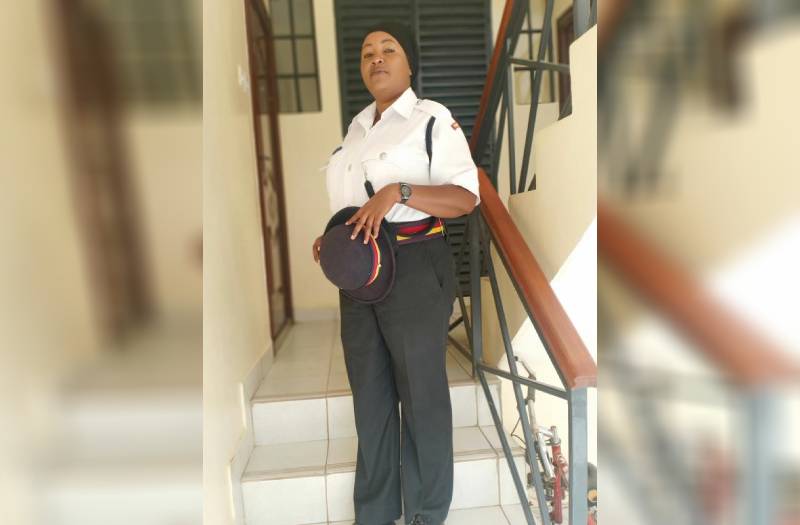 In the mayhem, Amina set off running after her. But the woman quickened her steps. "She thought I was after her to beat her up or arrest her," Amina says. To slow her down Amina shouted for her to stop. "I told her I just wanted to help her to safety with her baby," Amina says. "She stopped, we went back, fetched her bag, and I walked her towards her home."
Amina's inclination is to be kind and empathetic. Undated pictures of her helping another person — an elderly woman — would also emerge to cement the trust and belief in her kindness that had already formed with the public.
"The photo with an elderly woman is something that happened in Makindu. It must have been 2017 or 2018," she says.
"I had watched this old woman sitting by the highway for long. There was no one talking to her. She was just alone. I went over and talked with her. I found out she had not eaten for a while and was stranded. I bought her a meal and called a few numbers she had carried on a piece of paper. And a relative came for her."
Working as a police officer, however, is not always smooth sailing, Amina says. For her, she says, it is not — as some may want to believe — a day of dispensing kindness and heading home afterwards.
"There are some scenarios that require a police officer to use force because some Kenyans break the law mischievously," she says.
While she cannot recall an incident where she has had to hit someone — or inflict pain — she says there are plenty of times she has meted out restrictive guidelines to uncooperative lawbreakers. It is a job that requires both mettle and commitment, she says, though she recognises that, for her, passion also keeps her in uniform.
Amina has found herself on the frontline as Kenya deals with the Covid-19 pandemic. As a police officer, it goes without saying that she is among 'essential services' exempted from curfew. In fact, she is the implementer of the curfew.
With the job comes a higher risk of being infected with the virus. "For us we have to continue serving Kenyans," she says. "We have to be out there to make sure everyone is doing the right thing."
While she takes pride in her work, she says it would be a lie to say she is not worried. "I am worried — of course," she says. "I am a human being — sometimes people forget that police officers are just as human as they are."
Amina is worried about the risk of contracting the virus and spreading it to her children. "As a mother, I am worried: if by some mistake I contract the virus while out working, my children would be at great risk too because I come home to them every day," she says.
For now, she says, she walks with a pocket hand sanitiser. "I also wear gloves and a mask," she says.
In the evening, when she returns home, it has become a ritual that she heads straight for the shower before touching anyone or anything. "This is just to make sure that in case the virus is somewhere on my skin, I wash it off before I interact with the children," she says.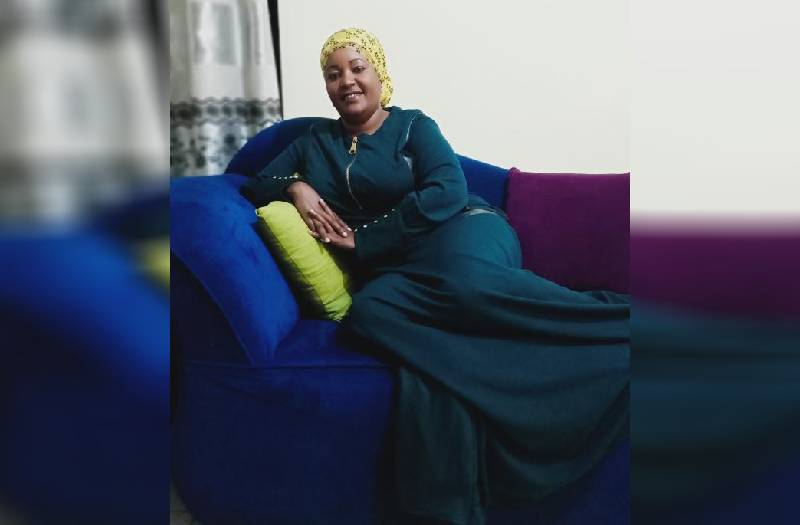 At home, as Amina changes out of police uniform, she also switches her mind to her motherhood duties. One of her favourite pastimes at home is cooking. "I love preparing good food for my family. The intricacies of converting ingredients into a sweet meal is a challenge I am always willing to take."
Amina says she is grateful that her service has been recognised by both the public and her employer."It made me feel I am doing the right thing; that I am living true to the counsel I was given by my mother and at police training college," she says.
Amina's act of kindness has in turn attracted kindness from strangers. She has received a Sh50,000 cheque from a Mombasa politician and a gift voucher together with a smart TV set from Naivas Supermarket.
"Beyond the gifts, there has been an outpouring of love and goodwill messages from Kenyans of all walks of life. I appreciate that a lot," she says.
She longs for the day Kenyans will learn to work with police officers, "when citizens and police will interact as patriotic citizens," and realise that police are not enemies but our very own brothers and sisters.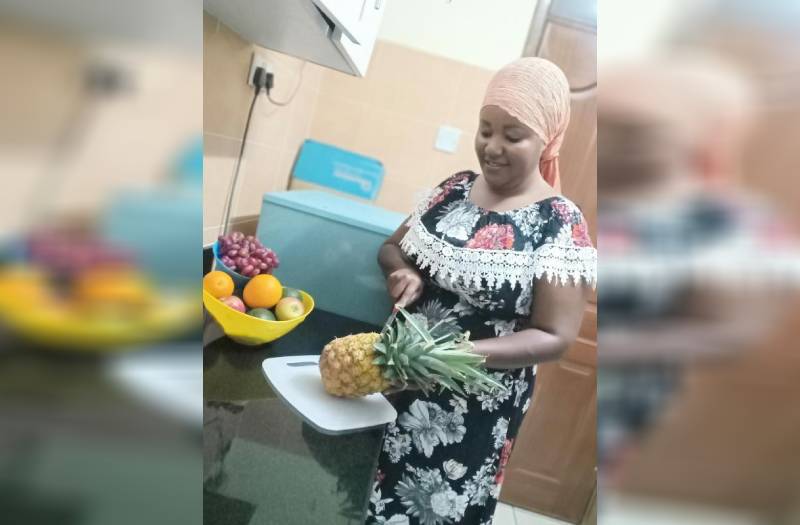 And while Amina is the one being celebrated today, she says there are other police officers worthy of the praises she has received.
"There are plenty good police officers," she says. "Some do even better than I do."
She takes note that most of her colleagues, like her, have to report to work for the sake of fighting the coronavirus and extends her appreciation to those in the medical field who are even closer to the virus than she is.
"We should all do what is expected of us and contribute in the fight against this virus," she says. "Everyone, even members of the public, have a role to play. By following the directive to stay home one would be doing something to stop the spread of the virus."