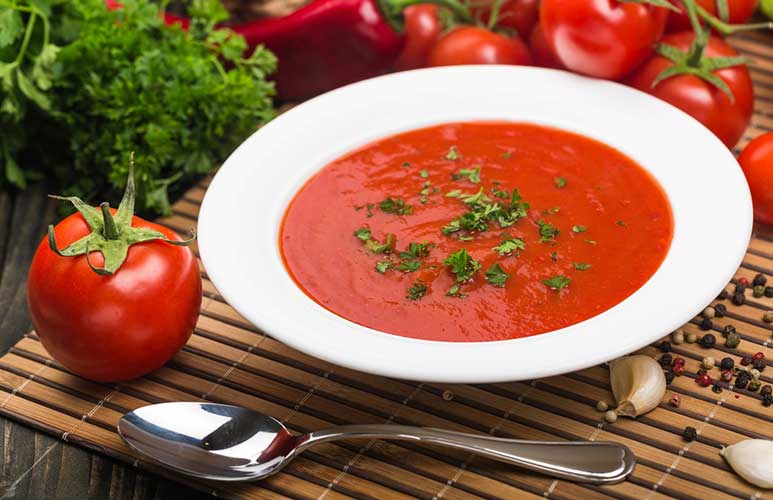 There's continued debate on whether the tomato is a fruit or vegetable. Nevertheless, its vibrant colour and flavourful nature make it ideal for a hearty soup on those colder days. Betacarotene which is contained in tomatoes is bound to boost your glow.
This recipe serves six people and takes 10 minutes to make.
Ingredients
1 pinch red food colour
1 slice Green bell pepper
2 springs of basil
1 piece celery
READ MORE
1/2 teaspoons sugar
1 tbsp. salt to taste
1 pinch ground black pepper
1 diced Onion
4 pieces crushed Garlic
2 tbsps. Butter
1 tbsp. wheat flour
6 tomatoes
1 tsp Cumin seeds
1 tbsp. paprika (optional)
Directions
1. Heat the butter in a non-stick pan, add cumin seeds, crushed garlic, chopped onions, leeks and celery, bell pepper and sauté for few min.
2. Add tomatoes and cook till mashed with little water. Add salt, sugar and basil, pepper powder. Put in a blender and make a fine puree. Strain.
3. Add butter in a pan, 1 tsp of wheat flour and cook in very slow flame till it is slightly brown. Put the strained puree, paprika, food colour and add water as you check for seasoning. Simmer for three minutes.
4. Add cream if you desired and serve hot.