The Standard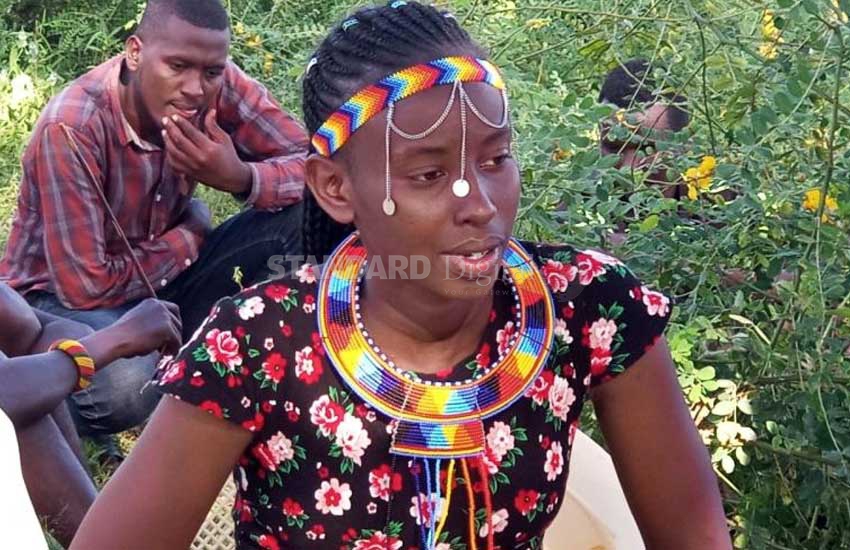 Had Priscilla Nasieku's parents had their way and married her off at the age of 14, she would by now be a wife and a mother deep in a village in Samburu.
ALSO READ: Cameron Diaz reveals why she had to retire from acting
But those plans in 2016 never materialised thanks to the quick intervention of a local priest, and today Nasieku is hopeful of a bright future. Nasieku sat her Kenya Certificate of Secondary Education (KCSE) exam last year where she scored B- and is looking forward to enrol in college later this year for a course in clinical medicine.
The girl, now almost 19 years, is glad she was rescued from going down a path that would have ruined her life.
Yesterday, she sat next to Fr Jonathan Namona, the Catholic Diocese of Maralal-Archers Post Parish priest, with her hands on her lap, lost in thought as members of her community gathered for a prayer ceremony held in her honour.
Vividly remember
She smiled back at the faces she could remember. As for her parents Jackson and Rose Lenore she could hardly look them in the eye.
The events of February 15, 2016 were still fresh in Nasieku's mind.
"I had just received my Kenya Certificate of Primary Education (KCPE) results. I was elated as I had scored 333 marks. My parents were in a dilemma because they had no money to send me to secondary school," she recalled.
ALSO READ: Activist Stella Nyanzi announces run for Kampala MP
She recalled eavesdropping on her parents one night.
"They were saying that it was better to marry me off because they could not afford my secondary school fees," she said.
Nasieku said her dream was to pursue her secondary education and join college.
"I prayed about it and something happened," she confessed.
According to Josephine Kulea, the director of Samburu Girls Foundation - through the intervention of the local priest - they got a tip off about a girl who had scored good marks, but her parents were planning to marry her off.
"The parents said they had no money to educate her and that was why they were planning to marry her off," said Ms Kulea.
But four years later, the girl returned to her home village - Ndonyo Wasin in Samburu East and was welcomed by her parents.
ALSO READ: Bad bachelor: Dad reappears as I'm arrested
The couple said they were happy that their daughter had got the education she always longed for.
"She scored good marks at Ndonyo Primary School in 2016. We could not afford the fees and we thought the best way was to marry her off instead of her being idle at home," said Mr Lenore.
Lenore thanked the Catholic priest who intervened and took his child to the rescue centre, saying that was the noblest thing he did to the family.
"Rescuing my daughter and taking her to school is the most important thing that you did to this family. We were not aware about the importance of education but we have realised it now. We are happy and that is the reason we slaughtered some goats to celebrate," he told the gathering.
The foundation took her to Daraja High School in Nyanyuki where she scored grade B- in last year's KCSE exam.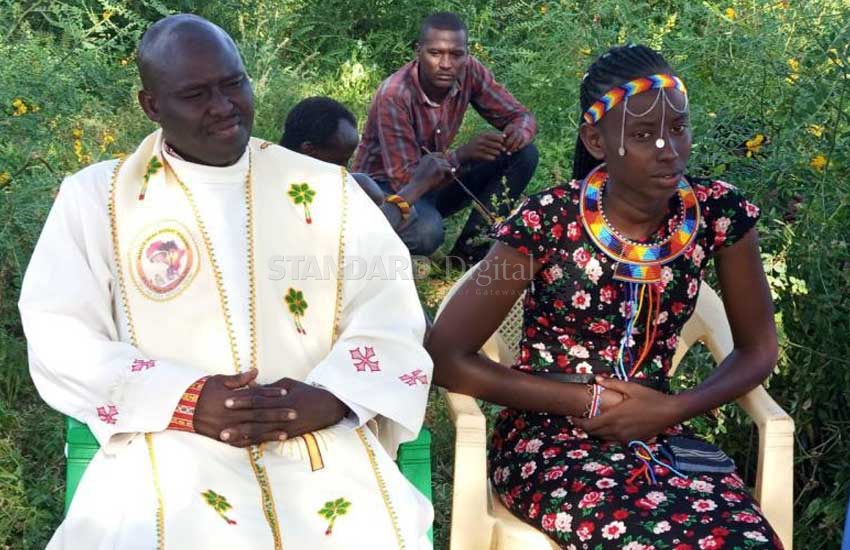 Fr Namona, who is currently serving in Archers Post parish under Maralal Catholic Diocese, said Nasieku had proved that nothing is impossible.
"Having a girl like Nasieku shows other children that everything is possible in life," the priest said.
Nasieku is now set to join Kenya Medical training College.
"I want to improve the healthcare of the entire Samburu people, especially Ndonyo Wasin village where I come from," she said.
Kulea advised residents against Female Genital Mutilation (FGM) and early marriages, and instead urged them to enrol their children in school.
"We know Nasieku will come back to support her community after college, she has been a very good example at Samburu Girls Foundation," she said.
Area Chief Joseph Lerukupa said education is the pillar in modern life.
Meanwhile in Narok County, two girls were rescued from early marriage as schools re-opened for the first term session.
Area Children's director Pilot Khaemba said the two girls had been married off by their parents during the December holidays, but the plot was exposed after they failed to report back to school.
Mr Khaemba said the two, secondary school students aged 16 and 17, were rescued at Parkarara.
"We have realised that early marriages are still rampant in this area. We have rescued the two girls and we shall ensure that they go back to school as the culprits face the law," he said.
Report cases
Narok County has the highest teenage pregnancies in the country at 40 per cent, according to the Demographic Health Survey.
The official called on school heads to report cases of girls who have not reported back to school for first term.
"We will not allow any girl to drop out of school even if it is because of pregnancy. They must go back to school after giving birth because they have a right to education. As government, we want 100 per cent transition as stipulated by the Ministry of Education," said Khaemba.
He said his office was working with local administrators and the police to ensure that those who abet such vices were brought to book.
Last year, the department rescued three girls aged between 15 and 17 from early marriages in Melili Ward, Narok North.
Two of the girls were in secondary school while the other one was waiting to join secondary school.