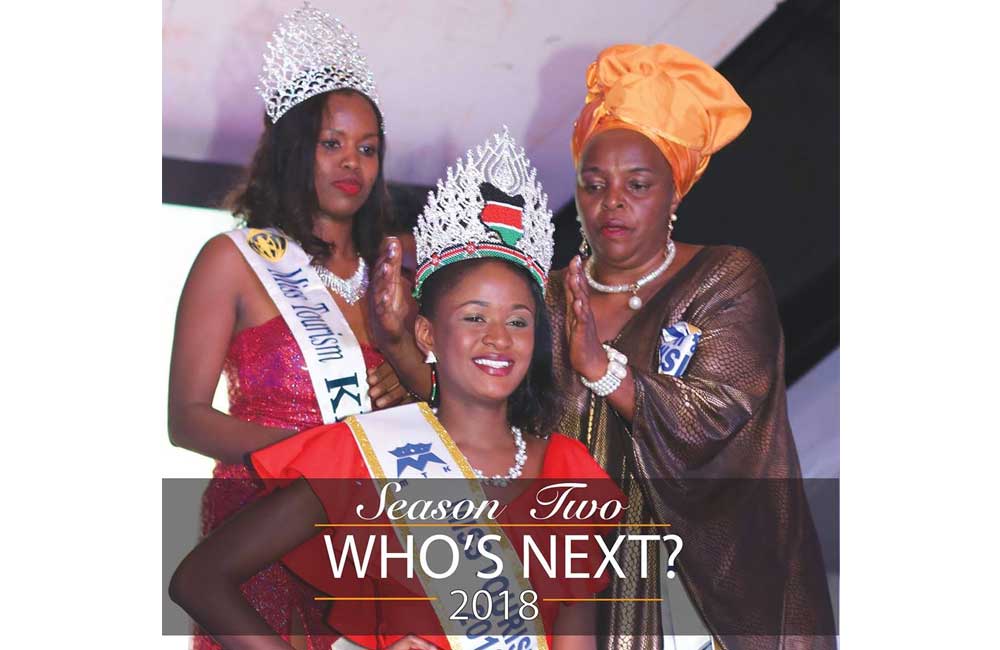 The first ever Miss Tourism pageant, founded by Vera Beauty and Fashion took place in 2001. The writer looks at its growth to an event that promotes integration and cohesion of Kenyan cultures
For the idle eye, Miss Tourism pageant is just another event where beautiful women strut on the runway and are praised.
In reality, pageantry is as much a celebration of Kenya's cultures and our way of life as it is the celebration of the country's beautiful people.
Miss Tourism Kenya (MTK) was founded in 1999 by Vera Beauty and Fashion College.
"The college offered training courses in modelling, hair and beauty. It is on this basis that the college thought well to register MTK," MaryAnn Wanja, the General Manager of Vera Beauty College says.
It is from the creation of MTK that Miss Tourism pageant was conceptualized; culminating into the first ever event being held in 2001 at Safari Park Hotel in Nairobi.
"That first event was a success by any measure," Alice Kamunge, the National Director of MTK says. "We have grown by leaps and bounds since then."
In 2013, owing to the promulgation of the new constitution, Miss Tourism pageant devolved into the counties.
Today, MTK has the blessing of the County First Ladies as the Patrons.
County governments, through their respective ministries of Tourism and Trade, have organised and held Miss Tourism events in the counties.
Miss Tourism is an annual national event that seeks to personify Kenya's Tourism strengths through pageantry.
The contest taps from young and talented ladies exhibiting a passion for marketing their counties and nation both locally and internationally.
"Our National strategic assignment is to rally people towards the promotion of six key tourism development pillars: Tourism attractions sites and products, cultural diversity and practices, environmental conservation practices, business and investment opportunities, hospitality of our people, promotion of peace and coexistence," says Kamunge.
And while at it, MTK consciously promotes integration and cohesion of Kenya's cultures.
This is especially important in Kenya – a country that has previously experienced tribal clashes and ethnic tensions.
"We want to bring Kenyans together from across the borders in the sharing of cultural and national values with the aim of promoting Investment and Tourism in the country," Amb. Alice adds.
Kenya boasts beautiful landscapes and wildlife. These form part of our beauty, identity, culture and heritage. We are a country blessed with beautiful coastlines, coral reefs, freshwater and salty lakes, savannah grasslands. We have snow-capped Mountain peaks, extinct volcanoes, forests, rivers, lakes, wildlife and fertile soils. It is all these that Miss Tourism seeks to showcase.
Since launching Miss Tourism in the 47 Kenyan counties, as well as organising the national event, Miss Tourism Kenya Ltd, the company that operates the pageant, has had winners from around the country including Kakamega, Marsabit and Kakamega counties.
Annah Wughanga Olila from Taita Taveta County was the overall winner in 2013. In 2014 the winner, Jacqueline Jeruto Komen, hailed from Baringo County. Wendy Rabellah Omolo from Homabay County took the crown in 2016 and will be the one handing over the title this year.
Different counties at different times have hosted the national event: opening up their regions for potential and untapped investment in Tourism.
Auditions for Miss Tourism Kenya events are primarily organised at ward, sub-county and county levels.
Winners at the county level take upon the mantle of representing their polity at national level – where representatives for international competitions are selected. County representatives have one year tenure.
National finals are held annually in a one-week extravaganza that gives Kenyans and visitors the opportunity to experience Kenya's diversity through competitions in traditional dances, traditional food displays, exhibitions and talent competitions.
This extravaganza is open to the members of the public with selected guests officiating and awarding winners in various categories.
Winners are selected for the following titles: nine regional winners and one popular winner by public voting.
These winners go to the final stage where they are put through their paces in a question and answer session.
Ultimately six winners are picked as follows:
1. Miss Tourism – Peace and Unity
2. Miss Tourism - Hospitality
3. Miss Tourism - Investment
4. Miss Tourism - Environment
5. Miss Tourism – Culture
6. Miss Tourism Kenya
The overall winner is awarded with Sh1.2 million worth of a contract with Miss Tourism Kenya Organisation and a chance to represent Kenya on a global stage.
Areas of preparation for Miss Tourism include: personal grooming and etiquette, knowledge on all the six pillars of MTK in relation to the County.