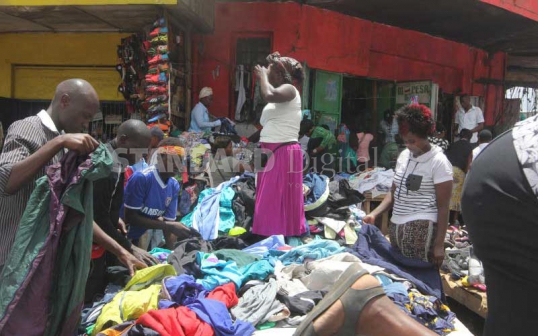 To most Nairobi dwellers living below a dollar-a-day (just over Sh100), life is a daily struggle since they have so much to do with the little money they earn. But many still want to look their best for that special occasion: an interview, party, classes, wedding or even a date.
The question is: Where do Nairobians on a shoe-string budget get fabulous clothes at an affordable price? Here is a list of markets in the city known to offer nice clothes and shoes at affordable prices:
Gikomba Market
Located on Kamkunji Road just a few minutes walk from the Central Business District, Gikomba is the home of second-hand clothes. It is home to any designer outfit deemed worthless in the European market at a fraction of the original price. It has everything: shoes, formal wear, party clothes, baby clothes or even household items such as comforters and curtains. Designer dresses go for as low as Sh50, with tops for even less. With Sh1,000, you can have a new wardrobe.
Tips: For best bargains, go as early as before 7am. Do not go to Gikomba when it rains as it can be extremely muddy.
Toi Market
Located on the outskirts of Kibera Slums in Upper Hill, Toi Market is famous for selling unique, cool clothing at affordable prices. You can get swimming costumes, shoes, bags, jewellery, dresses and undies. If you want to look fabulous in the latest fashions without spending a fortune, this is the place to go.
One of the largest informal markets in Nairobi with over 5,000 traders, it is Nairobi's most famous market for second-hand clothes apart from Gikomba. Initially, it used to be an exclusive baby-clothing market but over the years, it has been catering for everyone.
The market has well-organised stalls and accessible pathways. It is opened from 8am to 6.30pm daily. Prices for kids' wear - pants, tops, jumpers, sweatshirts, polos, T-shirts - range from Sh30 to Sh400. Though they do not sort clothes according to the designers, they say bales from Scotland are the best quality and the most expensive, depending on the season.
From town, one can board a matatu Number 8 from Railways Bus Station. You can also use matatu Number 3 or 4 and alight at Adams Arcade. According to vendors, Saturdays and Wednesdays are the best days to shop because this when they open new bales.
Mutindwa Market
Situated between Buru Buru and Umoja One Estate, one can find shoes and dresses ranging from Sh20 to Sh1,500 here.
Korogocho Market
Located adjacent to the Korogocho Slums near Dandora, "Koch", as it is commonly referred to, is famous for selling second-hand clothes from as low as Sh10 to as high as Sh500. But you need patience to go through the piles of clothes to find the right one.
Ngara Market aka Engarasha
This is famous among ladies who love fashion. They may seem a bit pricey to some people but if you have a good bargaining power, you can get value for your money.
Warning: The traders often "fight" with county askaris, so you might end up escaping before buying what you are looking for.
For More of This Stories Subscribe to the Standard Epaper to get a copy of Eve Woman in the Standard
Muthurwa Market
This is a huge market on Haile Selasie Avenue where you can get anything from second-hand clothes to brand new outfits at an affordable price.
Nairobi CBD
Hawkers have taken shopping to a whole new level by doing guerilla selling on the streets. And while they are a nuisance because they fill up the already crowded streets, I love shopping and would gladly tolerate them any day. Buy any stuff in the late evening (from 6pm) to get great bargains.
Do not miss out on the latest news. Join the Eve Digital Telegram channel HERE.