Esther Muchene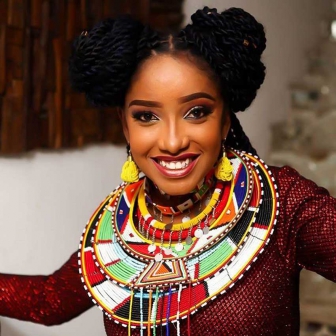 ALSO READ: "I remain unapologetic" Anita Nderu on show featuring members of the LGBTQ community
When you thought Kenyans would be empathetic and extend encouraging messages it was anything but that. A quick check down the comments section on YouTube where Anita Nderu's video was uploaded, it is clear some people are straight up evil and put the devil to shame with their mean rhetoric.
The Capital FM radio presenter did what many of us shudder at doing. During a BBC interview she revealed she had been sexually harassed on more than one occasion. Twice in a matatu and once in a cab.
Sharing the terrible ordeal, she shared how while in a matatu heading to work one morning she felt a cold hand on her left breast. Shocked and confused she confronted the man who rudely asked her, 'why do women have boobs then? Are they not there for us to touch them?' The manner less man removed his hand and after raising the issue with the conductor he did nothing.
Since the incident Anita has used public transport twice due to the horrific experience.
But what hurts most is the reaction she received and this is what she had to say.
'''What will people say?' Plays a role in why over 70% of victims of sexual harassment don't report their ordeal or share their story. Yesterday was a tough day. Sharing this story scared me because human beings can be so cruel and insensitive as I learnt from the YouTube comment section.
Internet users will lie in long paragraphs and attack your character and blame you for what happened to you. Women included (I think that bothered me more). As you share your story people will accuse you of exaggerating or lying or tell you you could have done more to prevent what happened to you or tell you maybe if you dressed differently or behaved differently you could have prevented it. Some say it happened once so it is no big deal, others will say you are seeking attention. None were there to watch it happen but will become experts on the situation.
I cried a good cry yesterday but when I woke up today I knew I would never forgive myself if I looked the other way, waited for the story to die when I know oh so well there are girls and women being harassed daily with no solution in sight and this is happening all around the world not just here.
Just because it has not happened to you or someone you know does not mean it is not happening.
The comments will not hurt as bad as knowing I did nothing. I will take various steps to bring attention to harassment in public transport and the streets and together with #100Women @bbc100women in #Teamgo and local leaders agitating for change.
I hurt with all the girls and women who went through what I did, who went through worse or were harassed in any way.
No should mean no. If you tell him to stop he should respect your wishes and stop. Sorry to all the girls and ladies who shared their stories with me, you deserved none of that and no one should tell you otherwise.'' She posted.
After sharing this brave experience, it has started a much-needed conversation and from the comments this is a very common occurrence not unique to women but men as well.
And this is what one man had to say about his sexual assault while in a matatu.
oandugu I'm a guy and it happened to me. I sat next to the matatu driver and a guy(in late 50's) who had been following me for a while, sat next to me. He got out a huge novel and 3/4 of it was placed over my thigh. It was odd but since my mind was innocent, i just said let the guy enjoy his novel. All of a sudden, his hand was on my thigh. Again i said..he's just supporting the novel. He was talking about politics with the driver( i guess that was to distract the driver) as he seemed jovial and distracted on the topic. Then all of a sudden, he went for it. My 'thing' shrinked. I put my hand in the pocket to try everything to cover the private part. He was strong. My legs were becoming weak and i did not know what to do. He now used extra force which made me even more weak. At that point your life flushes infront of you. Somehow i managed to say shukisha. I knew i was safe .then somehow he is behind me.