Brian Guserwa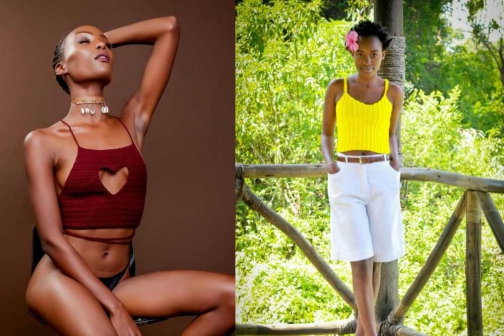 Bikinis can bring back your sexy, and a good one is worth the investment.
The chilly weather notwithstanding, Joan Aoko is at work every single day setting the new trend in town.
The 25-year-old has been working with yarn for a long time. Just recently, she decided to focus on swimwear.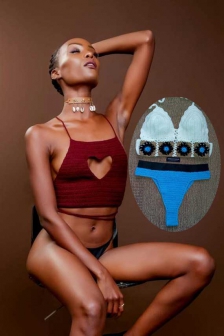 "It started as a hobby of sorts. I learned crocheting from my mother. After school, I would design these items and my friends encouraged me to get serious with it. I used to make all kinds of knitwear, including bags, dresses, sweaters and scarfs, but I now work exclusively on swimwear," she told The Nairobian.
The graduate of Maseno University with a degree in international relations and diplomacy says that she was not cut out for office work . No wonder, she quit her job after about two months to focus on crocheting.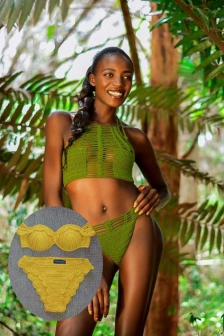 "I am more passionate about making this business work than going to the office," she says.
She started the business in Kisumu in 2015 but the demand was high, especially from clients who were based in Nairobi, so she moved her business here. Crocheting a bikini is labour-intensive, since she does everything from production, design to delivery.
Aoko buys the yarn from local stores and can make two sets of bikinis in a day.
"I have to get measurements of the client, then they choose a design, colour and other specifications," she says.
Clients can also order directly from Joan's social media pages. Although she only sells her creations online at the moment, she is hoping to set up a physical store in the city.
Her prices ranges from Sh1,500 to Sh3,000, depending on the design and quality.
The reception so far has been good, especially from young women aged between 18 and 35 years, and even some men who want to gift their loved ones.
Aoko has worked with some celebrities, like rappers Femi One and Noti Flow. Bloggers too have been a big part of her marketing strategy.
Aoko describes her swimwear as fun and artistic.
"They are perfect for girls who love to travel and show off their bodies on the beach," she explains.
"It is not easy to find them in the market, so in addition to being artistic and trendy, they are also unique."
The uptake has been so good that sometimes Aoko turns down orders due to the high demand.
"In a good month, I can make up to Sh65,000, but I know I am not operating optimally. Hopefully, I can expand soon, increase production and hire someone to help with the design. Of course, the greatest goal is to go global," she says.
All photos are courtesy
This article was first published by our sister publication The Nairobian