Gardy Chacha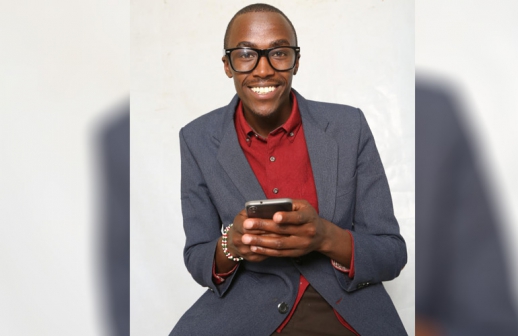 Comedian Kimutai Ruto aka Propesa is one of the faces, voices and brains behind trending videos that begin, "Halo William". We tracked him down.
ALSO READ: President Uhuru Kenyatta issues directives on increased cases of gender-based violence
Let's talk about 'Halo William''
We have posted two 'Halo William' clips online. In real life, however, I have done many 'Halo Williams'. One time, I bought coffee for me and my friends and I couldn't pay the bill. Since 'William' comes from close to my home (I come from Bomet County), I thought I could call him and ask him for a 'favour'.
What of the clip you released after the exam results were out?
The 2016 exams didn't look as exciting compared to the past years. We thought it would be a good idea to make a 'phone call' to 'William' about the poor results so he could do something about it, hence the video 'Matiang'i Fever'.
Who is 'we'?
Propesa came as an idea shared by myself and three other friends. On set, we have Larry Matayos, Kiptangus, Chemosi and Propesa. We are one team. For us it was just fun – nothing serious. But social media has made us famous and given us a platform to perform.
Are your videos a craft to capture the reality about the Kenya's 'kujuana'' culture?
The idea was that since 'William' is a powerful person in a powerful position, maybe if he knew me [at a personal level] something would change about my results. That is how many people perceive life in Kenya – that if you know someone, things will happen; if you don't know someone who knows someone, things will be slow. Bottom-line, it is comedy.
Do you know 'William' at a personal level?
I don't know Deputy President William Ruto in real life. We have never met. I only know him as the DP. But, [assuming he watched the video that trended], I guess he might actually now be expecting a phone call from me. Unfortunately, I don't have his number.
Let's go back to the exam. Comedy aside, were you happy of last year's results?
Dr. Matiang'i (Cabinet Secretary for the Ministry of Education) is doing his work. I think he is performing very well. The reason some people are not happy [about the results] is that they probably do not see what they used to see in the past. They ought to know the CS is streamlining the education sector. Maybe what we got in the past didn't reflect the true picture.
When did you sit the exams yourself?
I sat for my KCSE in 2009. I got a C+. I attended school at Boron High School, located in some unknown forest in Nakuru. It was an honest C+. Why would you cheat when you are in a school that no one knows? But now with Matiang'i in the seat, such nondescript schools will play on a level playing field. Maybe my C+ would have easily been an A had I been in a 'good' school.
You mean 'Boron' like the Boron in chemistry?
(Laughs) Yes. Boron is actually an element in chemistry. That was my school.
If Matiang'i would have been CS at that time how do you think you would have performed?
(Laughs) I think my certificate would have been a plain paper with nothing but my name at the top.
Soon girls will be fighting for space around you: Propesa can handle that?
There is someone occupying that space already. There is no vacancy. I have had someone for some time. If those others come, huyu atawafukuza.
Did you envisage life as a comedian?
Not really. But I always wanted to be in media – on TV. My parents sent me to study Information Technology and after graduating, I worked for Kass FM. I was a journalist. Now I do comedy pieces for Chamgei FM, on a part-time basis, along with my Propesa colleagues.
Did you know you were funny?
I didn't. But I could make my girlfriend laugh.
People still call you by your real name?
People prefer to call me Propesa now. It has overshadowed my real name.
How did you and your team arrive at 'Propesa'?
'Propesa' is 'Professor' in Kalenjin. Kimutai Ruto does not wear glasses but Propesa does.
Where can we get more of Propesa?
We have a page on Facebook by the same name and a YouTube channel 'Propesa Nebo Wilita'.
What does the future look like from where you are?
Maybe I will be much more famous than I am now. I will be at a better place comedy-wise and maybe driving a big car.
That means you will change and turn your back on your friends?
No. Do you see people from Rift Valley changing? We don't change. The accent never changes; everything remains as it is. Maybe I will have added a little weight. But at the core I will still be Propesa.