Tony Mochama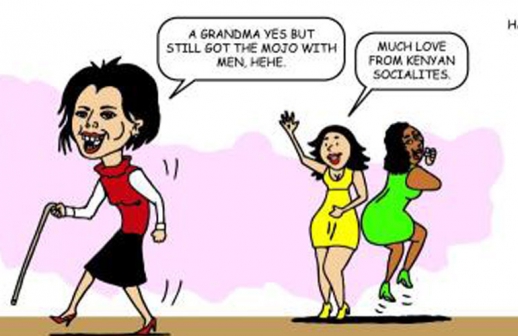 Long before the Kardashians, and in our local scene cases such as Vera Sidika, there was Zsa Zsa Gabor.
ALSO READ: If your boyfriend has female friends 'he's not into you', claims dating coach
Once, upon being accused of being a bad house keeper, mediocre actress and the world's first socialite (famous for being famous and who passed away this week) Zsa Zsa Gabor said: "I am a very good house keeper. Every time I divorce a man, I keep the house."
She married nine men, five of them by the time she was fifty. So if you are a woman planning a second, or even third marriage next year, and have been 'shamed' as one who can get but not stay/keep a man, this article is our - Mas present to you.
When she was twenty in 1937, Zsa Zsa married a Turkish politician called Burhan Belge, thirty years her senior. They lived together for four years, and had no children. But then in 1941, the Nazi army arrived in Budapest, Hungary, where Zsa Zsa and her two sisters were staying, and they fled Hungary for America.
Having abandoned home and husband, Zsa Zsa was divorced for desertion in 1941, but wasted no time in getting a second husband at 25, the Texas entrepreneur Conrad Hilton then building his hotel empire, and at age 54, the exact age mate of the hubby she had left behind in Hungary.
After five years of marriage, Zsa Zsa ended it with the hotel mogul saying she needed her freedom. "Conrad ignored my needs, and treated me like his property, a ninth hotel.'" (At the time, Hilton owned eight hotels in America, and in the next three decades, would go global with his hotel chain).
She said the last straw was when he raped her, resulting in the birth of Francesca, the only child she ever had in 1947 (and who is the grandmother of the socialite Paris Hilton).
After taking a year off to wean her daughter, Zsa Zsa was back in the marriage game by April 2nd, 1949, this time marrying major film star and minor crime noir novelist George Sanders. Exactly five years to the date of their marriage, they divorced but stayed friends till the day Sanders committed suicide fifteen years later. On the year of their divorce, Zsa Zsa was thirty seven (and Sanders won an Oscar).
ALSO READ: Confessions: I think my neighbour is cheating on his wife, how can I tell her what I know?
Gabor then took an incredible eight years as a single woman until 1963, when at 45, she contracted her fourth marriage to an eminent Wall Street gentleman called Herbert Hutner, who was very nice to her.
But four years later, Zsa Zsa divorced him saying he was killing her career drive with his kindness and generosity and that she craved "excitement and personal achievement more than mere money."
In short, she found him lovely but boring! Strangely enough, Herbert would die in 2008 aged ninety nine, the same age as Zsa Zsa when she passed away this week.
At fifty, she married one Joshua S. Cosden, the 'Ben Ten' she had been having an affair with, but after less than a year, the fire of lust died away and with nada in common, they divorced.
Gabor's ninth and last marriage, when she was sixty nine, was to a flamboyant European socialite called Frederic Prinz van Anhalt, 26 years her junior, whom she was rumored to have paid $ 4 million in 'pre-marriage' fees (dowry). "We didn't marry for love," Zsa Zsa once said. "He married for money, and I for companionship, and we became the best of friends."
Ironically, this marriage de convenience lasted a devoted thirty years till her death this week.
That's so Zsa Zsa.
ALSO READ: Confessions: My husband's mistake with suitcase exposed his double life and second family