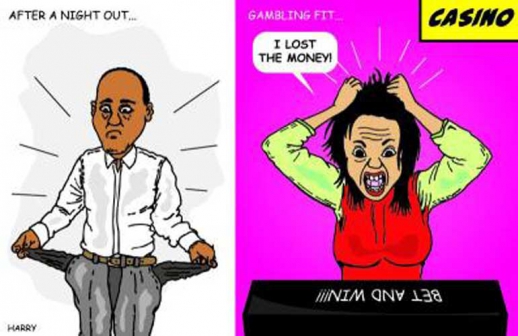 They have let the cat out of the bag! 'They' being Consumer Insight, the 'cat' being the modern Eve woman, and 'bag' for budget.
ALSO READ: I specialise in helping people sleep
A study sampling hundreds (841) of the ladies revealed that after food, beauty products are tops in women's spending habits — with things like 'school fees' way down the line. When did it get to be this way?
Growing up, men were mostly the irresponsible ones with money. In fact wise men gave their 'tea bonus' to the missus as soon as it landed, and were then given a 'tithe' to go thank the throat with froth at that ka-local called 'Friends.' (Not named after the '90s sitcom).
I remember my own old man was in charge of bills in the house, but often mistook this to mean 'bar bills.' And roared at West End pub – 'drinks are on the house.'
Meanwhile, my mom would give me school fees at the start of every term in cash to 'go pay for yourself and keep change.' (I am talking a Sh200 note that returned change of Sh27, enough to buy three Enid Blytons in the '80s).
When the month reached a 'kona mbaya' like today, people just ate ugali, sukuma and home-made Mala (no nyama there for neighbours to 'meza mate' and salivate over, mate).
Nowadays we have make-up, hair (the Chinese Bird's Nest), shoes and clothes as top of the pops. And I believe mulo only made the list because a lady must 'eat food to look good.' (Anorexia is an American thing, better here where women go Bulimia). And even that hair, like the rent, has a sponsor.
Meanwhile, back at nursery school, a single mom is begging the headmistress to let her pay that Sh18,000 fee in three equal installments – while smelling of designer perfume worth Sh24,000. Shame!
ALSO READ: Men only: Breadwinners' money worries in hard times
I remember an 'ex' of mine once who, despite earning an increasing salary in our time together, seemed to be getting broker by the year. We used to split rent. Then it became 'the man's sole responsibility.'
After a while, it got to that all the bills — from food to water to fuel — became 'the man's responsibility.'
See, Beryl Itindi up there should know that not all males are free loaders like the one who broke her... Mpesa account!
Eventually it got to the point where 'money' became the main actress in our arguments. I mean this woman had gone kukus and would stay out all hours gambling like a nut in a Dorito cookie. And I'm not talking the 'digital' style of gambling.
Speaking of which, I ran into a gang of men outside the office canteen the other week, and one yelled – "Tony, who should I bet on – Man U or Feyernoord?" "Fire Nod," I shouted back, with no idea who they are (but I do detest 'Man U' and would lay a wager against them. If I were the betting type).
I'm not, so I didn't. But I ran into the dude this week. He had won on the long odds on Feyernoord. "How did you know?" (Like I said, I did not! I just loathe Manchester United, Manchester City, Arsenal).
Anyway, you bet we eventually split with said gambling girl. It used to be that, after a split, a chap drunk themselves silly, lost weight grew a scratchy beard, became disorganized, depressed, bedeviled and disheveled.
ALSO READ: I took a big leap after being laid off
But the break with the casino signorita proved to be the best thing that ever happened to my personal finances. Gentlemen, if you have 'money bleeders' in your life, you need to write them off. Like a bad loan.
For More of This Stories Subscribe to the Standard Epaper to get a copy of Eve Woman in the Standard
Do not miss out on the latest news. Join the Eve Digital Telegram channel HERE.