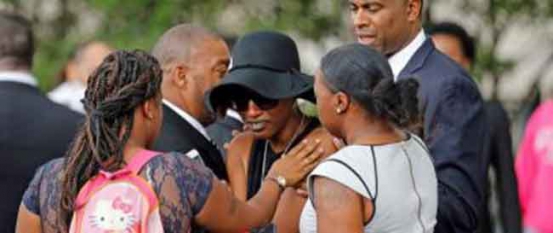 An acquaintance lost her father recently and when I went to support her at the fundraising venue, I just found her with a handful of family members.
The book for recording contributions was open but not even one page was filled. I wrote down my name against the money I gave.
I asked her if she expected more guests but she mentioned solemnly that they may not turn up as it was getting late. Some had sent their money through her phone.
In our conversation, I gathered that this lady hardly attended any fundraisers, instead choosing to send money.
Welfare is part of us. It is no longer natural that people come in droves to condole with you when you have lost a loved one but to get to a level where people come to be with you is truly an investment that you must be part of just in case it happens; that you are there for them the same way you will need your friends' support and comfort. And in this investment, you reap exactly what you put in.
For example, if you only send money to friends who are grieving, that is exactly what you will get when in the same shoes.
When you lose someone close to you that is when you realize how you need friends and family to come closer to console you financially and emotionally.
But if you were not there for them, that will be expecting too much. Those who had a problem and you never helped will give you false promises if you call them about your loss – they will not give you anything at the end of it.
Since death is a reality, you must not bury your head in the sand and assume it will not affect you. In fact, I have seen many insurance firms coming up with plans for such eventuality.
Sometimes, when you seem to have a little bit of money and a close family member dies, you will find the responsibility of the funeral is left in your hands even by other family members.
It is not foolish to take up these insurance policies; and it does not mean that you are courting death. Just like you take medical policies for everyone in the family, you should also take this up in the same way.
You don't take the medical cover expecting to become sick but just to be on the safe side. The same way you should see the funeral one.
We are social beings and we naturally expect help when we are overwhelmed with grief. So investing in friends is the best policy ever.
To cushion yourself against dejection like my acquaintance above, start investing early. Be there for your friends.
Note that money is not everything. Physical presence doubles any amount of money you may give in the heart of the receiver.
Investing in friends during their time of need will insure you against loneliness and difficulty financial times when you most need it.
This investment is simple:
• Call a friend who is grieving. Pass encouraging messages and offer to take care of some errands while they rest. This, they will never forget.
• Offer to help them pick items needed for the funeral. Accompany them, if you can, to do the most difficult tasks such as running the obituary. You are the one who can think straight as they are crowded by the emotions of deep loss.
• Make time to attend the fundraising. It is not the amount of money you give but your physical presence that will remain with them forever.
• Depending on how close you are, do not wait to be assigned duties – volunteer your services and do that to the best of your ability.
• Do not spoil this worthy investment by badmouthing your friends about failures or whatever after the ceremonies are over instead try to help them in their healing journey.