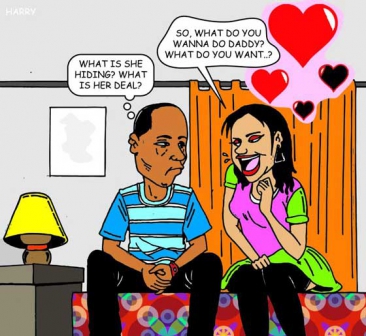 You know those people you meet and at first you think they are either bores or snobs. You studiously avoid them, only to discover later that they are spoilt brats? That is who Carol is. When she walked into your life four months ago, she was quiet, reserved and stiff. She took life too seriously.
ALSO READ: Soon-to-be groom left freaked out by fiancée's family's wedding night 'ritual'
In fact, she offered you only her friendship because she had 'a boyfriend in Germany.' Now you even doubt that. Many women do lie about nonexistent boyfriends somewhere abroad. By what she has done in the last three weeks, Carol is a wild and crazy animal.
Here you are, lying on her bed, facing the ceiling in what probably ranks as the most romantic surprise of your life. Something about girls who are quietly spoilt. You don't see it on the surface, but behind closed doors, they come at you with reckless abandon. You look at her, breathing heavily, so innocent as if there is nothing she has done and you take this time to reflect on the way forward in this relationship.
After today, you have sunk so deep into it, there is no walking away from it without breaking her heart. You already broke her friend Cindy's heart. But you don't regret it. It is Carol you wanted. But first you must establish what she wants herself...
"What do you want from me?" you ask her when she wakes up. You immediately realise that is a very feminine question. She goes into a pensive mood.
"I don't know. You tell me." She throws it up to you.
"Has he called you?" You ask with a whiff of impatience, asserting your authority.
"No, he hasn't."
ALSO READ: Girl code: I don't make dramatic announcements
"Does he exist?" you ask, casting your doubts. "After what you have done, I have to start asking you some questions." You pretend to be serious that you really care.
She sobers up, laughs and says, "Actually, we broke up."
"When?"
"Before Christmas..."
"What happened?"
"You know we are done. He is out of my life," she says with a certain finality. That only means one thing: She is available. That is like getting more than you bargained for. There's a "too-good-to-be-true" feel to the whole thing. A beautiful girl does not just move next door, conveniently break up with her boyfriend in a foreign country, prank you that she is pregnant, then tell in a subtle way that she is available.
There is something fishy here. It could be something in her personality. Why was she reserved at first, then went exceedingly wild afterwards? You are stuck in a dilemma. Worse, you don't know her background. By the way, who is she?
ALSO READ: Why sexting is good for your relationship
Before you make any decision, you have to know her background, what kind of girl she is. Where did she go to school? What did she actually study? Where has she worked. You need to know all this before your next move.
You decide to send emissaries and investigators, trawl through Google and try and compose what kind of a person she is. There is always someone out there who knows something about someone. It is going to be a busy week.
For More of This Stories Subscribe to the Standard Epaper to get a copy of Eve Woman in the Standard
@nyanchwani
Do not miss out on the latest news. Join the Eve Digital Telegram channel HERE.