Sylvia Wakhisi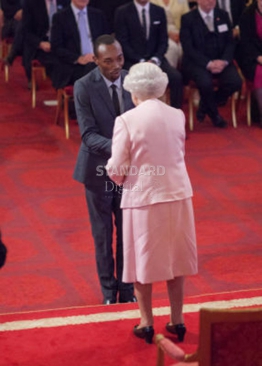 Recently, you were awarded the Queen's Young Leaders Award by Her Majesty Queen Elizabeth II at Buckingham Palace. How did that make you feel?
ALSO READ: 10 items the Queen carries in her handbag
Receiving the award was a memorable moment and I still recall the excitement and sense of fulfilment that I felt. I was awarded for my contribution to peace building and youth empowerment in Kenya. It was an affirmation that the work we have been doing to transform the lives of young people and their communities was critical and timely. Meeting the Queen was a great honour. I felt inspired to have a conversation with a global leader who represents the aspirations of a unique institution like the commonwealth whose values for democracy and respect for diversity and rule of law I uphold. I was touched by her aura of humility.
That must have been quite an experience...
Yes it was. That was my first time to travel to UK and it will always be memorable. In just a few days, I got to meet global leaders like UK Prime Minister David Cameron, Britain's former Conservative Prime Minister John Major, celebrities like David Beckham, among others. Being in the UK is like an immersion into a historical landscape dating back to over nine centuries and there are always iconic places to visit.
So who's Karuita, where did you grow up?
I was born 27 years ago as a first born in a family of three in a small village in Mathira Constituency, Nyeri County. I attended Kanjuri High School for O-levels, went to St Lawrence College in Uganda for A-levels, and graduated from Masinde Muliro University with a degree in Disaster Management and International Diplomacy. I am currently a Master's student in Development Studies student at Mt Kenya University. Coming from a humble background, my mother would always tell me that it's only through education that I can ever dine at a king's (or queen's) table.
Did you ever imagine this would come true...literally?
(Long pause) While this was a theoretical inspiration, I never realised the power of believing in words. Twenty years later, my great head-start in education literally earned me an opportunity to dine with Her Majesty Queen Elizabeth II at Buckingham palace last month.
ALSO READ: Queen's incredible wedding present to Meghan Markle and Harry - and why it caused huge row
You are the Executive Director of Peace Ambassadors Kenya (PAK). How did that start?
I am just but one of the many founding members of Peace Ambassadors Kenya. After the 2007-2008 post-election violence, I was disturbed to see that the youth were the greatest perpetrators and victims of violence in Kenya and felt challenged to change this culture by creating a platform to engage them to nurture their talent, skills and ideas into peace building and community development activities. Hence, PAK was born with an aim of establishing and coordinating peace clubs in universities and colleges so as to consolidate and institutionalise peace. While still a student at Masinde Muliro University, I saw a big gap between theory and practice. It was sad to see that most people were graduating from college and staying on without jobs just because they were graduating with a job seekers mentality or because they lacked experience.
And...?
As fate would have it, I met my mentor who has really moulded me into the leader I am today, Senior Superintendent of Police, Francis Kooli, and the Administration Police Commander Kakamega Central. It was clear he was a police officer with a difference hence, I was inspired by his sense of patriotism and his peace building initiatives for service to humanity. I believed in his vision to create a youth based organisation that would engage youth talents, ideas and skills in peace building and community service. We started in 2012 with only two clubs and about 20 members. The organisation has since grown to be a formidable network of youth change makers now with more than 20 university and college clubs, more than 5,000 youth members in Kenya, Malawi, Ghana, Nigeria and Zambia. Peace Ambassadors Kenya has grown from just an organisation to a way of life. We have instilled in young men and women a strong sense of patriotism based on the values of peace, love and unity.
What don't people know about Sammy Karuita?
(Laughs) People think am slender because I don't eat but the truth is that I have tried all means yet nothing has worked. I have now given up on gaining weight and let nature take its course! On the other hand, many think I was born a leader and I am ever confident. In fact, right from a young age, I was always afraid to speak in public or take up responsibilities, and it is only when my high school principal Mr Nguyo gave me an opportunity to lead that I started believing in myself and gaining confidence.
What are your plans?
I have made peace building my life and career. I want to expand PAK to the entire Africa Continent. An empowered youth is the gate pass to sustainable peace in Africa.
Are you married, dating?
I am single.