A comfy toddler's room
Parenting By
Wangeci Kanyeki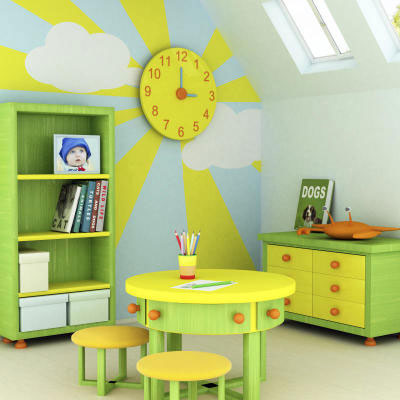 When babies start crawling and walking, household furniture dynamics significantly change to adapt to the toddlers new found mobility.

The toddler's bedroom is no exception, if space allows the room should provide a place to sleep as well as space for the child to spend many happy hours in exploratory play in a functional, attractive yet safe area.

Baby cot

Most likely the toddler will still be sleeping in their baby cot but as they transition to a bigger bed it is better to buy an adult sized bed fitted with safety rails than a mid-sized child's bed.

Avoid double-deckers or bunk beds as these can be hazardous to toddlers. A sleeping toddler can fall of the bed or accidentally slip when attempting to climb to the top decker.

Low level table

Arrange the furniture so that there is adequate floor space for the child to walk and play as this will encourage the child to explore.

Include a low-level coloured table with chairs for your toddler to enjoy scribbling in colouring books, clay modelling and solving jigsaw puzzles.

According to interior designer Terence Conran, the table top should be at elbow height of a sitting child and their feet should touch the floor.

Children's furniture is available locally and it is attractive, functional and safe for kids. An adjustable low level work surface along a wall can be installed and adjusted as the child grows.

Storage

Children's rooms can get awfully cluttered with toiletries, toys and books. Factor in storage cabinets to keep away their miniature clothes in wardrobes and low level drawers where they can be trained to put toys and books away when they are done.

Colour code the drawers so that the child can place books in the blue drawer and toys in the red drawers as they practice their colour identification.

Avoid placing furniture next to the window lest your little one uses it to climb out.

Floors should be comfortable, warm and easy to clean. Wooden or laminated floors make a warmer underfoot option than ceramic tiles.

Wall to wall carpets can get easily stained and collect a lot of dust that could trigger allergies. Non-slip bedside rugs with cartoon designs are a more practical solution as they can be frequently washed and dried out in the sun.

Wall surfaces should be easy to clean and should be covered in washable, easy-to-wipe paint.

Add visual stimulation to the walls by decorating the room with age temporary decorations such as butterflies or cars which can be easily removed when their magic wears off.